While there is much debate on whether we should vote Yes or No to the Voice to Parliament in the upcoming Referendum, Tom Mayo, a Kaurareg Aboriginal and Kalkalgal, Erubamle Torres Strait Islander man, wants Australians to understand that voting Yes is critical to Indigenous peoples who are at a crisis point.
---
Tom is the Assistant National Secretary of the MUA, Chairperson of the Northern Territory Indigenous Labor Network, a director on the Australians for Indigenous Constitutional Recognition board, and the author of six books.
With Journalist Kerry O'Brien, Tom is now launching, A Voice to Parliament Handbook – All the detail you need, which he said will help Australians understand the importance of the vote.
Explaining at the book launch why the Yes vote is vital, Tom said the Gap between Indigenous and non-Indigenous was widening, with targets not being met to improve the lives of Aboriginal and Torres Strait Islander Peoples.
This he said was despite the massive amount of government spending to fix the issues.
"Things have only been getting worse, and you see the ripple effects today with youth crime and incarceration rates," Tom said.
Coauthor and veteran journalist of well over 50 years, Kerry O'Brien, said he had seen the highs and the lows of Indigenous history.
"I have seen promises made and promises broken. I've seen many forms of previous Voices of Indigenous people to Parliament and to government. I've seen the frictions between those Indigenous people representing their communities and largely white bureaucrats and largely white politicians, many of whom had never visited the communities that they were designing policies for."
Kerry said he could also sympathise with and understand those Indigenous people who were sceptical about the Voice because they have been promised so many things so often and had been let down so many times.
"The huge difference, I think, with this attempt, is a greater fairness and a greater harmony between Indigenous and non-Indigenous Australians and that this concept has come from Indigenous people.
"This is not an invention of Canberra. This is not an invention of politicians. This has come from Indigenous Australians representing the whole nation."
"While the [Indigenous] people asked the Parliament to facilitate this referendum, Aboriginal people were placing their expression and hope in front of all of the people of Australia," Kerry implored.
"That is the huge difference between this occasion and opportunities in the past. And how could I help but be caught up by it."
To comprehend the question Australians will be voting on, Tom said it was quite simple.
"It's basically a proposal on, do we agree that we should recognise Aboriginal and Torres Strait Islander peoples as the first peoples through a Voice, and that Voice may make representations to the Parliament and executive government on matters relating to Indigenous peoples – the Parliament decides the rest," he said.
"So we are voting basically on the principles here, that Indigenous people should be recognised and that we should listen to them about the matters that relate to them. It really is that simple.
"It is not a third chamber of the Parliament. It's not going to govern anyone. It's not going to control funding, and it's not going to have a right to veto."
While Tom said the Voice would have no power in Parliament, the strength of it would come through its genuine grassroots with representatives chosen from their communities that understand their culture and that live and breed the issues every day.
"And when they're able to come together regularly, (which we can't do now in a proper resourced space), and hold debates and discussions about the best possible solutions to policy and legislation, then they will be able to present that to the Parliament in a transparent way that our own people see, and that the Australian people also see – that's where the strength of this is."
Concerning the 'No' campaign, Tom argued that there was no logic or factual arguments against the Voice.
"At its source, these arguments have no truth to them. They are designed to create fear, and they are designed to confuse."
"Tom said his book was about trying to help people overcome the confusion by simply explaining what the Voice is.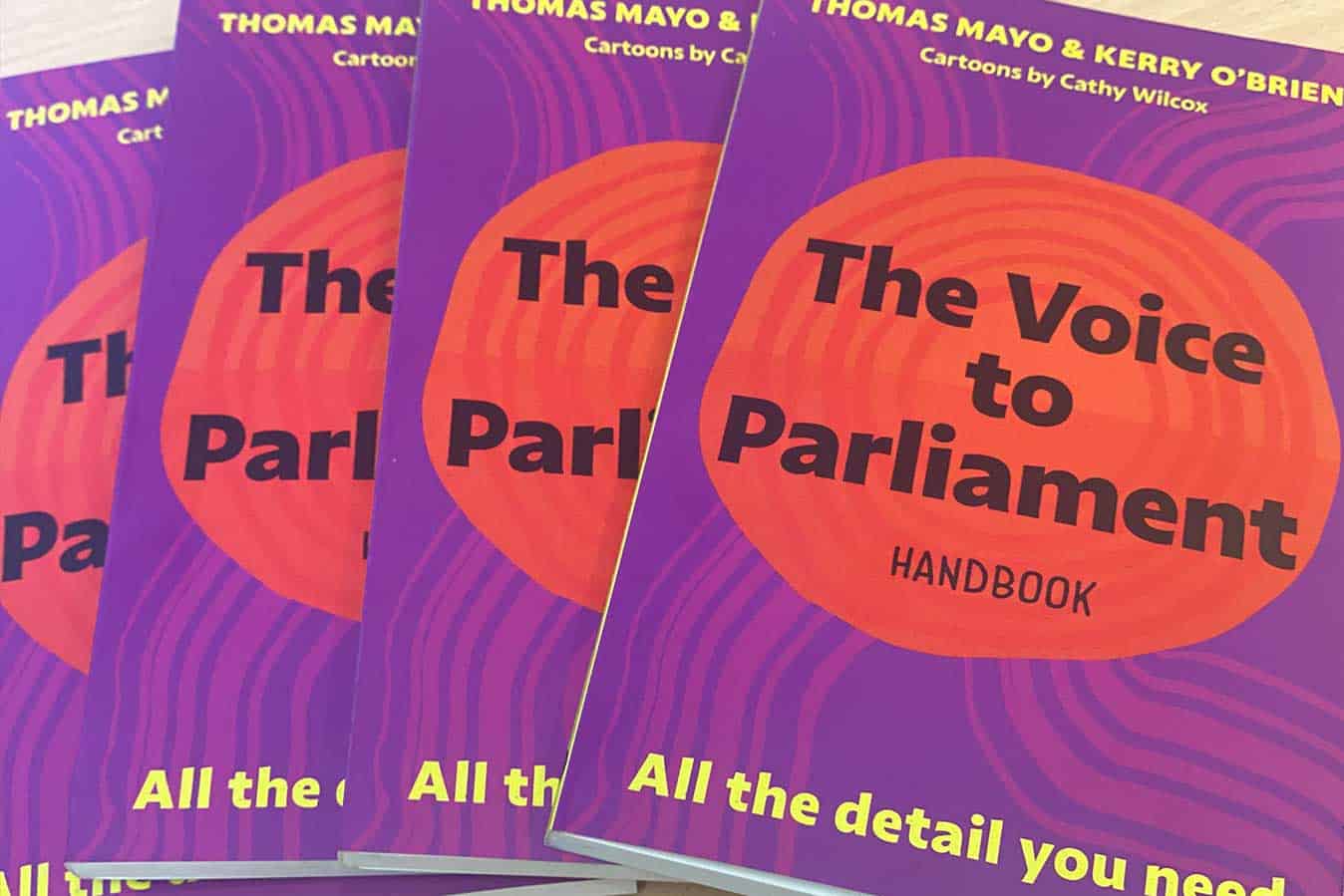 "It's a small, easy, keep it in your back pocket read. You can read it in less time than it takes to watch a movie."
While the polls suggest dwindling support for the Yes campaign, Tom conceded he was concerned for the Voice to Parliament.
"It does weigh heavily on all of our minds as Indigenous people that if we should lose this referendum, then it won't just be the status quo."
Tom said things would get much more difficult without the Voice to Parliament.
"It's going to take us backwards. It's going to make treaty harder. It's going to make it harder to see a resolution to all of these problems, to close the gap.
"If you could imagine as a people that have suffered from such great injustice, that have been marginalised for so long. To make such a humble and modest proposition that we should be recognised after 60,000 years of continuous connection to this country and to modestly propose that we just be, and have the opportunity to organise representation so that we can be listened to. To have that dismissed, what would you do?"
Need more information about the Voice before you make this historic decision?
Email

anmjadmin@anmf.org.au

for your free copy of Tom Mayo and Kerry O'Brien's book, The Voice to Parliament Handbook – All the detail you need