A NSW mental health nurse has opened up about being assaulted on the job and suffering permanent injury as part of the release of an ACTU work health and safety survey of 26,000 workers that uncovered worrying levels of physical and psychological injuries and illnesses across Australian workplaces.
---
Appearing alongside two bank tellers and retail worker, registered nurse Erin Francis told this morning's press conference how she had been assaulted on two occasions while working at a mental health facility in Sydney and now battles a long-term whiplash injury.
"Nurses working in all areas are exposed to risk of violence on an everyday basis and this shouldn't be something that we continue to expect just as part of the job," Erin said.
"Unaddressed psychological hazards are leaving nurses feeling stressed, anxious and even depressed. We need work health and safety laws to force employers to act on these risks and acceptable nurse-to-patient ratios [in NSW] to provide safe patient care."
The ACTU's Work Shouldn't Hurt survey found four out of five working people had been physically or psychologically injured or ill as result of their work and that 47% were exposed to traumatic events and distressing situations in the past year.
More than 30% of workers experienced occupational violence, such as abuse, threats or assault, at the hands of clients, customers, the public, or co-workers, with some revealing being punched and kicked, held hostage by patients, and burnt at work.
Other key findings showed 66% of respondents reported experiencing high workloads, while 80% felt existing penalties for employers were not enough to make them take safety seriously.
The results also highlighted an alarming spike in psychosocial (injury) due to increased exposure to hazards at work, with three in five workers surveyed experiencing psychological illnesses or injuries including stress, depression or anxiety at work.
ACTU Assistant Secretary Liam O'Brien said every Australian worker had the right to go to work and come home safe yet hundreds are killed and thousands more will die from workplace diseases and sustain physical and mental injuries at work.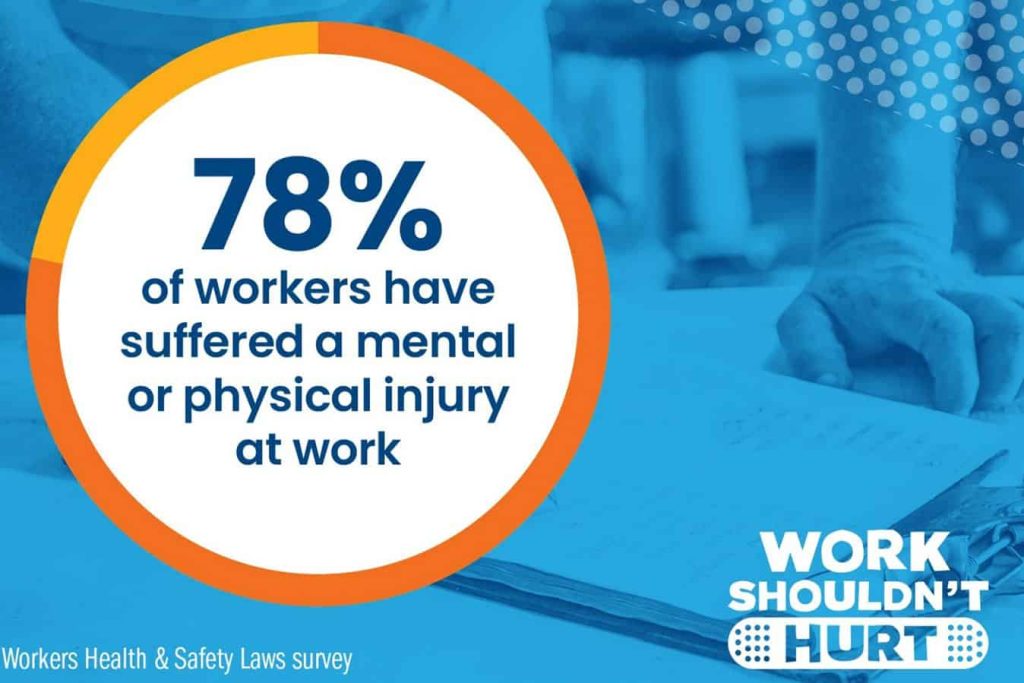 "What the report shows is that Australian workplaces are far from being done when it comes to making work safe," he said at the press conference.
On the back of the findings, the ACTU is now ramping up its calls for state and federal governments to take action to prevent workplace deaths by improving safety regulations, particularly in regard to mental health.
He said employers should be responsible for designing workplaces that take into account various risk factors that contribute to people's poor mental health in the same way they manage physical injuries.
Importantly, the ACTU is calling on ministers to immediately introduce all 34 recommendations from the recent Boland review into work health and safety laws to ensure workers are protected.
"We are calling on state and federal ministers to introduce industrial manslaughter laws to ensure bosses who cut corners and kill workers face the harshest possible penalties," Mr O'Brien said.
"We also want to see an end to companies being able to claim workplace penalties on their insurance. This is a disgusting act that makes the act of killing and seriously injuring workers just a part of everyday business and this must end."
Victorian bank teller Beth Celestino , who also addressed the media this morning, spoke about how she was forced to retire after bullying, unrealistic workloads and poor management affected her health so badly that doctors feared she would suffer a stroke.
"I experienced being abused by a manager in the lunch room in front of my colleagues, belittling me," she recounted.
"They [my colleagues] were embarrassed for me. One had to leave the room when it started. Good managers build people up. But these people broke me down, even though I had worked for them for 20 years."