Every Australian needs to roll up their sleeves, embrace their own ageing and rethink their interactions with older people, says Dr Catherine Barrett.
---
The former nurse and passionate aged care advocate was one of five finalists selected for the prestigious 2018 Human Rights Medal announced in December.
The Human Rights Awards, established in 1987, are the highest human rights award of Australia, bestowed by the Australian Human Rights Commission.
"I believe that older people are one of the most interesting and wonderful cohorts of people on the planet, but somewhere along the way we've lost sight of this," says Dr Barrett.
"We need to turn this around, not just because older people deserve better but also because doing so would make the world a better place for all of us."
Dr Barrett has more than 30 years' experience working with older people as a nurse, educator, capacity builder and academic. She is a national and international leader in the rights of older people; and has worked extensively with ageing LGBTI+ communities.
Dr Barrett set up Celebrate Ageing, a national program challenging ageing and building respect for older Australians, in 2016.
"I went to an Elder Abuse conference held in Adelaide and I thought I have to do something about it. I set up the website in 2013 but was working at the time at La Trobe University as a Senior Research Fellow and didn't have much time.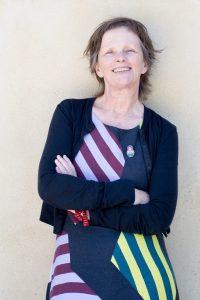 "I was doing important research but felt it wasn't enough to change anything. I wanted to do more to encourage culture change."
Such a significant cultural shift requires a broad range of strategies, says Dr Barrett. "We need dozens of people around the country working on this massive issue so entrenched is culture."
Celebrate Ageing raises awareness through events, educational services and other programs to draw attention to issues such as elder abuse, sexual assault, dementia, ageism and the media, aged care facilities and more.
"I have worked with older people since I started my nursing in 1979. I was hospital trained, worked in residential aged care and then went into academia.
"Working in this space with older people, there's not a lot of recognition on the issues of human rights. It's about challenging ageism. One of the things we are doing is changing the narrative."
The Celebrate Ageing program focuses on education and capacity building. Under the banner of the Tea Cosy Project, the program has delivered educational workshops to service providers, older people and schools. Arts projects include: Love Cosies, art about older people who are loved; Insulator Cosies, stories about protecting against internalised ageism; Age-Friendly World, what 'age friendly' means to older people; Place365, photographs of older people and stories about their sense of place; and Spray Can, challenging ageist ads, comments and media.
Dr Barrett is particularly passionate about addressing the sexual rights of older people.
"Older people have sexual needs; and sexual health of older people needs to be addressed across the board.
"Service providers do not see it a fundamental core business. We need to equip aged care service providers with resources. Where are the resources? We need a sexual rights framework, it's not an optional extra."
Dr Barrett established the Opal Institute to promote the sexual rights of older people and challenge the ageist belief that older people are not sexual. The Institute delivers education and has developed resources to assist service providers, including a sexual wellbeing policy, and a sexual boundaries policy.
The Power Project addresses prevention of sexual abuse of older women.
"One in five Australian women have experienced sexual harassment or abuse; why do we not think this is happening to older women?" questions Dr Barrett.
Two positive avenues to address change are currently underway, she says.
"The Royal Commission into Aged Care: I want to ensure sexual abuse is on the agenda; that sexual abuse victims are heard. We need a lot of change in that space.
"The other is the National Strategy for Elder Abuse. How we make sure all women who experience sexual abuse are counted. How can we put that into a national prevalence study, a national portal of sexual abuse of older women?"
The Opal Institute released an educational resource in December. The film features Margarita Solis, a 96 year old sexual abuse victim who was a former war nurse.
"She lost 20kg, couldn't eat; she couldn't sleep, and she lost faith in human kind. People started to care for her and she was transformed. The film encourages the power of listening," says Dr Barrett.