Australia's national coalition of nursing and midwifery organisations has secured renewed funding from the federal government, including for the first time, sitting fees for member attendance, recognising the inherent value of the alliance.
---
"This is significant recognition of the value of nurses, midwives and CoNNMO that makes a big difference to the vast majority of members. Most representatives work for health services and they represent their specialty not their workplace so they need to take leave to attend. Now they will be remunerated for the time they spend at CoNNMO," said Australian Nursing and Midwifery Federation (ANMF) Federal Senior Professional Officer Julianne Bryce.
The Coalition of National Nursing and Midwifery Organisations (CoNNMO) currently represents 61 Australian nursing and midwifery organisations – diverse in function, size and structure.
"Our strength is our diversity; it's a coming together of people with expert knowledge of nursing and midwifery with shared objectives," said Ms Bryce.
"Some coalitions or alliances speak with one voice. In that sense, we don't. We discuss matters of shared importance, and it's a way to navigate in to the nursing and midwifery professions and to learn from that expert knowledge and opinion."
The Coalition, which started out as an informal forum sponsored by the ANMF in 1991, is now supported with funding from the Australian Government Department of Health and Aged Care and, ANMF as the secretariat, is responsible for day to day operations.
"The key role for the forum is for the specialty nursing organisations to communicate, to network. It's a conduit for information, where people can communicate," said former CoNNMO Chair (2018-2022) Marian Linnane.
"We provide support and assist where there are challenges; putting members in touch with organisations or inviting guest speakers who can help with whatever challenge they are facing, whether that be governance, sustainability, business continuity, membership  attraction and retention," said Ms Linnane, also former Chair of Nursing Informatics Australia (now Nursing & Midwifery Digital Health Network).
CoNNMO provides an opportunity for smaller organisations to get an audience with national stakeholders, such as the Australian Department of Health and Aged Care, Chief Nursing and Midwifery Officer, Nursing and Midwifery Board of Australia, Australian Nursing and Midwifery Accreditation Council (ANMAC), Australian Digital Health Agency and the Australian Commission on Safety and Quality in Health Care, said Ms Bryce.
"Specialty organisations/groups are often very much focused on their clinical practice and it gives them a chance to have a voice on both local and national policy and professional issues."
Likewise, CoNNMO facilitates access to its membership, for example enabling the Australian Department of Health and Aged Care to tap into a broader nursing and midwifery perspective on matters such as the new National Nursing and Midwifery Strategies.
The Coalition includes groups with diverse organisational structures, including colleges, associations, universities; societies, councils, confederations, a federation, congress, networks and institutes.
Some are set up to be principally networks for dissemination of information; others have a broader remit including professional representation; education; advice and/or advocacy; scholarships; collegial support; research; policy development; professional standards; new healthcare initiatives; and/or enhancing clinical expertise.
In 2007, a new governance structure was determined which included the name change to the Coalition of National Nursing Organisations (CoNNO) followed by the election of an inaugural Council in 2008. The establishment of the governance framework represented a new, more formalised phase in the life of the Coalition.
"CoNNMO is driven by the feedback from members and ideas brought to the table by Council for discussion and debate," Ms Bryce said.
"CoNNMO members meet under their individual autonomy, and each organisation has intrinsic value in its own right as part of the Coalition."
While many discussions do not require agreement, two of the issues that have reached consensus at CoNNMO are: the importance of undergraduate Bachelor of Nursing and Midwifery education remaining in the university sector; and Aboriginal and Torres Strait Islander health, history and culture incorporation into the undergraduate curriculum (which is now embedded in the ANMAC standards).
CoNNMO hosts a variety of speakers, including recently a session on contemporary ethics following the global pandemic and a panel discussion involving nurses from various specialties, talking about their experiences of COVID. Other topics addressed include social media, governance models, auditing, lobbying, advocacy, workforce, rural and remote practice, new graduates, national safety and quality standards, digital health, positive practice environments, electronic health records, medicines management, even marriage equality and the associated plebiscite.
"Many of us work deeply in our specialty areas, so when we come to CoNNMO we get to listen to the challenges of others, learn about different initiatives, and understand the broader issues relevant to our profession/s and that is advantageous and, to me, a privilege," Ms Linnane said.
"To have 60-80 members in a room and facilitate a successful meeting with many diverse opinions but with one key focus – improved person-centred care – that manages to keep us on track. This is why we do what we do for as long as we do it, whether that be in management, leadership, education, clinical or research, that's the whole point of it."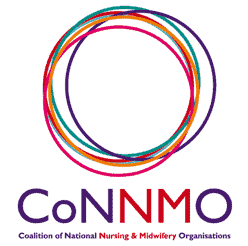 A key highlight for Ms Linnane was the formal addition of midwifery into the title of CoNNO to become CoNNMO in 2017. CoNNMO's success is evident in the ongoing interest and applications from new or existing groups to join every year, she said.
"These groups have either recently heard of CoNNMO, or are newly established sub-specialty groups. We have three new additions from our last meeting – the Cosmetic Nurses Association, the National Enrolled Nurses Advisory Council and the Gerontological Alliance of Nurses Australia."
Tracey Nicholls, Deputy Chair of CoNNMO and immediate past President of the Otorhinolaryngology, Head and Neck Nurses Group concurs. She considers the value of CoNNMO is its accessibility and networking opportunities, and as a sounding board for knowledge and advice.
"It's a really good platform for the smaller nursing specialty groups to be seen and heard. The bonds and relationships made are invaluable and we are able to contact one another with ongoing challenges we face in our professional groups.
"There's knowledge that comes from everybody, including from nursing organisations that I never knew existed. It helps us to keep abreast of what's happening beyond our individual specialties."