Nurses and personal care workers across the country gathered to mark the first anniversary of the Royal Commission into Aged Care's final report and protest the Morrison Government's inaction on urgently needed sector reform.
---
With member surveys and leadership across the ANMF likening the current conditions in private aged care facilities to a "war-zone", the rallies offered another opportunity for ANMF members to register their frustration.
Stacey, an aged care nurse who spoke at the Victorian rally outside Liberal MP Glady's Liu's office in the federal Chisholm electorate, described the situation as "disgusting".
"You can't even fathom what you deal with every day," she said of her work conditions.
"If someone from there [involved in legislating Aged Care] would come and spend a day working for Aged Care, I'm sure they would be shocked, absolutely."
The anger of workers like Stacey was palpable among the attendees at the Burwood rally in the Chisholm electorate and similarly expressed in rallies and events held across the country – including in regional Victoria and Tasmania, as well as an online forum conducted in NSW.
Federal Assistant Secretary Lori-Anne Sharp was in attendance at the Chisholm rally. She made it clear that the scale of the sector's staffing issues had escalated to a point where the rights of both patients and their carers are impeded.
"Nurse are torn: Do they go to the person who needs pain management or the person who has fallen in the corridor?
"This is human rights abuse, and it should not be happening in our country. These workers deserve so much more and the people they look after deserve dignity and respect."
Ms Sharp pointed out that staffing issues were not only at the heart of last year's Royal Commission report but existed well before. She said 12 months on, the issues had contributed to the spread of Omicron within aged care.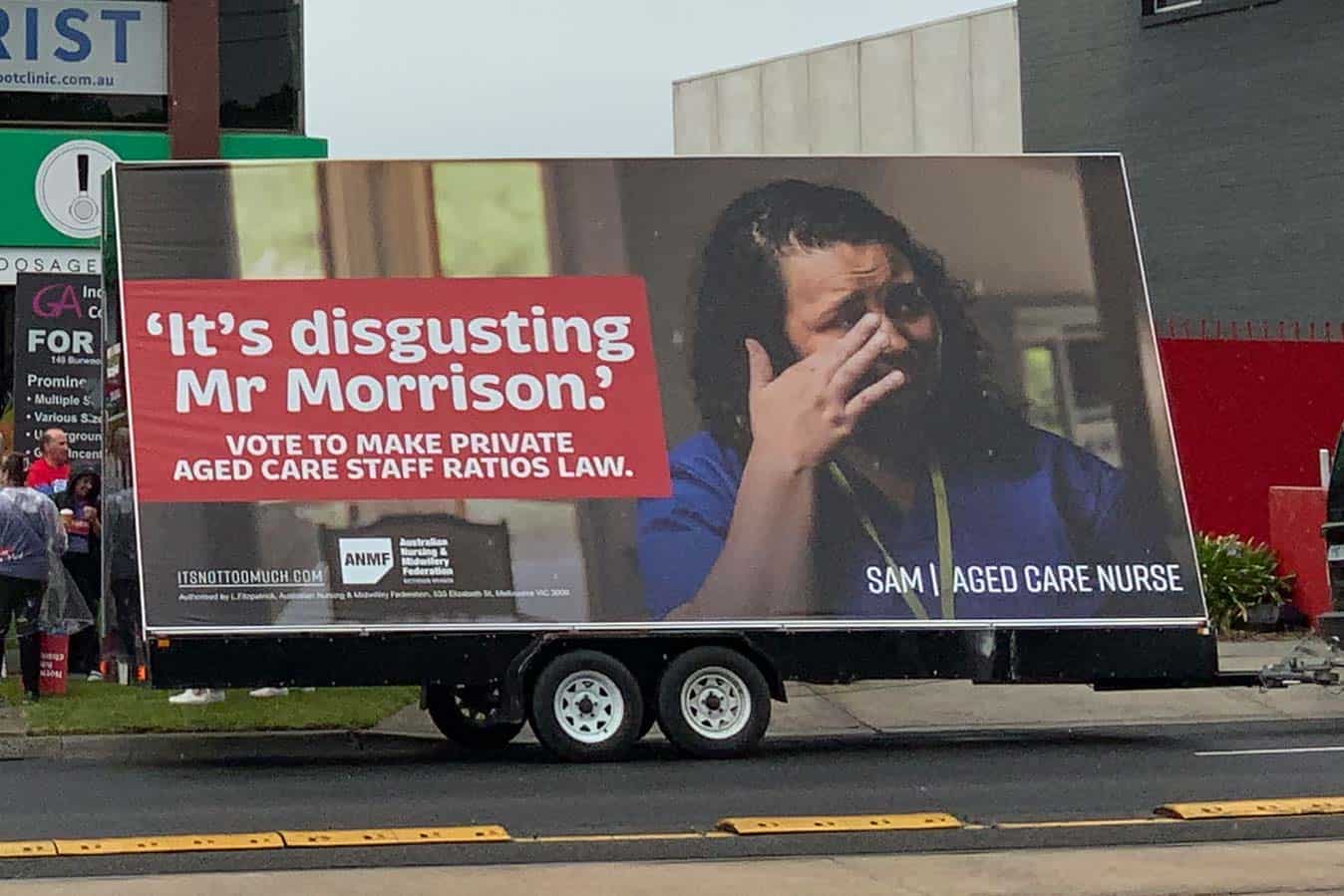 "This government was warned for years, for a decade, about the chronic understaffing, yet they did nothing," she said.
"We have seen the devastation, and tragically, 821 preventable deaths, just this year, in residential private aged care. This is simply not good enough."
The rallies come as state branches continue to survey and observe the workplace conditions in aged care since last year's final Royal Commission report was released.
In Victoria, 70% of surveyed members said staffing issues had worsened since last year's Royal Commission report, while ANMF SA CEO/Secretary, Adjunct Associate Professor Elizabeth Dabars, recently said that aged care workers "are being paid at minimum 15% less than their counterparts in the acute care sector".
Members in attendance at today's rallies were urged to support the ANMF's "It's Not Too Much to Ask" campaign, which demands four key actions and commitments from federal politicians to help fix Aged Care ahead of this year's election.
More information on the campaign, and how to get involved can be found here.