Australian Nursing and Midwifery Federation (ANMF ACT Branch) Secretary Matthew Daniel has steered the ship on behalf of ACT's nurses and midwives for the past four years, including navigating the twists and turns created by the ongoing global COVID-19 pandemic.
---
After finding nursing in his 30s, Matthew moved to Canberra in 2005 prior to beginning work at the Canberra Hospital in neurosurgery. During his clinical career, he was an active member of the union and held roles as both a Workplace Delegate and Branch Councillor.
His involvement led to a Project Officer role with the ACT Branch, looking at models of care, before he became a Professional Officer and, ultimately, rose to the position of Branch Secretary.
When Matthew first took on the role his vision centred around important operational targets – growing membership, investigating new ways to support members, and focusing on strategic issues relevant to ACT's nurses, midwives and assistants-in-nursing, including work health and safety, safe workloads, ensuring consultation with members by employers and addressing insecure work.
One of those big-ticket items was mandated minimum nurse/midwife-to-patient ratios in the public sector. The Branch successfully negotiated for the introduction of ratios and the ACT Government has committed $50 million over four years to fund the first phase of ratios, which commenced earlier this year.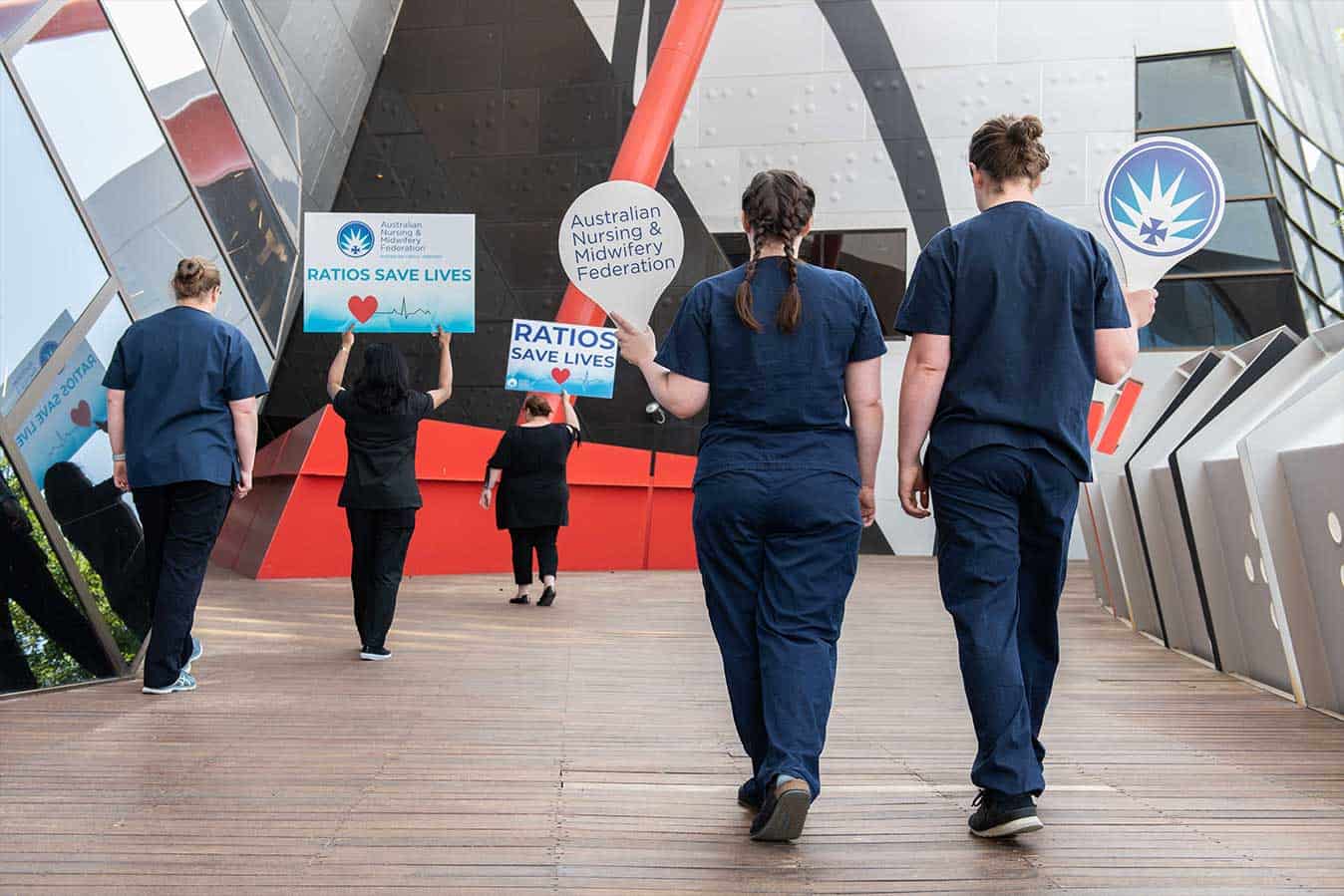 The ratios are being implemented at both Canberra Health Service and Calvary Public Hospital Bruce in a bid to improve working conditions for nurses and midwives, and outcomes for patients.
Upon approval of the public sector EBA, phase one commenced with ratios being implemented into general medical, surgical wards, acute aged care and adult mental health units. In general medical/surgical/acute aged care, the minimum ratio will be one nurse for every four patients during a morning or evening shift, and one nurse for every six patients during the night shift. A supernumerary Nursing Team Leader will also be on morning and evening shifts.
The ANMF (ACT Branch) has long campaigned for mandated ratios and drew on pioneering states, Victoria and Queensland, to develop the best fit for the ACT's health system, Matthew says.
"Mandated minimum ratios for nurses and midwives in the public sector has been a real win for members and that's all about workload and safety," he explains.
"I'm hopeful it will see us move into ratios in other areas such as the private sector and, of course, aged care."
As of late April, more than half of the 90 additional nurses needed to meet phase one of the Government's staged implementation had been recruited. Phase two of the implementation will focus on midwifery, with the union seeking to count babies in in the numbers for ratios.
"For our members, it [ratios] gives them greater confidence that when they turn up for work they know that they will have manageable workloads. They now have a tool that gives them a greater voice in how their work is managed and the ability to have the conversations about workload management," Matthew says.
"Importantly, it also means that health services can clearly identify the minimum number of nurses and midwives they're going to need to meet the mandated requirement. It takes away all the old arguments around what staffing should be by setting a mandated minimum, not a maximum, so nurses can provide safe care."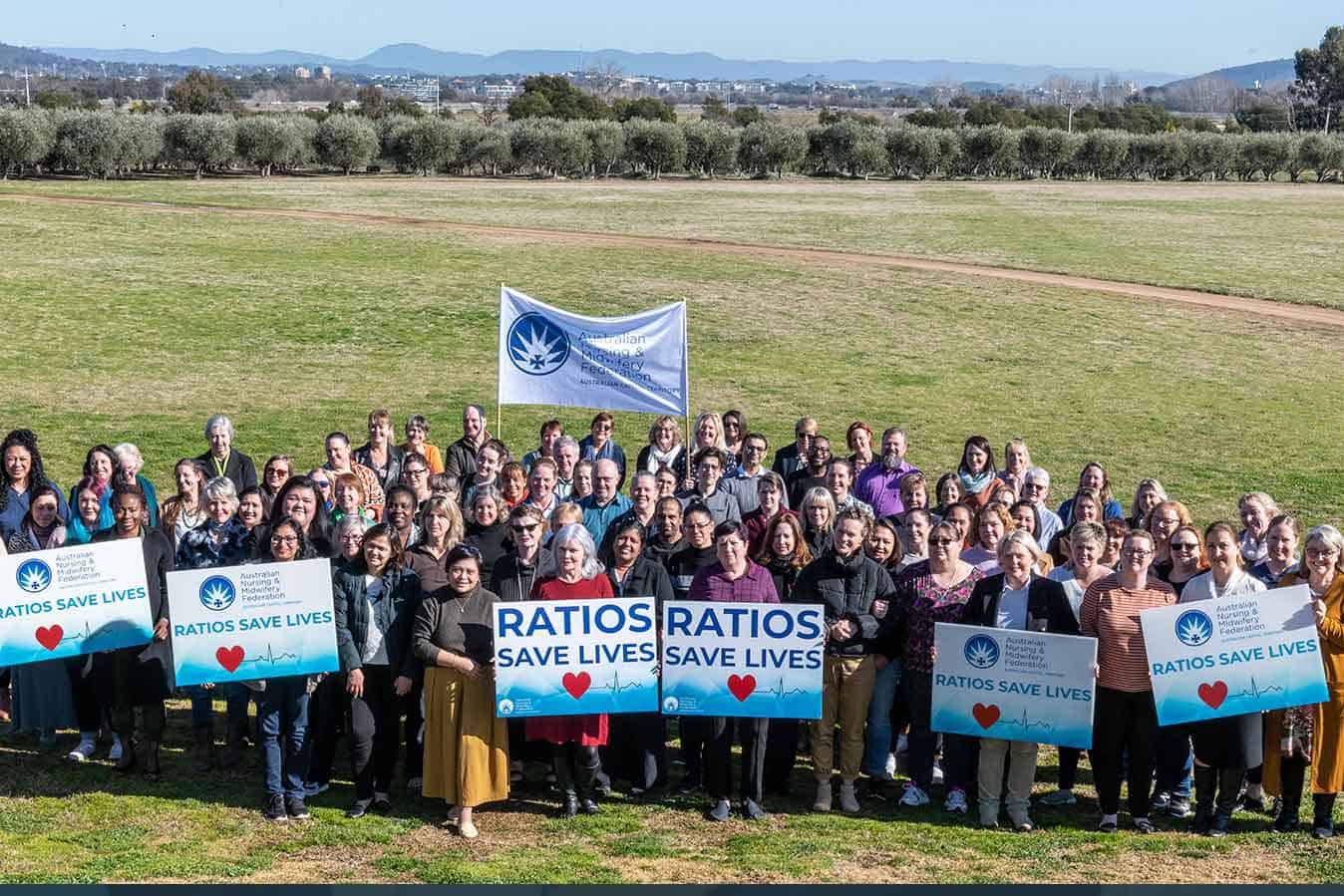 The implementation of ratios cannot come quick enough as nurses and midwives in the ACT, and indeed across the nation, grapple with the lasting impacts of working through the COVID-19 pandemic.
The ACT was fortunate to avoid high case numbers and hospitalisations in the early stages of the pandemic, which afforded the ability to consider and prepare for issues like PPE availability and safety.
Despite the head start, ACT's nurses and midwives have faced similar battles to other states during the pandemic, with nurses and midwives pushed to their limits by chronic understaffing and unrelenting workloads.
A survey of nurses and midwives who work in the ACT's public health system conducted by the ANMF (ACT Branch) last year, focusing on psychosocial risk and stress, found they were so overloaded with work that they were forced to neglect some of their patients' care.
The story has been no different in 2022. High numbers of nurses and midwives are taking leave because they are sick themselves or caring for family, exacerbating short staffing and leading to significant role substitution, such as AINs and other healthcare workers taking on traditional nursing and midwifery roles, which is placing further strain on remaining nurses and midwives holding down the fort in workplaces.
"For the ACT, the sting of the pandemic has been in the tail," Matthew says.
"Through Delta and now Omicron, there is that cumulative effect of the pandemic and our members are telling us it's been most acutely felt now."
Matthew says the impact of the COVID-19 pandemic on the workforce has exposed the need to address recovery plans. Nurses and midwives need to take time away from the frontline to decompress, and comprehend and reflect on what has unfolded over the past couple of years.
"Going forward, the thing that is going to make a real difference is the workforce planning," he says.
"If this [the pandemic] has taught us anything, it's that good workforce planning needs to be in place in case we are caught short on the number of nurses with the critical skills needed. The warning signs were there with SARS and other respiratory viruses that a pandemic was coming and the need to be prepared, but the plans were simply lacking."
For members currently struggling in the face of the pandemic, the ANMF (ACT Branch) is working hard to make sure workplaces are as safe as can be. For example, when the branch receives reports of short staffing, it investigates the situation with employers. It is also looking at providing greater access to information and advice on workers' compensation entitlements relating to psychosocial impacts.
"We're actively lobbying about getting workforce plans in place and we are certainly looking to get ratios implemented into as many areas as possible in the next phase of the rollout in the public sector because that will drive real change in the way that the roles of nursing and midwifery are identified, understood and truly respected."
Other key issues facing ACT's nurses and midwives include addressing occupational violence, improving employment security, supporting early career nurses and midwives entering the professions, finalising the next public sector Nursing and Midwifery Enterprise Agreements, and ensuring that the voice of nursing and midwifery is represented at the decision-making table in order to influence what health service delivery looks like.
Occupational violence remains one of the most significant issues, with the ACT Government developing a strategy to stamp it out two years ago following lobbying by the ANMF.
"There's a lot of work still to be done in this space," Matthew says.
"We're still seeing way too many assaults on nurses and midwives."
"While embedding practices and processes in some areas has been quite successful, we're still seeing way too many assaults on nurses and midwives and there still remains a culture of 'well that's the nature of the environment in which we work' and almost a resignation that there's not much we can do in some places."
While many undergraduate nurses and midwives in other states were hampered through the pandemic and had their clinical placements disrupted, Matthew says the biggest problem for ACT's early career nurses and midwives has instead been the impact of short staffing on their development.
"Because of the short staffing they aren't necessarily getting the level of support they require because support nurses and midwives aren't available as they might be working out at the COVID clinics for example.
"It's really tough for those early career nurses and midwives because of the inability to get support because the workforce has been stretched because of COVID and being off sick. There can be several graduates on a shift on a ward and there might be one or two more senior nurses with them for a whole ward, so quite junior levels of staffing at times that puts enormous pressure on those transition to practice nurses but also the nurses looking after them who are trying to provide a safe learning environment while also often looking after the sickest patients."
As Australia emerges from the COVID-19 pandemic and into living with the virus, Matthew says he hopes ACT's nurses and midwives can return to some sense of normality as they continue to carry out their jobs.
"Hopefully our members can get on with the usual business of providing great care without so many twists and turns created by the pandemic."