Nursing uniforms have transformed dramatically over the past century on the back of emerging trends, demand for practicality and comfort, and strict workplace policy.
---
As a fledgling student nurse at Flinders University in South Australia in the late 1980s Kate Anderson remembers donning a yellow pinstriped dress and white stockings and shoes, all topped by a brown cape. (see photo above- left)
A red vest entered her daily work uniform a year later when she advanced up the ladder. "We used to joke that we looked like egg and sauce," Kate laughs.
As a Registered Nurse Kate wore a characteristic white starchy dress with short sleeves and white shoes. "They weren't very practical. They were see through and my pens always leaked into my pockets." (see photo above- right)
Like most nurses, Kate's work uniform has fallen in line with the trends and expectations of the period. In 1993, for example, she wore culottes, loose pants with flaps, and a white shirt.
Later, while working at a private orthopaedic hospital, the policy dictated staff wear straight skirts and a shirt coupled with navy shoes.
Health facilities invariably develop their own unique work uniform policies and Kate recalls being envious of Royal Adelaide Hospital nurses who at the time wore shorts and polo shirts on the job.
Kate says uniforms have come a long ways since the days of stiff, starchy white dresses. "It was always quite impractical what they made us wear but over time that has changed."
Veteran Victorian nurse Barbara Hill wore a white button-up dress early in her career, and also remembers veils being phased out around the late 1970s.
She suggests every nurse retains a sense of pride each time they put on their uniform. "In many ways a nurse's identity is wrapped up in their uniform. When you see a police officer they have a sense of standing in the community. I think it's exactly the same for nurses. A uniform expresses pride and professionalism."
Archives from the Royal Adelaide Hospital's Heritage Office trace the evolution of nursing uniforms across the state and reveal noteworthy transformations. From 1890 to 1930, strict uniforms saw student nurses wear red and white, and matron and senior nurses don a dark coloured cotton material. A folded long rectangle cap was pinned to the nurse's hair.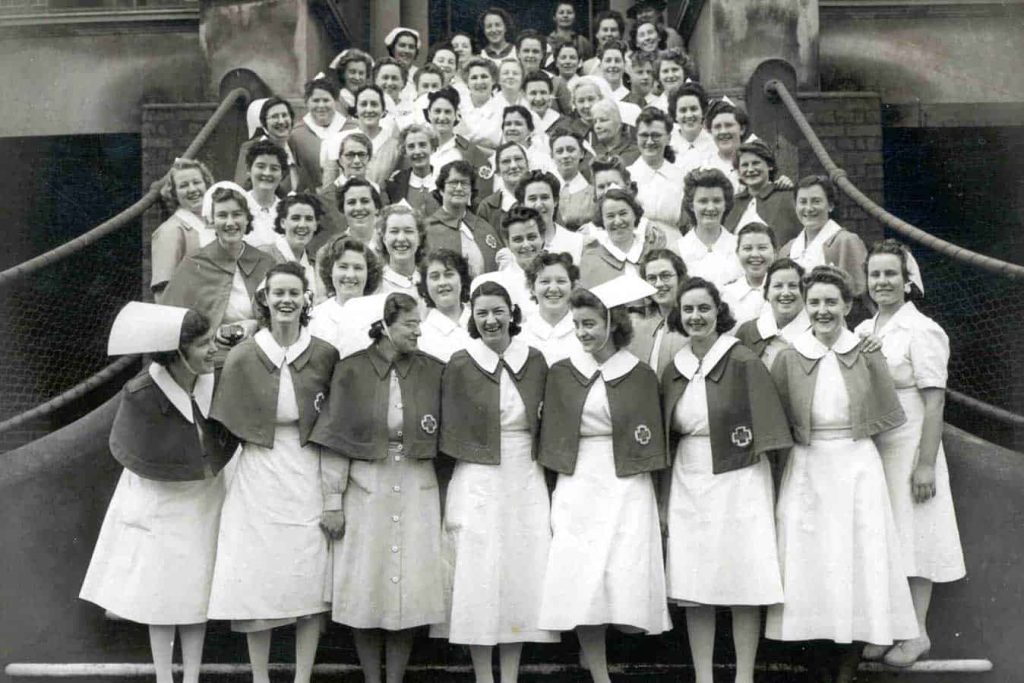 In the late 1930s, staff nurses wore uniforms made of blue and white check material, a button through shift dress with a belt, and white shank buttons from neck to hem. They also wore a red cape and white starchy cap with a deep turned-back brim. The nurse had a choice of wearing fawn stocking and brown shoes, or white stockings and white shoes. As the years have rolled on, nursing uniforms have changed with the times.
By the 1980s, nursing staff at the Royal Adelaide were wearing a variety of uniforms.
RNs wore a white dress with a zip or button fastening down the front, with three-quarter length sleeves and a white belt with buttons. A green velvet band was attached to the cap of a first year RN for identification purposes.
It is clear nursing uniforms have chopped and changed over the years, and even today different states, hospitals and health facilities stick to their own unique policies. However, the prevalence of scrubs in hospitals is on the rise and marks an emerging trend that could become the norm of the future.