Registered nurse Georgie Rowe took up flatwater rowing in 2017. Just four years on, she is set to make her Olympic debut at the Tokyo 2020 Games. 
---
"People ask me what my profession is and I always say I'm a registered nurse before I say I'm a rower," says Olympic debutant Georgie Rowe proudly.
After graduating in 2013, Rowe began working in aged care at RSL Life Care in Narrabeen.
"For me, it's the residents," she says, when asked what she loves most about the job.
"I love spending time with them and just trying to make their day. If I can just do a little thing, whether it's just getting them a cup of tea, or normal nursing duties, to make their lives a little bit better, and quality of life a little bit better, that definitely fills up my cup."
Rowe grew up along Sydney's Northern Beaches and spent her childhood tearing up the surf.
Inspired by her two-time Olympic kayaking aunt Shelley Oates-Wilding, she took up the sport at age 14 and set her sights on representing Australia. She mixed training before and after school with surf live saving at the Manly Life Saving Club.
As time went on, she "fell out of love" with kayaking and became heavily involved with the surf club. A couple of mates recommended surfboat rowing, a team sport where crews race in the ocean, and she was hooked.
"I kind of knew that was the sport for me," she says.
She first turned heads after taking part in an indoor rowing competition, a setting where she would later break world records in the half marathon and marathon.
In 2017, in a bid to realise her Olympic dream, she switched to stillwater rowing, and never looked back.
That journey began at UTS Rowing Club; under the guidance of head coach Tim McLaren, himself a 1984 Olympic silver medallist. The transition from surfboats to flatwater rowing was rapid and soon she was on the national team.
"The surf brings a lot of variables," Rowe explains.
"You have big waves, little waves, tides, currents, rips; there's a lot more that's out of your control. The surf is also really dangerous. You have to be really sharp and trust the people around you."
"I think that those foundations that I built in the surf have given me a bit of an edge in stillwater and even just developed my character and personality traits. Now that I'm racing stillwater, I find that trust is really important in our crew. I'm in the eight and we've got a cox and a coach so there's 10 people in the boat. There's a lot of moving parts and if you don't have that trust it makes it a lot more difficult to go to that place that you've got to go to when you're in the middle of racing and you've got to dig really deep and be in that flow and zone."
Four years after switching to stillwater rowing, Rowe is on the cusp of representing Australia at the Olympics in the Women's Rowing Eight.
"I didn't want to get to the age of 60 or 70 and wish that I had done something," Rowe reflects.
"Back in 2017, I just wanted to have a shot and give it [stillwater rowing] a try and if it didn't work out, then at least I'd know that I'd given it my best. Three or four years later here we are talking about going to the Olympics."
Australia's Women's Eight, who race over the standard 2,000-metre course, took home silver at the World Rowing Championships in Austria in 2019 to make the cut for the Tokyo Olympics.
An intense trainer who thrives on pushing through the pain barrier, Rowe sits in the middle of the boat, in its so-called "engine room".
The secret to a successful crew?
"There's many factors but I definitely think communication is a very strong characteristic of any team, whether it's a women's eight or in the nursing world."
Equally important, Rowe says, is drive and ambition, having the right attitude, and the ability to listen to what teammates are saying or feeling within the boat.
Since becoming a nurse, Rowe has worked casually in aged care alongside her sporting commitments.
Prior to turning professional, she would rise at 4am and train at UTS in the mornings, before driving back to Narrabeen to do the afternoon shift at RSL Life Care.
She still works at the nursing home, but hasn't taken on a shift for a couple of months in the lead-up to Tokyo.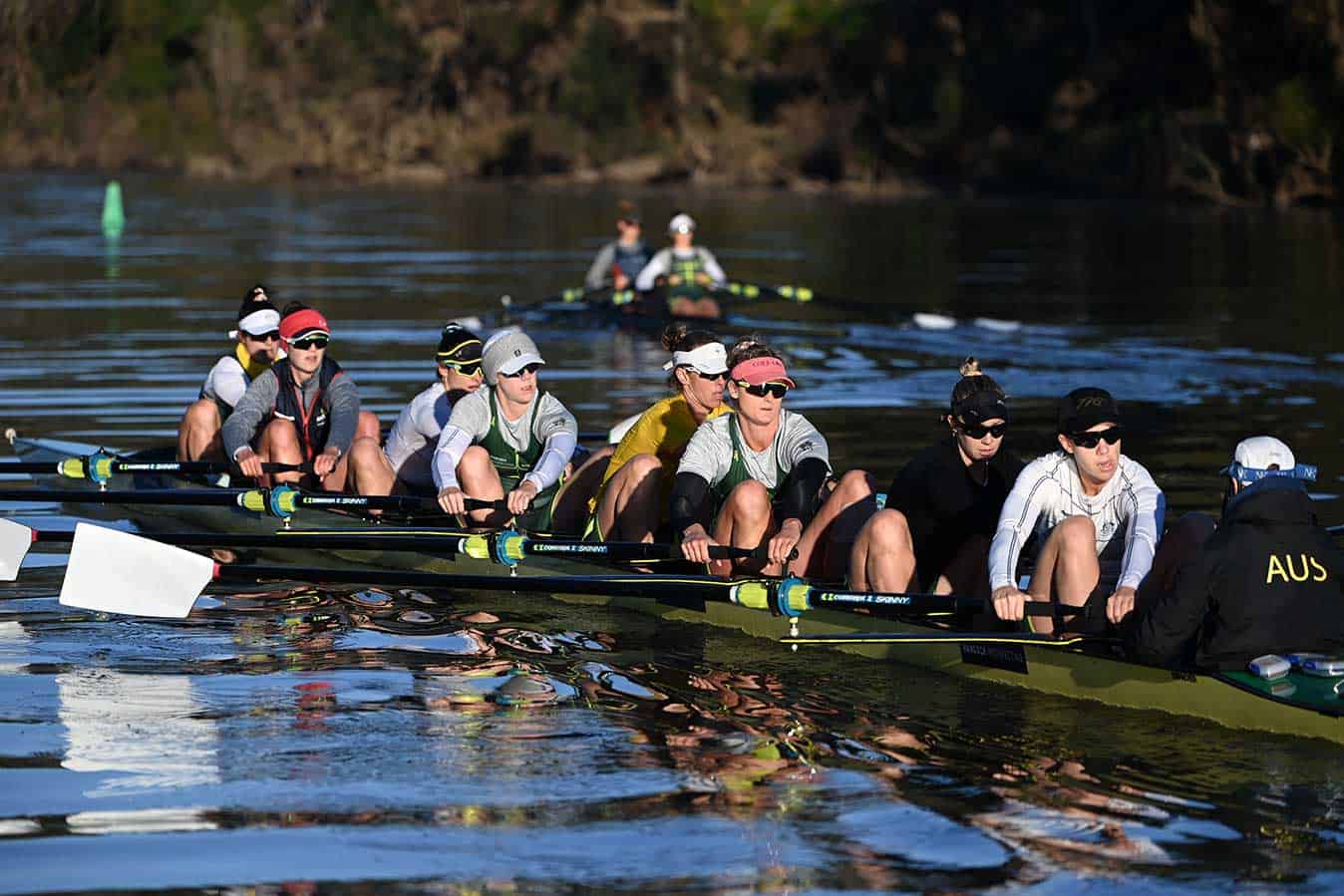 It was a different story during the COVID-19 pandemic last year, when Rowe worked consistently and helped the facility and its residents navigate lockdowns. Sometimes, she'd spend whole shifts facilitating face-time calls for elderly residents so that they could keep in contact with their families.
"I think aged care is a sector that needs a lot of love. You need the right people in there doing the right job," she says.
"The older generation, they're the reason why we're all here and that respect and understanding for what they need is really important.
"I've worked in it, and I know how understaffed they [staff] are and it breaks your heart as a worker when you know that you're doing everything you can, but you just don't have the support behind you to do more."
At an Olympics where almost everything will be different, coming up with a form guide for which nation will take home gold is difficult after significant disruptions to international racing due to the pandemic.
Nevertheless, Rowe says the crew remains "quietly confident" of a good showing.
"We've worked really hard on where we're at right now and I think going into the Olympics, we'll be in the best shape we can possibly be in and are hoping that our bow is in front of all the other nations."
When she returns home from the Olympics, the 28-year-old is hoping to secure a job at the Northern Beaches Hospital, and plans to continue balancing nursing and rowing.
She says the past four years, and her whirlwind rise to the top, sunk in at recent gathering with friends and family to celebrate making the Olympic team.
"You don't realise what you've done until other people are telling you and you kind of stop and get quite emotional when you think about it," Rowe says.
"Four years ago I was rowing at the beach and on the ergo and now I'm rowing at the Olympic Games, which is the pinnacle of the sport."