This year's Wound Awareness Week (4-10 September) is 'Let's get wound care RIGHT! The RIGHT diagnosis and the RIGHT treatment at the RIGHT time'.
---
It points to the fact that so many wounds can be healed with appropriate care, especially from experienced wound care nurses, and the value of wound-specific education from many other health professionals, including doctors, pharmacists, and allied health practitioners, who could help prevent wounds from becoming chronic.
The ANMJ sat down with Wound Clinical Nurse Consultant Hayley Ryan, Director of WoundsRescue, and Board Chair of Wounds Australia, the peak body for wound prevention and management in the country, to talk all things wounds.
What does a wound care nurse do?
We have a real focus on the whole person, taking a holistic approach to understand the patient. Wound care isn't just about the wound but takes into account the person's overall health.
As an advanced wound care nurse, I provide a broad range of diagnostic care based on the patient's needs like bedside Doppler ultrasounds and other advanced practices.
My focus is to work with the patient and their family to try to keep people out of hospital and living and functioning well in their community.
What training does a nurse need to undertake to work in wound care?
Ideally, postgraduate certification and then a Master's degree in wound care from a university. However, there is currently no mandatory professional requirements such as advanced qualifications to practice wound care.
This is a really important point, given the expertise and skills needed in this area. I feel this is something AHPRA should consider introducing.
At Wounds Australia, a national not-for-profit committed to minimising the harm caused by wounds, we emphasise the importance of multidisciplinary care teams that include specialised roles, such as Wound Clinical Nurse Consultants (CNCs) and nurse practitioners. Wound NPs and CNCs are critical to excellence in wound clinical practice, providing expert advice, education and support to patients and healthcare teams.
What does a typical day on the job look like for you?
There isn't a typical day in wound care. My day is filled with such variety, including delivering education and training through masterclasses, webinars or on-the-job training, completing referrals, delivering a range of services and the list goes on.
Many healthcare facilities refer to us, including some private patients, as so many people need practical guidance on how to help a wound heal.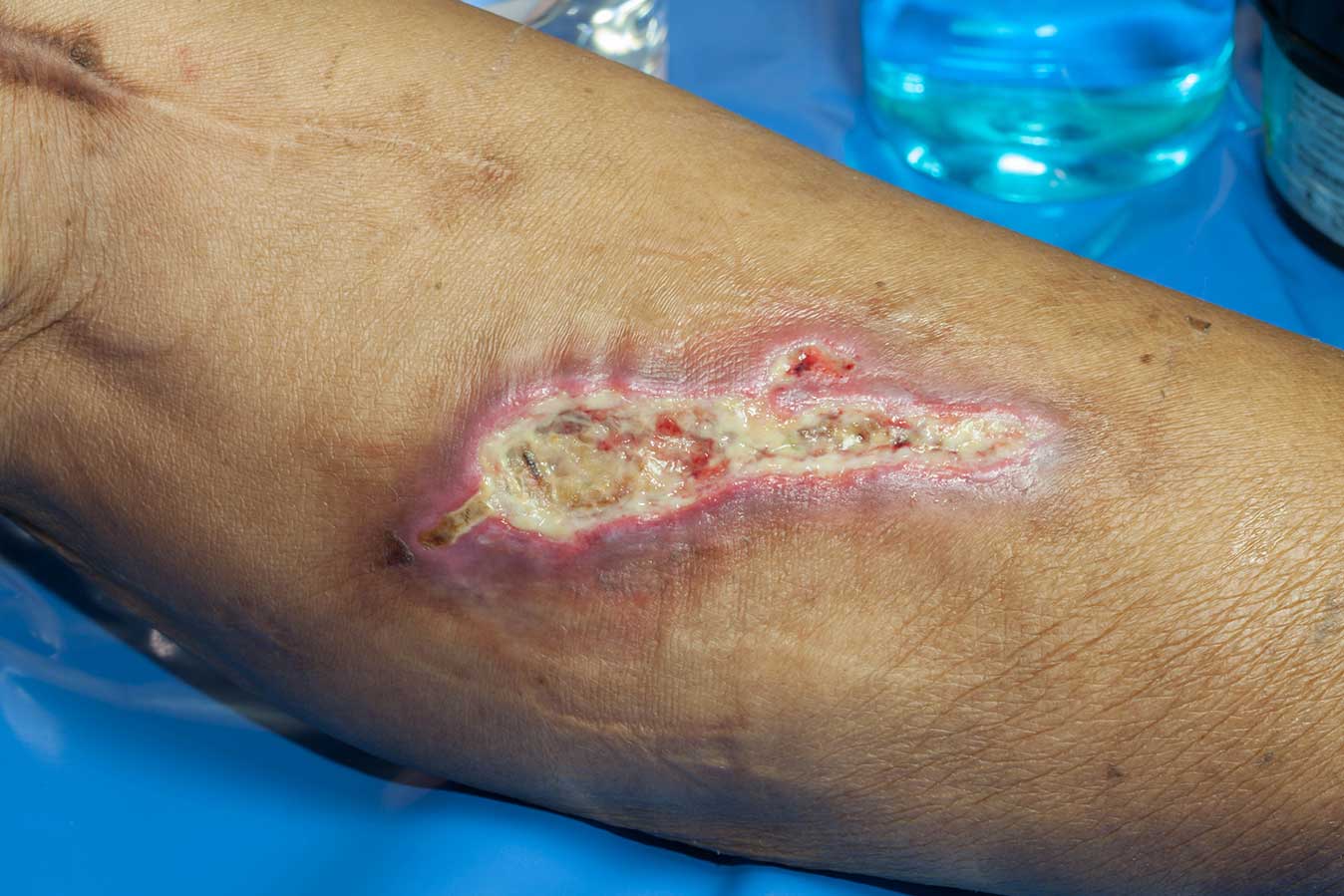 Many wounds we see are chronic/hard to heal and often months, if not years, in the making. Some patients have lived with their wounds for more than 20 years. We aim to provide care at the bedside that includes advanced practices such as Dopplers, debridement, and so on.
How has wound care evolved since you entered the specialty?
It has evolved significantly in terms of research at a pathophysiology level and advancements in wound consumables available to treat the wound.
[But] there needs to be a greater focus on increased funding for wounds research, as well as consumer access to consumables and information. The recent government announcement around the establishment of a Wound Consumables Scheme for people over 65 living with diabetes, and Indigenous Australians over 50, is a step in the right direction and something Wounds Australia has long advocated for, but it is [just] a step. There is a lot more that needs to happen in the wounds space to really have the far-reaching, positive impacts to address this hidden epidemic.
What are the biggest challenges of your role?
Access to the right diagnosis, the right treatment and the right consumables at the right time. So many patients don't have access to the services and consumables (dressings etc.) that they need to actually heal their wounds in a timely manner. As a result, we see extended healing timeframes and multiple return visits to GPs or hospitals for care.
Tell us about the theme for this year's Wound Awareness Week?
Wound Awareness Week aims to raise awareness about the scale of Australia's wound epidemic, to advocate for improved care practices, and to educate professionals and consumers. By emphasising the 'RIGHT' aspects of wound care in our 2023 theme, we're highlighting the importance of accurate diagnosis, appropriate treatment and timely intervention in wound healing.
An incorrect diagnosis can happen when healthcare professionals don't have the right skills or knowledge to treat wounds. This can result in the wrong treatment being applied or a delayed intervention. It all adds up to longer healing times.
The key word here is education. If we arm healthcare professionals with the right skills and knowledge, we have a real chance to help 450,000+ Australians living with wounds, and to reduce the $6.6 billion cost to our health and aged care budgets every year.
What is the biggest misconception about chronic wounds?
One of the biggest misconceptions about chronic wounds is that they are minor issues that will heal on their own over time. Chronic wounds are much more complex and serious than commonly perceived.
Here are a few key misconceptions that I hear often:
Chronic wounds are just like regular cuts or wounds: Chronic wounds differ significantly from acute wounds, such as minor cuts or abrasions. Unlike acute wounds that typically heal within a predictable timeframe, chronic wounds fail to progress through the normal healing stages. They often persist for an extended period, leading to significant physical, emotional and financial burdens for patients.
Chronic wounds are the result of poor hygiene: While maintaining proper hygiene is essential for wound healing, chronic wounds can arise from various underlying factors, including vascular disease, diabetes, pressure ulcers, infections or other medical conditions. Poor circulation, impaired immune function and underlying health issues are often key contributors to chronic wounds.
Chronic wounds are solely the consequence of inadequate wound care: While appropriate wound care is crucial, chronic wounds are often complex and multifactorial in nature. They may require comprehensive treatment plans set by wound specialists that address underlying conditions, manage infection, improve blood flow, relieve pressure and promote healing through advanced wound care techniques.
Chronic wounds are not a significant healthcare issue: Chronic wounds impose a substantial burden on individuals, families and healthcare systems. They can lead to prolonged hospital stays, increased healthcare costs, reduced productivity and diminished quality of life. Estimates suggest that chronic wounds affect millions of people worldwide, making them a significant public health concern. Often the skin – the largest organ on the body – is just not taken seriously enough!
What more can be done from a government/policy perspective to improve care for Australians managing chronic wounds?
It's such a big area that there is a lot of work that could be done. The Wound Consumables Scheme announced by the Government in this year's budget is a really important step in the right direction. Wounds Australia is committed to seeing a national wound care framework implemented that focuses on prevention, early detection and effective management and ultimately healing of wounds.
Ensuring the framework delivers greater integration of wound care into primary healthcare, encourages and facilitates a multidisciplinary approach, enhances education and training for healthcare professionals, delivers broader consumer access to wound care clinics and specialist services, funds more research, and increases consumer support programs is Wounds Australia's ultimate goal.
Why should students or early career nurses consider a career as a wound nurse?
Choosing to become a wound nurse offers students and early career nurses the opportunity to develop specialised expertise in wound assessment, management and treatment.
Wounds are a growing problem in Australia, so professionals with advanced skills in this area can expect significant job opportunities and career growth. By providing specialised care, wound nurses can make a positive impact on patients' lives, improving their overall wellbeing and contributing to their healing journey.
Collaboration with interdisciplinary teams, continual learning and innovation, varied work settings and the satisfaction of positively impacting patients' lives make wound nursing such a rewarding and fulfilling job.
Wound Awareness Week 2023 runs from 4-10 September. For more information visit www.woundsaustralia.com.au