Nurses turned politicians Dr Helen Haines and Ged Kearney have encouraged nurses to get political and consider utilising their unique skill-set to step into the political arena and advocate for change.
---
The only nurses in Federal Parliament, the pair shared their pathway to politics and offered insights and advice to nursing and midwifery delegates at the ANMF's 14th Biennial National Conference in Melbourne last Friday.
Dr Haines, who claimed the Victorian seat of Indi in May's federal election as an independent, told delegates about the beginning of the electorate's uprising almost a decade ago when community members banded together to push for better representation built on a foundation of values and issues of real importance.
The grassroots community movement led to Cathy McGowan being elected the MP for Indi in 2013 as an independent.
"Never underestimate the power of a group of committed people who speak to values first, local issues next and then get activated," Dr Haines told delegates.
"The people found that having an independent voice to parliament didn't mean we had no power. What it meant was we had a very strong connection with the community into the halls of power."
After six years at the helm, Ms McGowan retired earlier this year, leaving the seat of Indi up for grabs.
Dr Haines said the community came together as it had previously to decide on what to do next and choosing a new candidate to run.
Three people put their hand up, including Dr Haines, with her vision and skill-set eventually getting the nod from the community.
"We underwent what was essentially a citizens' jury and we decided that we had to have 100% consensus in the room and that everyone had to be on board with this next person to take over from Cathy and have a crack running for parliament and that person as it turned out was me," Dr Haines recalled.
In winning the electorate, Dr Haines said she helped achieve what no other electorate has achieved since Federation, an independent member directly followed by an independent member, as well as silencing the doubters such as the ABC's chief elections analyst Antony Green, who said "Not even worth looking at Indi. Not a snowflake's chance in hell" when assessing her chances.
Reflecting on her road to parliament, Dr Haines told delegates much of her time as the MP for Indi is spent out in the electorate listening to the community's issues and bringing their voice to the table.
"I couldn't think of a better set of skills than what a nurse or midwife brings to that."
Ms Kearney, a former president of the ANMF (Vic Branch), former ANMF Federal Secretary and president of the ACTU from 2010 to 2018 before moving into politics, said her career as a nurse prepared her perfectly for the transition to becoming the MP for the Victorian seat of Cooper (formerly Batman).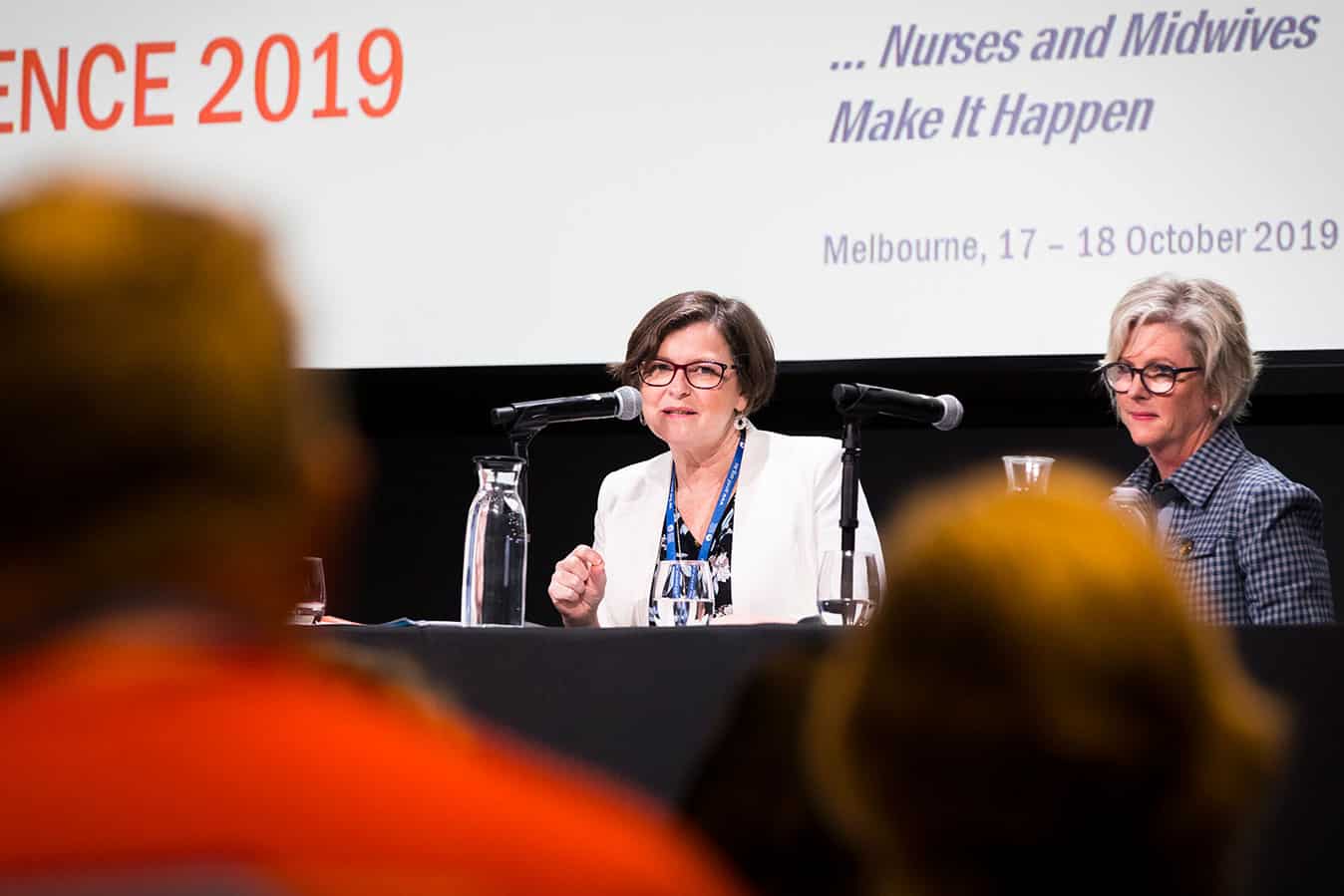 "I think nurses are change agents. We are also brilliant advocates and I think that's what we bring to politics," Ms Kearney said.
"We advocate as nurses and midwives for our patients every day. We advocate for the health system, for our hospitals, for our communities. We make changes, really important changes that save people's lives. That improve the health system, improve our hospitals and hold our communities together."
Ms Kearney said her role as an MP involves a great deal of advocacy for her constituents, the broader community and interests groups and organisations that share her values.
"Often the point of that whole advocacy is to create change and to make things happen, whether that's through legislation or through social change, so I reckon being a nurse has set me up beautifully for this role" Ms Kearney said.
"It taught me to be political. It taught me to listen carefully. Being a nurse taught me that unless we speak up and unless you're prepared to speak up, things don't change, in fact, they get worse."
Ms Kearney told delegates her pathway to union leader and onto politics traces back to her days as a nurse at the Austin Hospital when she became a job rep and got active during foundational EBA negotiations and a campaign to save the hospital from privatisation under the Kennett government.
She said the skills she learned as a nurse and through being involved in the union movement have played an important role in her political success.
"A good politician is one who has had life experience outside of the political bubble and what better life experience is there than being a nurse," Ms Kearney said.
"What you see in the job, what you do, who you meet, who you care for, whose lives you change, whose communities you hold together and are the better for you and who make it through because of you.
"Think of life's challenges you've faced, the satisfactions you draw from the sheer intimacies of the interactions you have with people you care for. Those interactions can prepare you for anything nobody else in the political system can claim. Nothing, in my view, gives you a bigger insight into the characters and complexities of life than nursing does."
Ms Kearney said she had grown into her role as an MP and now felt comfortable speaking up on a variety of national issues such as the environment, refugees and First Nations Australians' rights.
"I just want you to know you are political," she told delegates.
"People care what you think. You hold the system together. You are wonderful people but you've got to get political, be political and stay political. And get elected!"
Asked by one delegate how nurses and midwives could contribute to meaningful change, Dr Haines said the power of the people and a united voice should never be underestimated and that one of the easiest strategies was to simply have conversations with people.
"Get busy, get active, get loud, but be respectful in how you do it," Dr Haines said.