Burns Nurse Practitioner Hana Menezes cut her teeth nursing in the Intensive Care Unit where the firsthand exposure to a broad range of patients and specialties saw her pinpoint an interest in burns.
---
"It's a fascinating speciality," she recalls of her career trajectory.
"There's new advancements happening all the time in every realm. It's multidisciplinary and that's what I really love about it. It's not just one speciality, it's not just the surgery, it's not just the physio, and it's not just the nursing that actually gets these patients through their injuries. It's a combined multidisciplinary approach."
Hana is a Burns Nurse Practitioner at the Victorian Adult Burns Service at The Alfred, the state's dedicated burns service for adults.
Each year, more than 5,000 patients present to Emergency Departments across Victoria with burns ranging from minor and common wounds to severe and debilitating injuries.
In her current day to day role, Hana focuses on building the service's outpatient capacity and ability to provide support to clinicians, patients and families in their communities.
It typically involves over the phone triage to assess patients, combined with wound image reviews, to determine which stream of the services' burns care is required moving forward.
Some patients might need acute admission while others can be supported in the community through care including telehealth reviews and phone consultations.
Hana says 70% of the service's patients are young males who have undertaken some type of risk-taking behaviour, often involving accelerants.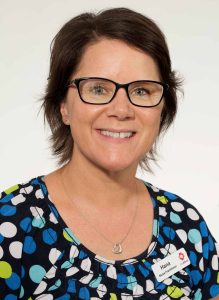 There's also seasonal trends, such as older patients who get injured in the home during the winter months, and the unpredictability of summer that triggers recreational burn injuries around campfires and barbecues.
"If you have a patient with a large burn injury, say a 60% total body surface area, they will probably be around the service for about two years plus," Hana explains.
"If they've got functional impairment, we would do reconstructive surgeries on them after they've gone home and come back so we get to know them fairly well."
Hana admits burns nursing is challenging and demands "a certain resilience" to help patients overcome physical and psychological scars.
"People react very differently. No two patients are the same and you sort of have to keep working with the patient to try and find the sort of lock and key that gets people through their injury and gets them to the recovery stage.
"The reward is in seeing people recover. People make remarkable recoveries from really big complicated injuries and you reflect back when you see them in a couple of years down the track and they adapt and they're incredibly thankful for the care that they get and there's a massive kick out of seeing that process."
Hana counts her involvement in the aftermath of Victoria's Black Saturday bushfires in 2009 and the 2002 Bali Bombings, where patients were transferred to the state for burns management, as obvious moments that stand out during her career.
But she says while such high-profile incidents demand a rapid response it does not necessarily deviate from the regular hustle and bustle at the statewide burns service.
"We've got a predictable seasonal trend of injuries that occur but then stuff can just happen and even within a couple of days the unit can just fill up," Hana says.
"It doesn't take much for a few big burn injuries and the burden of workload starts. It goes on for weeks to months. We start with operating on patients and then the flow on effect to the nursing sort of dressing load happens and then the allied health guys are rehabilitating patients and then it flows onto the outpatient setting as well."
Hana's Burns Nurse Practitioner role was introduced at the Victorian Adults Burns Service in July last year and according to her is already reaping benefits.
For example, a review of the past year's data has shown the increased use of telehealth has saved patients from going back and forth to clinics, or even attending the service in the first instance.
It has enabled the service to keep its small burns admissions down for people that have minor burn injuries by supporting them with ongoing management in the community.
"Face burns are another common injury type that we see a lot of and we used to have to admit the majority of those types of injuries, whereas now we're able to manage them and support them in the community and link in via telehealth for a week to 10 days and get people well supported. We can fax prescriptions for pain relief, we can monitor patients in their homes or with the support of their GPs and district nurses."
Hana says pursuing burns nursing was the best decision she ever made and she remains continually fascinated by the speciality and its evolution.
She says new developments are always around the corner, meaning the role stays interesting and progressive.
"In the time that I've been burns nursing we've seen a very big shift, particularly in surgical techniques and these days they're very swift surgical techniques that are getting wound closure quicker and quicker. There's a lot of new technology with dermal skin substitute and I'm sure in the not too distant future we'll be able to culture dermis. That's the next big thing to come and that will be a massive game changer for the way wound care is delivered."