Australia's nursing organisations must work together if they are to capitalise on the opportunities afforded by the unfolding global Nursing Now campaign and fast-approaching 2020 Year of the Nurse and Midwife to raise the profile of the profession and improve healthcare, according to campaign board member Professor Jill White.
---
Addressing delegates at the Australian College of Nurse Practitioners (ACNP) 2019 national conference in Melbourne last week, Professor White said Australia needed to move away from its fragmented professional voice and band together to make the most of being in the spotlight.
"I'm talking about the next few months leading up to 2020 and the spotlight that will be on nursing through 2020, the International Year of the Nurse and Midwife, that gives us time, that gives us space to talk to governments to talk to people of influence," Professor White said.
"But we have to know what we want to say and if we have every nursing organisation saying something different we'll get nowhere. This is the moment for our nursing organisations to sit together, come up with a national plan and decide what we want in the next 12 to 18 months."
Professor White, the Nursing Now Campaign Board Member for the Western Pacific Region, outlined the campaign's evolution and progress since being launched in February, 2018, as it strives to achieve universal health coverage by investing in nursing to maximise its contributions.
"Contrary to the title and contrary to what a lot of people seem to think, this is not a nursing campaign," she explained.
"This is absolutely and completely a health campaign."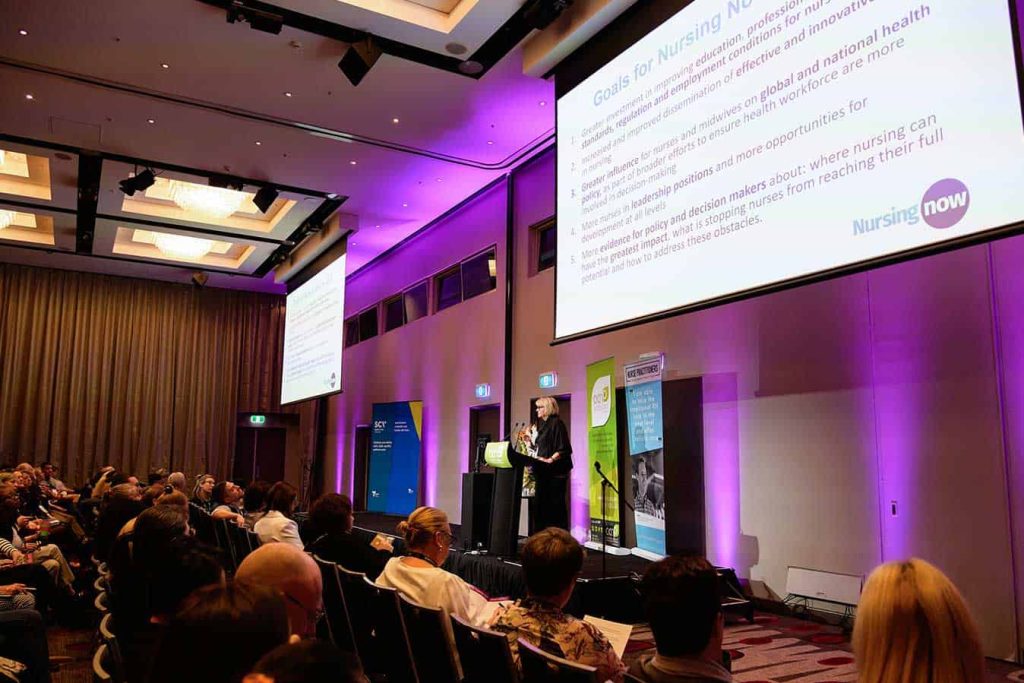 Elaborating on her point, Professor White said Australia's contribution to the campaign is focused on access and equity when it comes to health, especially for vulnerable communities such as Australians living in rural and remote.
"I think we really do have to look at what is our role in health and what are our barriers to our role in health. Not our role in making nursing better – our role in health.
"We have to get our leadership skills better, our policy understanding better, we have to raise our profile but we have to have this consistent messaging and framing.
"This is not just about nursing. This is about changing access to healthcare and improving healthcare."
Professor White said the campaign's Nightingale Challenge, which is aiming to promote 10,000 nurses aged 35 and under into leadership programs, was an example of developing the profession's next generation
She said nurse practitioners, through their skills and knowledge, were well placed to make meaningful contributions to Nursing Now and the 2020 Year of the Nurse and Midwife, and that politicians and non-nursing health leaders needed to work with nurses to create radical change.
"You have the evidence, you are articulate, you are educated, you are passionate, you know you make a difference and you have access to people of influence," she said.
"For me, nurse practitioner access to reasonable pay and conditions, whether it's MBS or some other way, is number one.
"[This campaign] is about making sure that we together understand how nursing can make the best contribution to cost-effective, good access to healthcare."