Registered nurse Hugo Chatwin-Smith was drawn to the diversity of Custodial Nursing and opportunity to deliver healthcare to Victorians experiencing the lowest point in their lives.
---
Underneath the bustling Melbourne Magistrates' Court on William Street, the Melbourne Custody Centre is a police jail, essentially a stopover used to hold prisoners attending court hearings, or those who have been arrested and placed on remand.
Victoria Police's Custodial Health Service is based at the centre and provides healthcare to people held in police custody across the state, including daily visits to police jails such as Sunshine, Ballarat and as far as Shepparton.
The Melbourne Custody Centre holds about 70 people with nurses rostered on 24 hours a day to ensure people in custody maintain good health.
Out and about, cell nurses drive around to police jails and conduct health assessments, ensuring all prisoners are seen within their first 24 hours in custody.
They are supported by a triage nurse working on the phone line that provides health advice to police and custody officers in police jails beyond the centre.
A team of more than 20 nurses, including one nurse practitioner (NP), and four doctors lead the Custodial Health Service.
They hail from diverse backgrounds such as bush nursing, intensive care, mental health and cardiology and most have emergency experience.
"I'm not good with dressings but I know my boss was a burns nurse in the Northern Territory," Hugo explains.
"I don't know too much about HIV and AIDS but my colleague is a sexual health nurse as well. What experience we don't have, there's always someone around who knows something."
"Ultimately this job, when you get down to the bare nuts and bolts, is about risk assessment," Hugo says.
The healthcare service includes a pharmacy, which stocks a wide-range of medications so people in custody can keep up their regular medication, and a small doctor's clinic.
Prior to joining the service, Hugo specialised in cardiac nursing, including a stint at the Royal Children's Hospital looking after kids with congenital birth defects.
It was there, in the middle of a nightshift, that he stumbled across a job advertisement for a custodial nurse and immediately became intrigued.
"I have always been raised as a community minded person," Hugo says.
"If you do a little bit of research into the population of people in prison at the moment, one out of three in Australia haven't finished year 10. At least one in every five has had at least one incarcerated parent at one stage of their childhood, half have been homeless a month prior to seeing us and a third haven't seen a health professional in the community in the preceding 12 months when they needed to. Rates of infectious diseases are incredible."
Hugo says a routine day at the Custodial Health Service's headquarters runs much like a hospital ward.
It begins by handing out morning medications to up to 20 people in custody.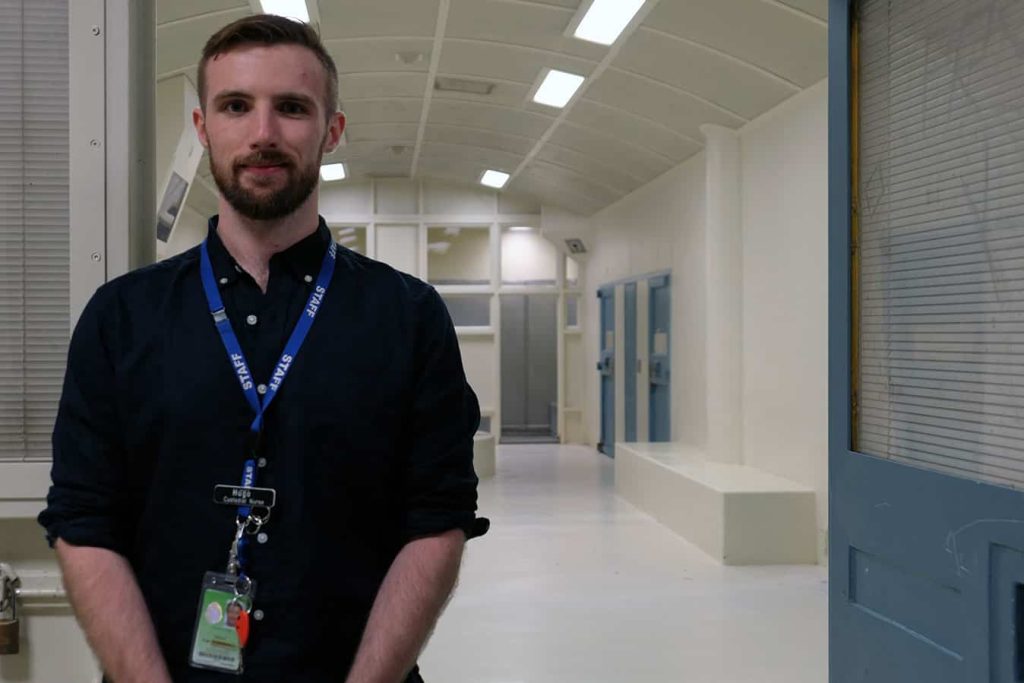 "That's a good place where you can also do your blood pressures and blood sugars and auscultate if you need to," he says.
At least two guards shadow nurses at all times and a strong focus on safety means problems are rare and rates of clinical violence low. After medications, Hugo prepares for the doctor's clinic, where prisoners who have been flagged for review the night before are examined.
Some of the biggest health concerns include Hepatitis C, diabetes, asthma and mental illness.
A doctor's visit can entail prescribing regular medication for people in custody, with alcohol and opiate withdrawal widespread, as well as anything from dressings to minor surgeries.
Lunchtime medication handout usually involves a round of Opioid Substitution Therapy Program, methadone and suboxone, for those who are currently prescribed the drugs out in the community.
Afternoon medications follow a similar pattern before handover.
Hugo says he finds the other side to the role, visiting police stations across the state and conducting health assessments on prisoners, even more interesting and rewarding.
"Ultimately this job, when you get down to the bare nuts and bolts, is about risk assessment," Hugo says.
"What's the risk associated with this person staying in our custody? Can we manage any of their medical issues? If we can't, do we escalate it by sending them through to the assessment prison sooner or do they need to go to hospital?"
A recent focus at the Custodial Health Service has introduced sworn police officers into the unit.
Head of the Custodial Health Service, Acting Inspector Greg McWilliam, says it's enabled the service to achieve better outcomes.
"These guys [like Hugo] come in with a particular set of skills in the clinical field whereas we come with operational policing experience so the two working hand in hand is becoming more necessary," Acting Inspector McWilliam says.
"For me, this job is the ultimate version of unbiased healthcare.
He says the Custodial Health Service team works within a challenging but rewarding environment.
"People who come into our custody are at the lowest point in their lives. They come in with drug and alcohol issues, mental health issues, and all sorts of things. They're at their lowest ebb when they come to us and we have a duty of care and responsibility to make sure they don't get further harmed or injured whilst in our custody."
Hugo says every day on the job is different and that he feels proud that the service often detects health issues that fall through the cracks.
From acute drug intoxication, to chronic wounds and poor health education, custodial nurses see it all.
Hugo says custodial nursing demands good assessment skills, compassion and fairness, and a strong belief in primary healthcare.
"For me, this job is the ultimate version of unbiased healthcare.
"You're seeing people that are accused serial rapists, murderers and drug dealers whose behaviour has led them into custody.
"But you always need to have in the back of your mind, the perspective that says, these people may not be here because of one action. There may have been a culmination of missteps: their upbringing, their lack of access to health and education, everything that we define as disadvantage that has contributed."
Hugo believes the Custodial Health Service, the only one of its kind in Australia, provides a service to people who cannot get it anywhere else.
"These are the most disadvantaged people in Victoria and there's no real way of arguing it because every single walk of disadvantage is here," he says.
"It's challenging. It's exciting. It's like nothing else. The sounds, the noises, the sights that you see, the stories that you collect and the interaction with people that you would never actually interact with within a hospital [is unique]."
The Custodial Health Service will be recruiting nurses and nurse coordinators/managers in the near future.
Job opportunities within the Custodial Health Service can be found at careers.vic.gov.au