NSW nurses and midwives have lost about $80,000 each since the state government's public sector wage caps were introduced a decade ago, a new report has revealed.
---
By the 2021-22 financial year, wages for an experienced nurse/midwife working full-time were $335 lower per week, or about $17,500 for the year, because of pay caps put in place in 2012, findings show. On a cumulative basis, the wage freezes amount to a combined loss of $80,000.
If the pay caps remain, the report says the losses will cumulate further over the next two financial years for a combined loss of $120,000 per nurse by 2023-24. Nurses and midwives' superannuation balances will also be $12,500 worse off.
At a press conference this morning, experienced registered nurse and NSWNMA member Julia Farley said the report, undertaken by the Centre for Future Work at the Australia Institute, painted a bleak picture of the environment nurses and midwives were working in.
"Looking at those figures is actually quite harrowing, and disappointing to see, and upsetting," she said.
"I'm sure most of my colleagues feel the same, and not just nurses and midwives, but I think the rest of the essential workers that have really shown, especially the last three years [during COVID-19], that we are worth every cent that's being spent on us and we actually deserve a hell of a lot more than what we're getting."
NSWNMA Assistant General Secretary Michael Whaites said nurses had bravely gone on strike a record three times this year for two reasons: a crushing workload in the public health system, and inadequate pay that recognises their work and contribution in dealing with the pandemic.
"It's now very clear that the inability of NSW to recruit and retain sufficient nurses and midwives to meet the demand in the system is, in large part, through the decisions of this government," he said.
"A failure to introduce shift-by-shift nurse-to-patient ratios and a failure to pay nurses and midwives what they rightly deserve."
Mr Whaites said the report's findings, including the prospect of a dedicated nurse or midwife not being able to live comfortably in retirement, "should haunt the Premier".
The second-worst paid in the country, many NSW nurses and midwives are looking to move interstate in search of better pay and conditions amid rising inflation and cost-of-living pressures, he warned.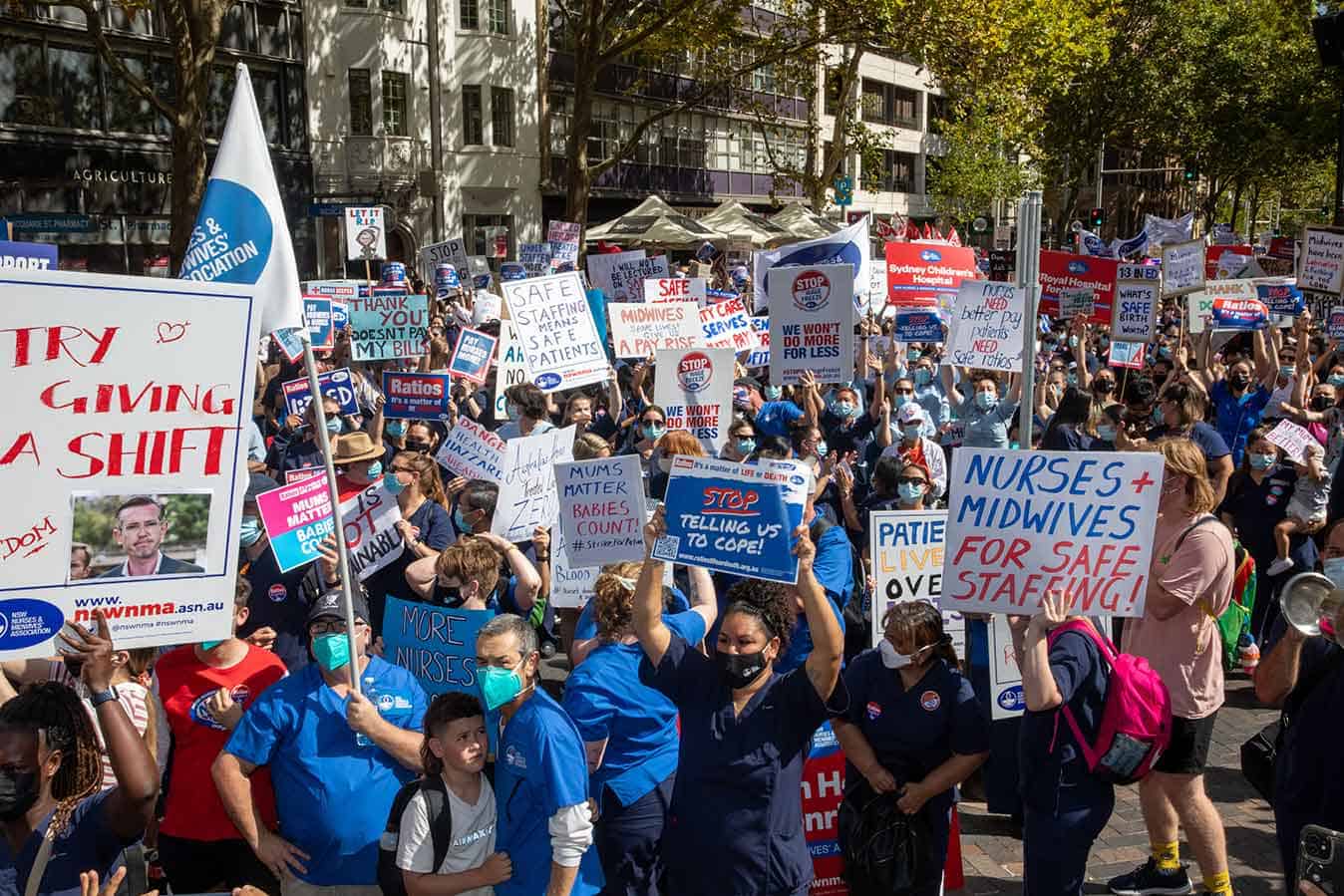 "The government needs to act by scrapping the wages policy and it needs to act by re-entering into good faith braining with nurses and midwives of this state," he said.
"The evidence in this report is nothing short of gobsmacking. The idea of a fair day's wage for a fair day's work seems like a pipedream and nurses and midwives across NSW are starting to re-evaluate their careers."
Nurse Julia confirmed the fears, suggesting many of her colleagues were leaving, not because they don't love the profession anymore, but due to unsustainable working conditions and feeling ignored and undervalued by the government.
"In 2020, that initial wage freeze was an absolute slap in the face for all of us," she recalled.
"We're doing this job because we're passionate and we have compassion for communities. Someone needs to be there to look after these people and having our wages frozen when we're the most needed in the state is a massive slap in the face, and looking at how this is going to have more long-term consequences for myself and my colleagues is just devastating."
The report's author, Dr Jim Stanford, economist and director of the Centre for Future Work at the Australia Institute, said his research made it clear that the NSW government relies upon harsh public sector pay restrictions as a matter of political and fiscal convenience, without negotiation or consideration of normal wage determinants such a rising cost-of-living and productivity.
The report recommends that the "arbitrary" pay cap system in NSW be immediately scrapped.
"The routine imposition of these pay caps has just become a routine for the government," Dr Stanford argued.
"There's no fiscal or economic basis for what they're doing. They're doing it because it's convenient, it saves them money, and because they can portray themselves as being tough on costs. It's an absolute slap in the face for the public sector workers who helped this state [during the pandemic]."
Positively, Mr Whaites said the union's discussions with the government had shifted and improved in recent times since the state opposition announced plans to introduce minimum and enforceable safe staffing levels in public hospitals, if elected. However, he stressed there was still a long way to go.
NSWNMA General Secretary Shaye Candish said the government's wages policy set back nurses now, and into the future.
"NSW is the second worse paid state in Australia because of this policy, making it near impossible to attract and retain staff in such a tight labour market. It's clearly a bad policy for nurses and midwives, but the implications for regional communities and the health sector overall are just as dire," Ms Candish said.
"Thanks to the NSW government's ongoing wage caps, most nurses and midwives will fall well short of the thresholds considered for a 'comfortable' retirement. This is a confronting prospect, especially for women, single retirees, and renters.
"This says a lot about further gendered inequality that we already know exists and highlights how discriminatory wage caps are upon the female-dominated nursing and midwifery workforce."
Read the full report here