One of the most personal and intense aspects of mothering, breastfeeding is all too often assumed to be simple, and the most natural thing in the world.
---
Yet according to new book, Spilt Milk, while breastfeeding can be affirming and trouble-free, for many mothers it is difficult, confusing, painful, and can leave them wracked with guilt and susceptible to depression.
Spilt Milk features the recent and retrospective experiences of more than 80 mothers and also includes reflections from fathers and partners.
The collection, gathered by nurse, midwife, and experienced lactation consultant, Elizabeth Yip, delved into breastfeeding and includes a useful preface on how lactation works for mothers and babies.
Elizabeth says the book celebrates and acknowledges mothers from all walks of life.
"In the not so distant past the image of a 'good mother' was one who breastfed," she says.
"But we know while most women can produce some breastmilk, many, for a range of reasons, will have trouble in producing enough milk for babies to thrive. We also know that the western healthcare system has often touted restrictive rules around the process and practice of feeding, sometimes confounding mothers' efforts to persist.
"What is clear from the book is that no two women or their experiences of breastfeeding are the same. Supporting their efforts in that context continues to be vital."
Stories in the book are diverse and engaging.
From the blissfully easy serenity of feeding a new baby on demand, to traumatic struggles with an oversupply of milk, mastitis, blistered nipples, or low milk production, leading to fractious babies, sleep deprivation and an abiding sense of failure.
Editor Dani Malone, who reveals own experience of breastfeeding was difficult, says the book reflects truths and realities that are rarely discussed openly.
"There is a lot of public conversation about birth, delivering a healthy baby being the end game, but that is only half the journey," she says.
"The critical weeks of bonding with a new baby and adjusting to breastfeeding are not well understood and the idea that feeding problems can continue into the first 12 months of a child's life rarely makes the spotlight.
"In an age where we fully understand the vital benefits of breastfeeding for good health over a lifetime, the sense of failure when breastfeeding is not straightforward or becomes impossible, can't be underestimated."
Many of the stories shared in the book reflect a courageous journey to give newborns the best start possible and to breastfeed even if only for a limited time, and through every journey there shines the mothers' love and commitment, Malone adds.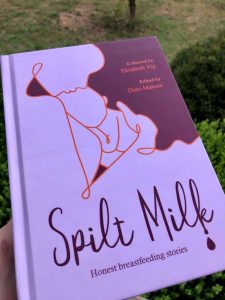 "Being able to tap into other women's experiences makes all the difference in understanding the huge range of what is normal in breastfeeding," she says.
"All of these women have had a passion to nourish their children in the best way possible, but their stories really highlight how different each experience can be – for some women it's a breeze and for others, a mission impossible.
"Importantly the stories help us to understand that we are not alone and that there are no score cards for breastfeeding, doing your best is enough."
Published by Green Hill Publishers, Spilt Milk is available in paperback for $27.99 at spiltmilkstories.com.
The book will be officially launched in Sydney on August 26.