"We understand that death and dying is a difficult subject to talk about and engage with," says Camilla Rowland, Chief Executive Officer at Palliative Care Australia (PCA).
---
It's why this year's National Palliative Care Week (21-27 May) is shining the light on 'Matters of Life and Death', with a new video and social media campaign featuring powerful voices raising awareness about palliative care and its benefits, advocating for increased access to essential palliative care and related healthcare services, and encouraging important conversations about quality at the end-of-life.
"The 'people at the heart of quality palliative care' – our workforce and volunteers, have opened their hearts to share the life lessons they learn everyday as they provide care and support to people and families living with life limiting illness," says Ms Rowland.
The campaign features several registered nurses, including ACT-based Palliative Care Nurse Practitioner Juliane Samara.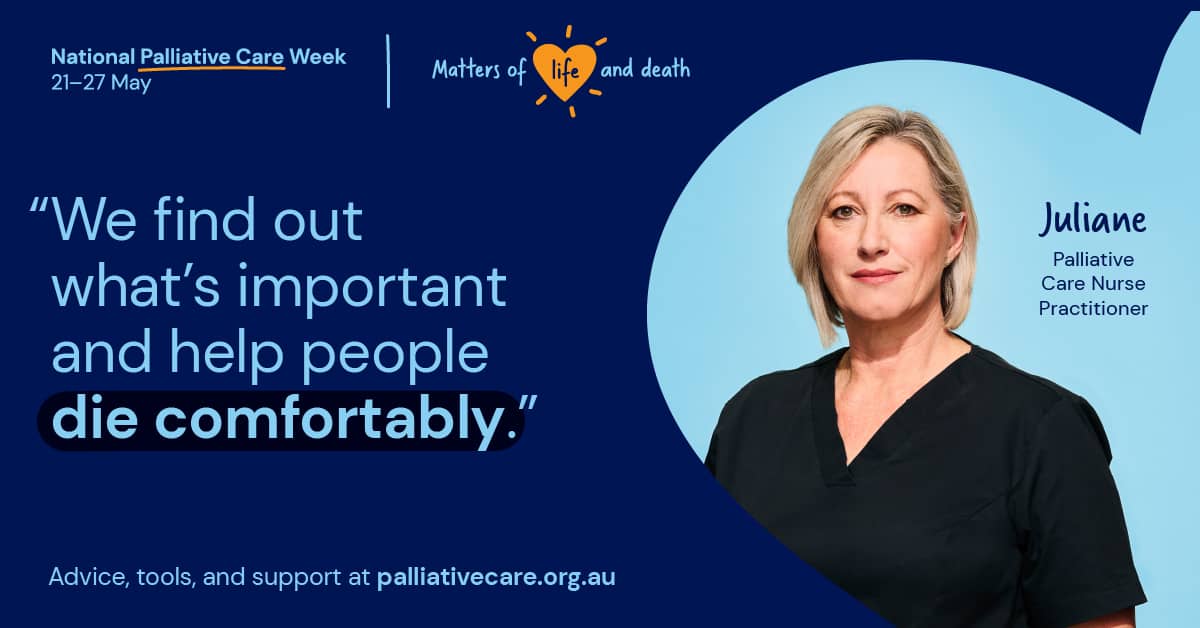 "Generations ago people died at home, cared for by their family," Juliane says.
"We have now hidden death and dying behind closed doors, either in nursing homes or hospitals. We need to embrace death and dying as part of living. We need to be more comfortable talking about it and having those conversations so that we are more prepared when the time comes."
Headlining this year's campaign is the moving documentary, 'Live the life you please', launched today at Parliament House in Canberra, which delves into the stories of real people from across the country, sharing their personal experiences of palliative care and the last chapter of their lives.
"National Palliative Care Week and the stories we will share will open the door on the full scope and impact of palliative care and the quality of life it delivers. I hope it provides a moment of reflection for all Australians to think about and plan for the last chapter of life," Ms Rowland says.
To get involved and show your support for palliative care and the people who deliver it, PCA is encouraging Australians to share their stories and help breakdown the taboos on social media using the hashtag #MattersOfLifeAndDeath.
For more information on what you can do to support the campaign as well as a range of useful resources click HERE.