"I just love the variety of people who come through the door," says sexual health nurse Angela Knight.
---
"You could get anyone from a 16-year-old to a 75-year-old and people come from so many different backgrounds. They really appreciate having a specific service where they can come and talk about this really personal topic because often they don't feel comfortable talking to their GP. I'm pretty privileged that they trust me."
A registered nurse, Angela has worked at the Canberra Sexual Health Centre for the past eight years, a specialist clinic providing free testing and treatment for sexually transmitted infections (STIs) and the region's largest HIV outpatient service.
"A lack of judgement is really important," she says when asked to list the key attributes sexual health nurses need.
"People do come in feeling quite ashamed or mortified about what they've done regarding some recent sexual activity that has occurred. We don't judge people on their behaviour and say 'look this is what we can do right now' to relieve their anxiety. Just letting people sit down and listening to them are the keys."
Angela's nursing career spans diverse settings including endoscopy, surgical wards, nursing homes, anaesthetics and recovery.
She stumbled across sexual health nursing when seeking a change from the hustle and bustle of the acute sector.
"I always wanted to do something different but I didn't know how to retrain myself," she explains.
"I wanted to get out of hospitals and that surgical operating theatre environment and move into a community-based setting. I turned 40 and thought 'I need to do something!'."
Angela contacted Sexual Health and Family Planning ACT and undertook a six-month Certificate Course in Reproductive & Sexual Health, which includes 50 hours of clinical experience, in a bid to broaden her skill-set.
One of the observational days took place at the Canberra Sexual Health Centre.
"I thought it was fantastic," she recalls of her first impressions.
"I really admired what the clinic did and the nurses' role in patient care so when I completed the certificate I called and said I was interested in coming on board, even though I had no sexual health experience. They said 'look we don't have anything for you right now but we'll keep you in mind'. A couple of months later, they contacted me and offered me a three-month contract and that was eight years ago."
Nurses working at the specialist clinic hail from a variety of backgrounds including intensive care, midwifery, the emergency department and theatre nursing.
The clinic offers a wide-range of services, including asymptomatic screening for people who just want a check-up, treating people with STI symptoms, emergency contraception, vaccinations, and providing PrEP, a daily medication for people at risk of contracting HIV, as well as PEP, which is administered post-HIV exposure.
Nurses also carry out outreach, such as providing sexual health promotion and testing at high schools, brothels and a variety of other settings in the community, and undertake contact tracing where they assist with notifying the sexual partners of someone diagnosed with a STI.
The most common STIs treated at the clinic include chlamydia, gonorrhoea and syphilis, as well as herpes, genital warts and HIV diagnosis.
What does a typical day on the job look like?
"The drop-in clinic runs most days from 9am until 2pm and people can just walk in and fill in a registration form and tell us why they're here, whether they've got symptoms or whether they just want a STI test or emergency contraception," Angela says.
"People are seen by either a nurse, one of the doctors, or the nurse practitioner depending on what they need. It can be anything from someone with symptoms to somebody who is a contact of someone who has a STI or women wanting emergency contraception. People wanting PEP and PrEP are also a common presentation. Sometimes, people just come in seeking education about STIs or they haven't been sexually active but they're thinking about becoming active. We can discuss safe sex and testing and refer them onto other services like Sexual Health and Family Planning for contraception."
The remainder of Angela's day is usually spent seeing people who have booked an appointment and contacting people about their STIs and potential contact tracing of their sexual partners.
"A lot of people are happy to do the contact tracing themselves and call partners and say 'I've got chlamydia, you need to get yourself tested and treated'. Other people don't want to have that conversation so we'll get the name and a mobile number of their partner and call them.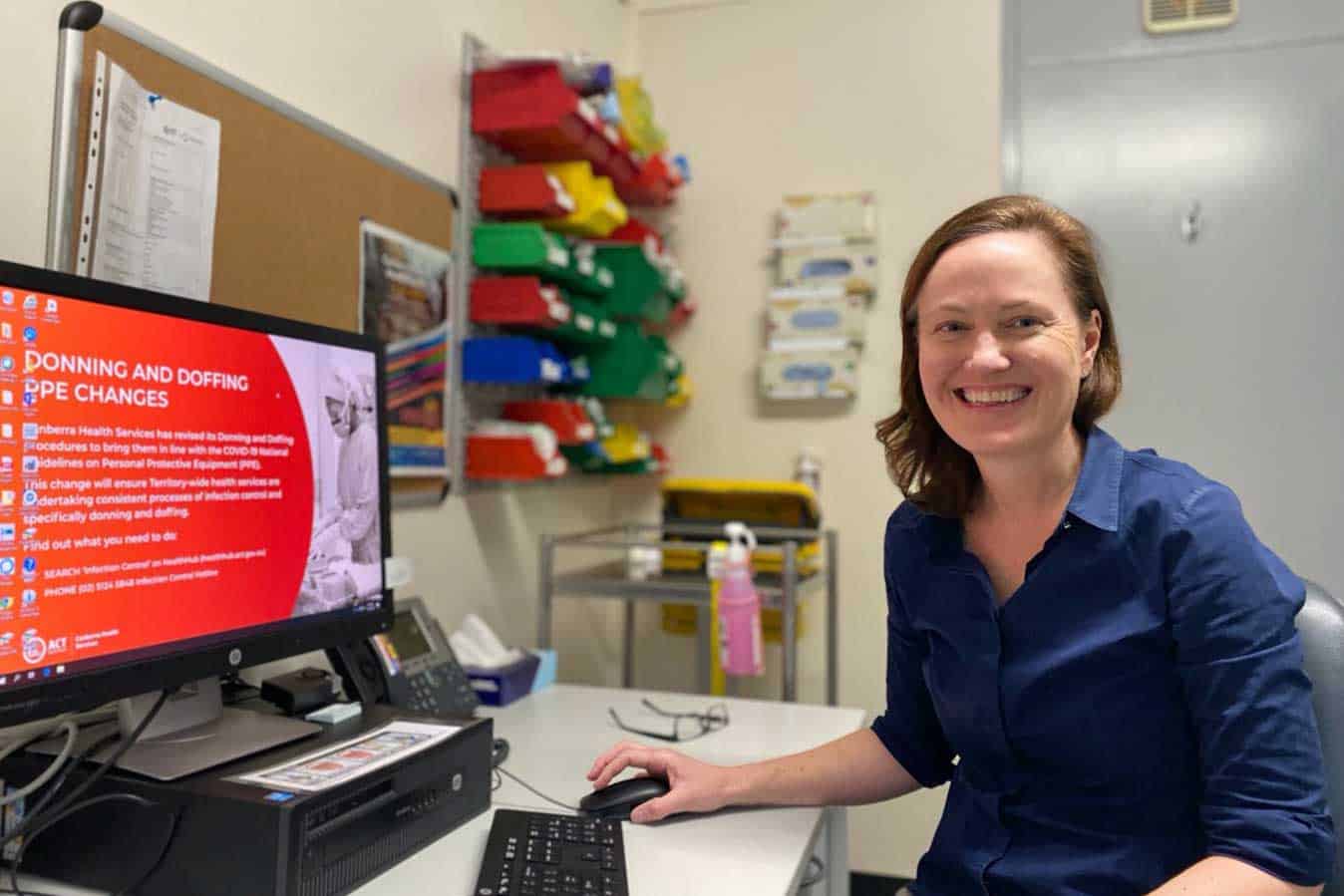 "We keep it completely confidential, so you can't identify who the partner might be. We keep it pretty brief, let them know they've come into contact with a STI and that they need to get themselves tested and treated. We ask them where they live and direct them to an appropriate sexual health service or their GP."
There is also a website called "Let them know" in which you can punch in someone's mobile number and it sends them a text message alerting them to get tested, Angela says.
"There's different ways that you can do contact tracing. It's really important because a simple infection like chlamydia, which is very common, can cause quite devastating consequences down the track around fertility, chronic abdominal pain or testicular pain."
While Angela concedes there is still significant fear and stigma attached to STI testing, she believes greater promotion is normalising the process and encouraging more people to access the clinic for asymptomatic testing and to look after their sexual health.
Like most health services, the clinic has had to adapt in the wake of the COVID-19 pandemic but Angela says positives have emerged.
"We've actually streamlined the way that we run our clinic now and moved onto an appointment-based system. For example, today I was on the phone triaging people and that's what we'll continue to do to make sure they're in the right service.
"Sometimes people come here but they really need to go to Sexual Health and Family Planning or they've got a urinary tract infection which would be better dealt with by their GP or a walk-in-centre. We had people waiting for a long time on really busy days but since moving to appointments it's been a lot more uniformed and controlled."
As COVID-19 restrictions ease in the ACT, Angela says the clinic will resume delivering other services such as vaccinations and education.
On reflection, Angela counts taking the plunge and moving from the acute sector to join the Canberra Sexual Health Centre as the best decision she's ever made.
"I'm very proud of what I do, it's a really interesting job and I get to go around to so many different places and meet different people through outreach" she says.
"I get to work in an autonomous manner and I'm always encouraged to develop my clinical skills when seeing symptomatic patients with the back-up of the doctors and nurse practitioner here. We're encouraged to be independent but also work within our scope of practice."
Angela encourages anyone experiencing STI symptoms or just wanting information about sexual health to contact their nearest clinic and stop putting it off.
"It's not as scary as you might think it might be. Our staff are all very welcoming. It's a confidential service and you'll be relieved. It's horrible to have the thought of a STI hanging over your head and sexual health is really important so come in and get tested."