The federal government is developing a National Workforce Strategy to address workforce challenges and support the profession to continue to deliver person-centred, evidence-based care for all Australians. As part of the initiative, it is currently seeking to capture views on nursing workforce issues and ideas that will help shape a bold and innovative Strategy.
---
Nurses are being encouraged to attend face-to-face workshops, being held across the country, exploring workforce challenges and opportunities for improvement. Consultation is running until the end of November, while nurses will have future opportunities to have their say through targeted interviews, sector specific webinars, yarning circles, and an online survey.
Ultimately, the National Nursing Workforce Strategy is aiming to enable nurses to work to their full scope of practice so that they can meet Australia's future health and aged care needs. The Strategy will tackle workforce planning and sustainability, diversity of the profession, and the challenges of regional, rural and remote nursing. Key goals include identifying and addressing national priorities that help maintain and deliver quality, evidence-based, patient care; build and sustain an experienced workforce; and support the mental health and wellbeing of the workforce.
To develop the Strategy, the federal government is collaborating with a range of stakeholders, including nurses, peak health bodies, educational and regulatory nursing organisations, and the community. Australian Nursing and Midwifery Federation (ANMF) Federal Secretary Annie Butler is a member of the Strategic Advisory Group steering the Strategy and its aim to develop a range of actions to build and advance the profession.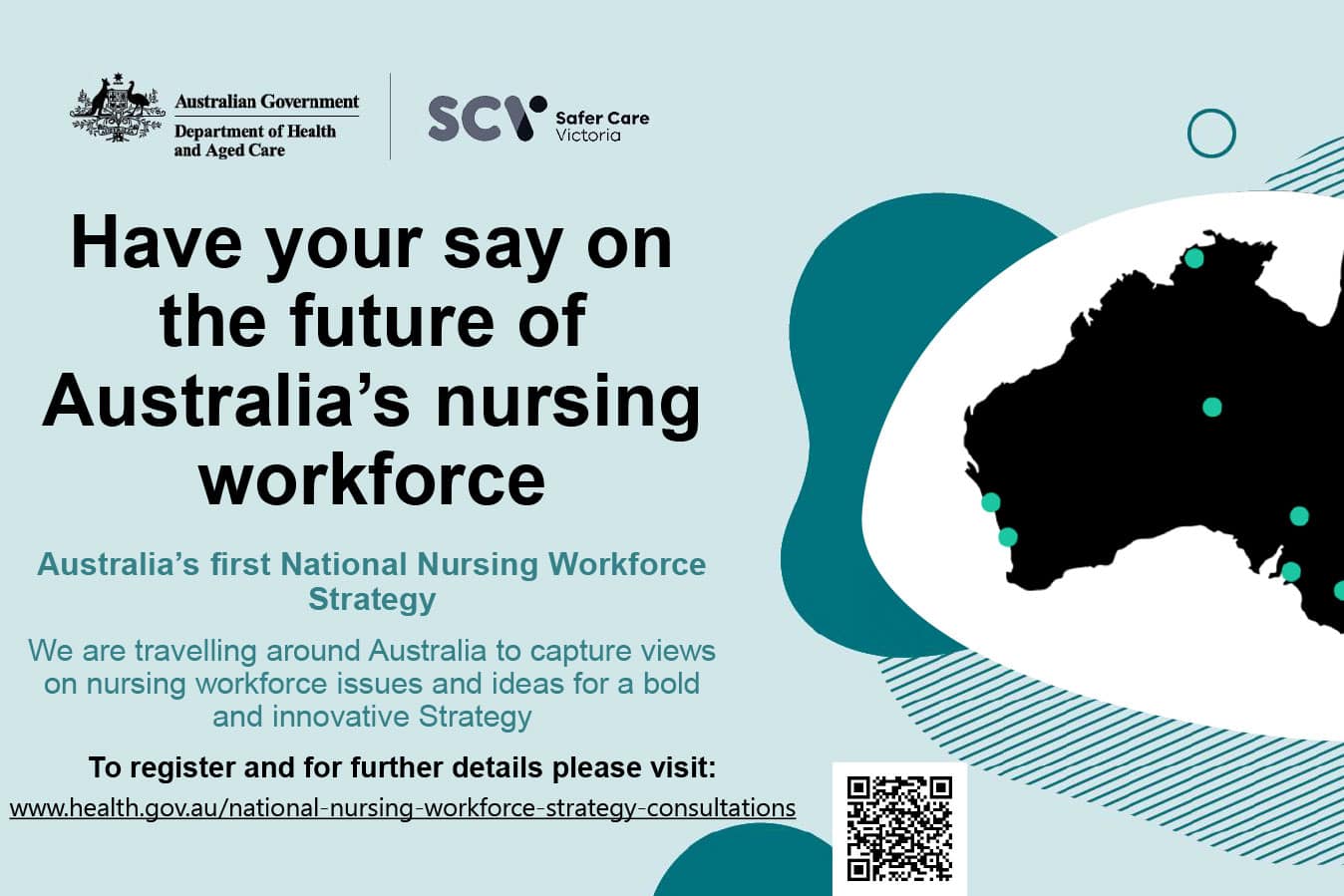 Face-to-face workshops are currently being held around Australia:
Cairns (QLD) 10 October
Tanunda (SA) 18 October
Adelaide (SA) 19 October
Canberra (ACT) 23 October
Alice Springs (NT) 25 October
Brisbane (QLD) 31 October
Devonport (TAS) 8 November
Hobart (TAS) 9 November
Perth (WA) 14 November
Geraldton (WA) 15 November
Bendigo (VIC) 22 November
Melbourne (VIC) 24 November
Sign up to attend a workshop at National Nursing Workforce Strategy Consultations | Australian Government Department of Health and Aged Care