Nurses working to their full scope across the health system, free from barriers that hinder the delivery of care, can make a far greater difference to access to healthcare and outcomes, a delegation of ANMF members from across the country told key politicians at Parliament House in Canberra last week.
---
Members, including registered nurses working in aged care, specialist nurse practitioners and advanced practices nurses from NSW, the ACT and South Australia, met with the Labor Government's Aged Care Minister Anika Wells, Health and Aged Care Minister Mark Butler, and Assistant Health and Aged Care Minister Ged Kearney, as well as Independent Senator David Pocock, and Greens Senator Janet Rice.
Discussing both what works well and the barriers to providing healthcare with Minister Butler, Advanced Practice Nurse Rachel Backhouse shared the impact Canberra's nurse-led Walk-in Centres have made since introduced.
Many patients access the centres because they are unable to see a GP, Rachel said, with one centre recently seeing 306 patients in one day that would have otherwise presented to an Emergency Department and clogged up the hospital system.
Nurses carry out a variety of care, including ordering blood tests and X-Rays, and suturing.
"We suture, we put casts on, we do a lot of things and we work with a lot of GPs as well. There's a lot of work out there but we need to look at how we're addressing primary healthcare in Australia because the emergency departments are just getting inundated with patients," Rachel told Minister Butler.
Colleague Alison Wong argued the free Walk-in Centres could see more people if they were fully staffed and expanded.
Palliative Care Nurse Practitioner Juliane Samara, who works across 29 aged care facilities throughout the ACT, shared the difference NPs can make in residential aged care and the need to support more NP-led models of care.
In her role, she can prescribe medications to relieve residents' pain and suffering. She receives referrals from GPs every day and works collaboratively with them to manage residents' care. Nevertheless, the positive working relationship isn't the same for everyone.
"I think the GPs that don't understand how nurses work and don't understand nurse practitioners' scope are the ones that raise their voice: it's fear and competition," Juliane suggested.
NSW aged care registered nurse Glen O'Driscoll said nurse practitioners could play a greater role within his scope of practice, as he often cannot deliver timely care. Working in aged care in rural and remote, he says residents can wait days before they receive appropriate care.
"This comes to issues of prescribing the essentials of care like antibiotics for an infection or palliative drugs for people who are in pain and at end of life and I can't get my hands on a GP. GPs are not cloneable quantities; they're rare."
"We need more NPs, they need to have a brief to work across facilities, and it needs to be a funded position. The way the system is set up at the moment, even if they were practising as NPs, they can't generate enough revenue to justify their own existence."
Addressing Minister Butler, Juliane stressed nurse practitioners were collaborators, innovators, and key contributors of multidisciplinary teams.
"We're not a replacement workforce. We don't replace doctors; we never want to replace doctors. We want to work as multidisciplinary teams. Nurses do that inherently and we do it well," she said.
"The best models that I see are where everybody in the team is an equal member of that team. There's no hierarchy but everybody knows what their role is and everybody knows that they can talk to each other, refer to each other and work together when there's a need."
Stuart Smith, an Emergency Department Nurse Practitioner at South Australia's Modbury Hospital, said he felt well regarded within the wider healthcare team and that the model was working exceptionally well.
Still, he worries about workforce sustainability and attracting the next generation, suggesting that increased funding is required to encourage more people to become emergency NPs.
"I think there's a lot of tired and jaded emergency nurse practitioners," he revealed.
"A lot of nurse practitioners are nurse practitioners despite the system. There's a lot of hurdles and a lot of hoops to become a nurse practitioner. We certainly need more than the 3,000 odd that we've got in this country.
ANMF members also met with Assistant Health and Aged Care Minister, and former ANMF Federal Secretary Ged Kearney, to provide insights into what is, and what isn't, working across the health system.
After working in the hospital system for 20 years, Advanced Practice Nurse Rachel Backhouse said she "needed something more" and was fortunate to stumble into Canberra's nurse-led Walk-in centres. As an APN, she cannot prescribe drugs on the Pharmaceutical Benefits Scheme (PBS) but can ask an NP to do so if they are on shift.
Sharon Horn, a specialist epilepsy nurse practitioner from South Australia who runs a First Seizure Clinic, told Minister Kearney she often struggles with prescribing limitations depending on the type of drug required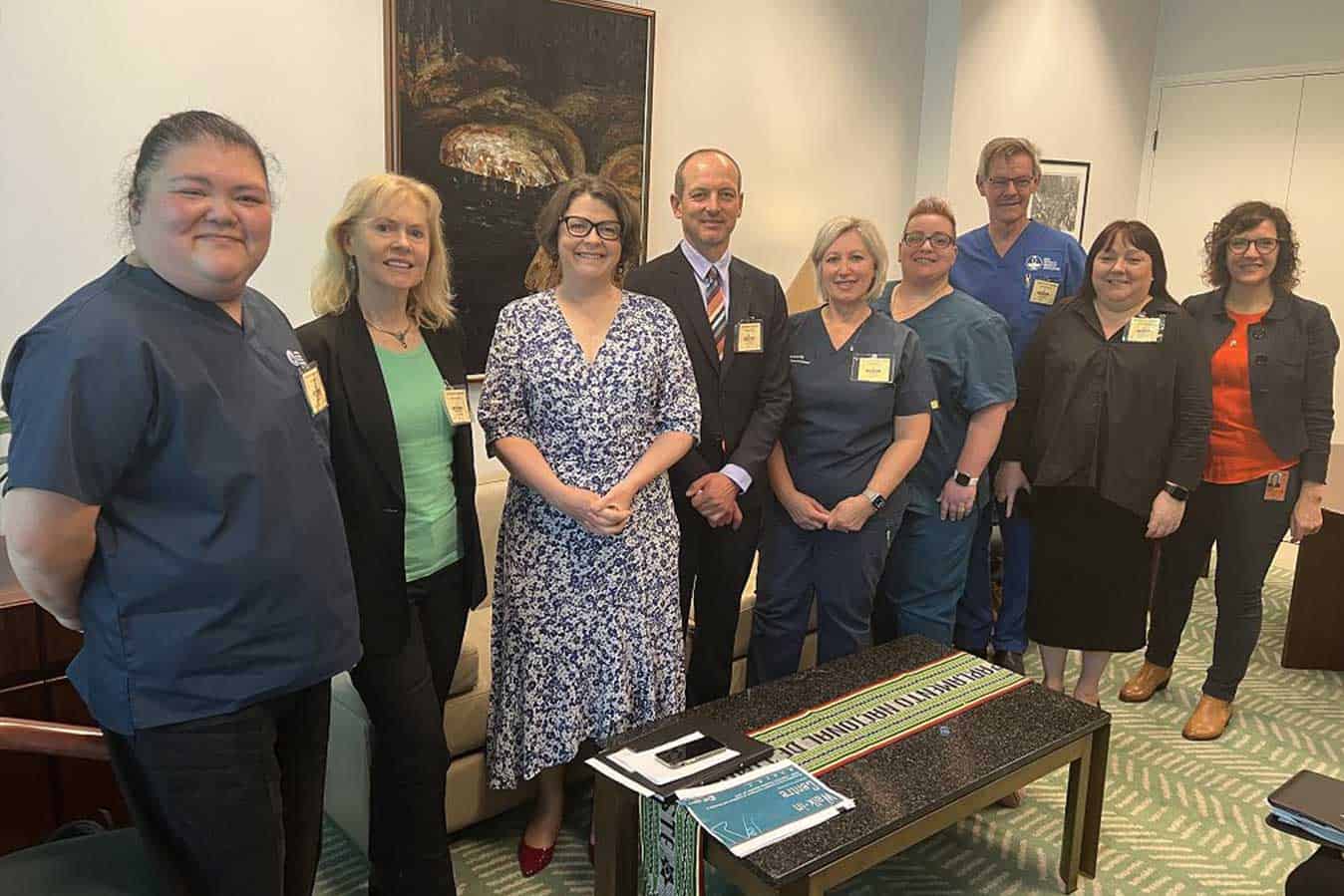 "My role is to investigate, diagnose and then see what the risk of a recurrent seizure is. If I deem there's a high risk, I'm going to recommend that the patient goes on an anticonvulsant but as a nurse practitioner, I can't initiative that anticonvulsant. I can select the appropriate anticonvulsant, I can counsel the patient, and educate them, but I have to go and find a doctor to provide that prescription."
The glaring problem, however, is Sharon does not always have access to a doctor that allows patients to receive timely, and much-needed, care. She can prescribe some medications under the PBS, yet, it would mean patients have to pay full price for medications, which many cannot afford to do.
Aged care nurse Glen echoed the sentiment, saying that the lack of access to GPs, especially in rural and remote areas, means he is often faced with letting palliative patients suffer and wait or sending them to hospital to receive pain-relieving medications.
"You know what the problem is, you know what the drugs are that need to be charted but you can't do it without a doctor. If I had a nurse practitioner working across aged care that could do those things, we could deliver timely care."
ED NP Stuart suggested that many of the barriers nurses face to providing care boiled down to simply allowing nurses to work to their full scope.
"It's just allowing nurse practitioners to work to their scope. We're not mavericks. We're not cowboys. We're here for the patient – it's about safety, timely care, and access."
Ms Kearney said the Government was considering a number of initiatives to improve the health system, including expanding the role of nurses and nurse practitioners, so that all Australians have access to quality healthcare.
Earlier in the day last Wednesday, ANMF members also met with Aged Care Minister Anika Wells to discuss landmark sector reform, cemented the following day when the Aged Care Legislation Amendment (Implementing Care Reform) Bill 2022 was passed by the Senate and became law.
Under the Bill, aged care homes will be required to have a registered nurse on duty 24/7, and make sure residents receive a minimum amount of care each day, while aged care providers will need to be transparent and accountable over their use of taxpayer funding.
Following the passing of the Bill, during last Thursday's Question Time, Ms Wells specifically thanked aged care workers and the seven ANMF members for their longstanding efforts and ongoing advocacy.
"Lord knows we cannot progress without our aged care workers," Minister Wells said.
"I know perpetual community school students with us in the house this afternoon. If for some unfathomable reason that Question Time is to drop the idea of elected representative life, may I encourage you to consider a career in aged care. Because we need you."
Senators Pocock and Rice also acknowledged ANMF members when the Bill was passed in the Senate.
"I met just yesterday with a delegation of nurses who were here to advocate for this legislation," Senator Rice said.
"I heard about their experiences of working in walk-in centres and aged-care homes, and in providing palliative care and a range of other types of care. One of them, Glen, began his nursing training in 1978, so he's been in the field for a long, long time. One of the things he said to me yesterday stuck with me. He said the No. 1 thing that was going to make a difference to the older people he cares for was having more eyes, more feet and more hearts on duty."
Senator Pocock concurred.
"They [nurses] are some of the heroes of the pandemic. They have worked tirelessly, many to the point of burnout, and they continue to deal with massive workloads, burnout and low pay. This is a welcome first step to acknowledge that and start to put things in place to ensure that not only nurses are better supported but also people in aged care are better supported. I'd like to acknowledge the work of the ANMF and the registered nurses in the gallery today."
Reflecting on the experience, aged care nurse Glen said he felt validated and empowered at the trip to Canberra.
"It's an unaccustomed feeling, (a buzz) to be surrounded by positive people who can see the bigger picture," he said.
Advanced Practice Nurse Rachel said it had been the first time she had felt truly listened to.
"For probably the first time in my career, I actually felt listened to as a nurse about nursing roles and how we can impact healthcare. For 20 years, this is the first time that I've actually felt heard, listened to, and that, potentially, we can work collaboratively and actually achieve reform."