Eye care nurses trained by the Fred Hollows Foundation are continuing to make a difference in putting an end to avoidable blindness around the world in the face of the global COVID-19 pandemic.
---
The Foundation provides care in over 25 countries, working with hundreds of partners across the four eye conditions that cause 94% of vision loss – cataract, uncorrected refractive error, trachoma and diabetic retinopathy.
In the past year, it has trained more than 59,000 people, including nurses, community health workers and surgeons.
The backbone of eye health service provision, eye care nurses provide a wide range of services that vary from setting to setting, including conducting eye screenings, providing patient referrals, supporting eye health clinics, participating in surgery, removing eye patches, being a community liaison and overseeing patient discharge.
Like many organisations, The Foundation has been heavily impacted by the COVID-19 pandemic and its eye health programming has had to adapt in order to continue to protect the safety of patients, communities, eye health workers and staff.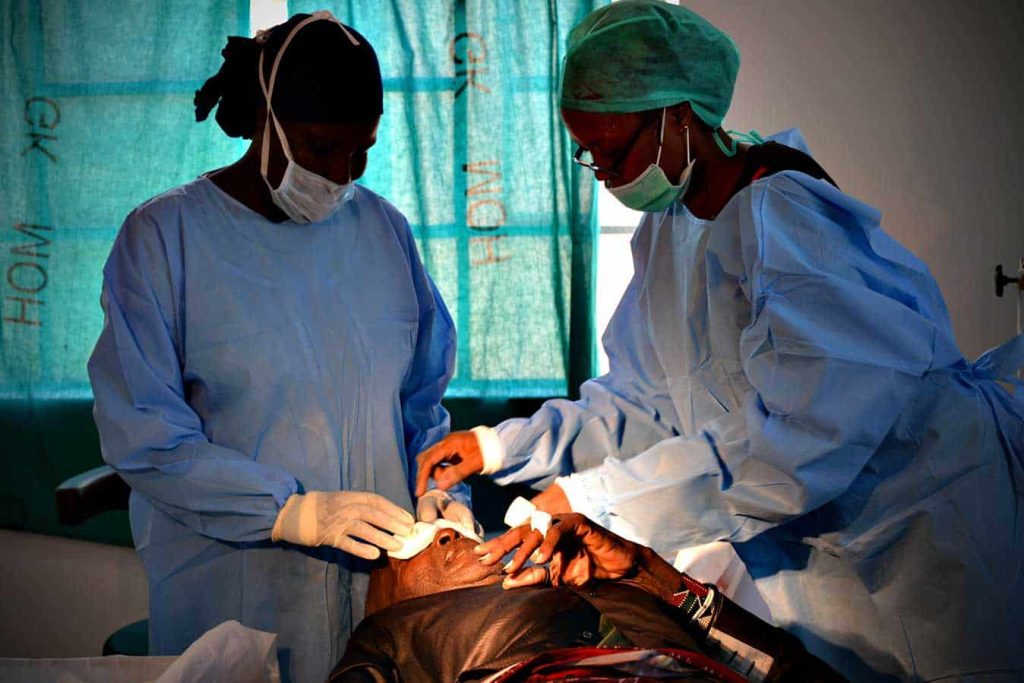 Registered nurse Emily Hodgetts, Medical Coordinator with The Fred Hollows Foundation, supports the organisation's global team of eye health experts who provide technical advice to its partners and help country teams maintain high quality eye health care.
Like many health professionals, she says eye care nurses are battling amid the added pressure brought on by the pandemic.
"The day-to-day role of nurses and healthcare workers around the world has certainly changed in the face of COVID-19 as they are at the frontline of supporting millions of patients," Ms Hodgetts tells the ANMJ.
"The environments nurses work in have become even more under-resourced and stressful. Reaching out to marginalised communities remains an ongoing challenge, especially where the availability of resources to treat patients are strained."
Yet despite the ongoing challenges, Ms Hodgetts believes the COVID-19 pandemic has also shone the light on the strength of nurses.
"COVID-19 has highlighted the inherent adaptability and resilience of nurses and the sacrifices they make daily for the benefit of others. Some nurses have been diverted to help with frontline COVID-19 response, while others continue their important eye health work, but with greater precautions."
Ms Hodgetts says The Foundation has been actively engaging with government departments and local partners to take practical steps to minimise the risk of patients and staff contracting the virus, such as by securing enough Personal Protective Equipment (PPE).
She concedes COVID-19 has dramatically affected The Foundation's ability to deliver its eye health programs globally.
"Restrictions on people moving about between communities and accessing services have impacted our work. I think the world is collectively suffering but vulnerable patients and those with disabilities are particularly impacted.
"Early on The Foundation began responding to identified needs and opportunities to contribute to local COVID-19 responses – such as by redirecting resources and expertise, engaging with communities and advocacy work. We have been supporting hospital partners to respond to the increased health service demands by repurposing their facilities to care for COVID-19 patients. We also have particular expertise in providing health messaging, so we have contributed to educating the community about things like social distancing and hand washing."
Understandably, Ms Hodgetts says the feedback from eye care nurses is that they feel tired and under enormous pressure due to COVID-19.
Nevertheless, they soldier on.
"What I have been reminded of by speaking with nurses around the world is just how resilient, strong and dedicated they are to their work and the wellbeing of their patients and communities.
"We've heard from many of them that are also nervous. They know that they are at increased risk and that they are taking extra precautions when they go home to their families."
The Fred Hollows Foundation continues the work the late Dr Fred Hollows pioneered more than 30 years ago to end avoidable blindness.
It trains doctors, nurses and healthcare workers, distributes antibiotics, raises money for much-needed equipment and medical facilities, and performs eye operations.
Since The Foundation began, it has restored sight to more than two and half million people worldwide, often with a simple 20 minute operation.
But challenges remain, with millions of the world's most marginalised people, including Australia's Frist Peoples, still not having equal access to eye health services.
As well as its international programs, The Foundation has a large presence in Australia with its Indigenous Australia Program and efforts to end avoidable blindness and improve the health of Aboriginal and Torres Strait Islanders, who are three times more likely to go blind.
Ms Hodgetts says the work of The Foundation has perhaps never been as important as now, with the world facing an unprecedented challenge during COVID-19.
"The road ahead will be challenging but there will also be positive opportunities emerging from a post-COVID-19 landscape globally," Ms Hodgetts predicts.
"The Foundation contributed major technical expertise to the World Health Organization's (WHO) World Report on Vision released last year. The report shows that the number of people with eye conditions is set to increase with an ageing population and sedentary lifestyles.
"We will prioritise returning to eye health work in a manner which focuses on staff, patient safety and community safety."
Ms Hodgetts said The Foundation understands that COVID-19 has been a challenging time for everyone but that support was needed now more than ever to continue its sight-saving work across the globe.
To donate to The Fred Hollows Foundation call 1800 352 352 or visit www.hollows.org/au/donate