Background

: In 2020 a global unprecedented event occurred- the COVID-19 pandemic. The Australian response to rising COVID cases was to invoke lockdowns as necessary in each state with individuals only being able to leave their homes for one hour a day unless they were employed in essential services. The uncertainty of the response to COVID-19 and the resultant closure or restrictions on support services led to the need for enhanced support of people living with HIV/AIDS (PLHIV).
---
It is well documented that PLHIV have higher rates of mental illness than the general population1 and may have had additional concerns during the COVID-19 pandemic. This includes concerns regarding HIV related immunosuppression and reduced social supports. The uncertainty of the future, the impact on finances and social supports, can all increase a person's stress and anxiety, affecting their mental health.
According to Yao et al1 "people with mental health conditions could be substantially influenced by the emotional responses brought on by the COVID-19 pandemic, resulting in relapses or worsening of an already existing mental health condition because of high susceptibility to stress compared with the general population".
Furthermore, those PLHIV who have cognitive impairment and/or current mental health diagnoses, having to stay home or socially isolate themselves, impacted their daily routine and their sense of purpose especially as support or vocational services closed indefinitely.
Two HIV specialist nurses working in a community setting in metropolitan Sydney developed a quality improvement project to support PLHIV. They were well placed to provide regular support to PLHIV especially face to face when many other services had become limited due to government regulations. The specialty of both HIV and primary health and HIV mental health were an excellent combination to provide holistic assessment and support.
Objectives
The project was initiated to monitor and support PLHIV throughout the lockdown period and beyond and be reviewed after one year. This was due to the unstable situation in Sydney with many services changed or suspending their care and support. Additionally the deluge of varied information on the TV and internet caused increased confusion and fear in the community leading to a potential negative impact on anxiety and depression.
To provide information, support and ongoing monitoring with the aim to assist PLHIV with practical issues or provide access to formal review as required.
Process
Invited current clients to have additional regular support via telehealth, email, text, or in person fortnightly or as required.
Developed a monitoring tool (Figure 1) which focused on health and wellbeing (including exercise), mental health, mood and practical supports such as provision of list for free food and supporting medication access.
Additional tools such as Beyond Blue website were recommended as required.
Additional supports and medical and/or psychiatric reviews were organised as required.
Initially providing current information regarding COVID-19 regulations, such as reminding about social distancing, wearing masks and washing hands. This became less frequent over time as regulations were revised.
Results
There were 32 clients directly being cared for at the time of the emergence of COVID-19. Thirty one men and one trans-woman. Seven were excluded as five were not engaging with the service, one had been admitted to jail and one was over 70 years and non-English speaking, as a result it was decided to liaise with family and they would support and contact us if required.
Twenty five were invited to enrol in the project. Four had weekly contact, three had cognitive impairment and one requested weekly support due to increased substance use. The remaining twenty-two agreed to fortnightly contact.
At each contact the brief tool developed was used to inquire on how PLHIV were feeling, how their health was and whether they needed additional support (Figure 1).
There were 700 occasions of contact over the year excluding the Christmas period when the service closes. Of these 550 were fortnightly and 150 weekly contact.
Ninety two per cent (23/25) live alone and 60% (15/25) no informal supports.
Types of support provided:
84% (21/25) to access a medical review (nine specialist doctors, eg. diabetes, respiratory, cardiology, dermatology for diagnosis of skin cancer).
80% (20/25) required direct psychological support.
64% (16/25) required assistance for pathology collection (arranging pathology request, transportation).
44% (11/25) required additional medication support: organising prescriptions, medication supply and organising Webster packs.
28% (7/25) collecting medications from pharmacies and providing the person at home visit.
No-one increased exercise.
Referral for:
Mental health:
Eighty eight per cent (22/25) expressed increased anxiety with uncertainty of situation and being immunocompromised was an issue. Forty per cent (10/25) reported their mood was lower and felt they were depressed. Some were concerned about families overseas. Psychiatry review arranged for 20% (5/25) resulting in a diagnosis of psychosis three (12%) and changes in psychiatric medications in 8% (2).
Drug and Alcohol (D&A):
Seventy-two per cent (18/25) reported increased D&A use; one client being reviewed and admitted for detoxification. One client stated increased drinking was due to the excessive amount of information on the TV and online and the fear and uncertainty of the future. Additionally he did not leave his home using food and alcohol delivery as he was afraid of contacting COVID-19 and how that would impact him as he was immunocompromised.
Ninety-four per cent (17/18) refused additional supports (AOD services were limited). Many clients had increased access to funds due to government financial supplements which may have facilitated increased access to substances.
Nutrition:
Fifty per cent changed their regular food shopping due to lockdown and some had food insecurity. Information was provided where to access free food; 16% (4/25) accessed Oz Harvest © and 16% (4/25) also accessed free meals by registered charities. The authors worked with a local community LGBTI organisation who provided 850 frozen meals which were distributed to clients with the menu overseen by a HIV Dietician after observing one client cooking one potato as his daily meal.
Discussion
This 12 month project supported PLHIV through regular contact with specialist HIV nurses. Monitoring, assessment and referral was provided. All the clients stated they found the additional monitoring and referrals for support helpful during a time of uncertainty. As many had the lived experience of the early days of the HIV epidemic some stated that felt more prepared, some more fearful, especially when in the initial period of the Covid-19 pandemic there was considerations that some antiretroviral medications could be used for Covid-19 and people were worried about personal supply. Many discussed this issue.
Some were concerned about their HIV status in relation to COVID-19 and whether it would impact their morbidity and mortality. Some chose not to leave the house because of fear of contracting COVID-19 and thought it could seriously impact their health. Providing latest data on this was important information to these PLHIV to reduce their anxiety around this issue.
For some the contact from the authors was the only social connection they had during the early months of the pandemic. They felt reassured that someone was checking in with them and advising them about the latest COVID-19 news which was from a reputable health perspective; and that we could arrange review and problem solve with them regarding health and wellbeing.
Everyone who received the donated meals were so appreciative, especially for those that live alone. At Christmas the same organisation provided small hampers which made the clients feel that someone cared about them, many saying it reminded them of the early days of the HIV epidemic when stigma and discrimination was a major issue and random acts of kindness meant so much.
For some clients their medical and psychiatric issues may have gone unnoticed if not for the interventions from this project.
Conclusion
This 12 month project facilitated by community based HIV specialist nurses assisted PLHIV to navigate the anxiety provoking and turbulent initial period of the Covid-19 Pandemic. Support related to up to date and trustworthy information, strategies on coping, access to medical and psychiatric care, referral and information which may not have been available to other community members assisted the clients to navigate what was for many a difficult time.
Acknowledgement: The Polly's Social Club for their generosity providing free meals for our clients.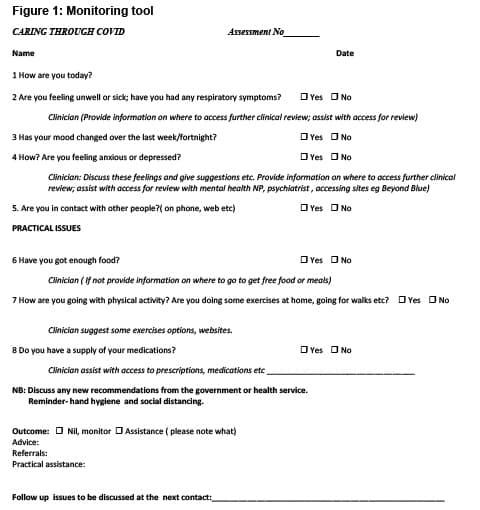 Reference
Yao H, Chen, JH, & Xu YF. Patients with mental health disorders in the COVID-19 epidemic. The Lancet. 2020; 7, 4, e21.
Authors:
Denise Cummins PhD, MPH, Grad Cert- Palliative Care, Oncology Nursing, Community Nursing, HIV Nursing, RN, is a Clinical Nurse Consultant HIV Disease, RPA Virtual/Sydney District Nursing at the Redfern Health Centre
Kurt Andersson-Noorgard BN, MPH, MMHN, MN (Nurse Practitioner) is a Nurse Practitioner HIV Mental Health, RPA Virtual/Sydney District Nursing, Redfern