In late 2014, paediatric clinical nurse consultant Alanna Maycock spent five days on Nauru providing healthcare to asylum seekers in detention.
---
She encountered dreadful incidents including the rape of a mother, a guard assaulting a father of a child she was caring for, and a six-year-old girl attempting to hang herself with fence ties.
Back home, Alanna felt compelled to speak out about the horrors she witnessed by exposing the Australian government's offshore detention policy and how it was damaging the health of refugees, especially children.
"I looked into the eyes of those children and I made them a promise. I said that I would do everything I can do to try sort out their situation and help. That lives with you. I don't want those memories to fade. I don't want them to go because we need to keep reminding the public how serious this is."
Health professionals who brought to light the problems on Manus Island and Nauru faced the prospect of up to two years' jail time when the Australian Border Force Act, widely condemned by groups including the ANMF, came into force in July 2015 to silence the reality experienced at detention centres.
Unperturbed, Alanna was the sole nurse among a collective of 40 health workers and humanitarian staff, both former and current workers at Australia's offshore detention centres, who released an open letter defying the government's new law and instead emphasising the absence of adequate child protection and legal obligation to report abuse.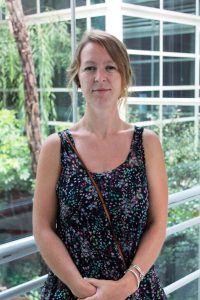 Several years on Alanna, who works at a Refugee Clinic at Sydney's The Children's Hospital at Westmead, says it is appalling Australia's offshore detention of refugees continues.
According to Alanna, 150 children remain in detention on Nauru and open to harm.
She labels the government's inaction on the contentious issue as "shameful".
"I cannot believe that I went to Nauru in 2014 and I'm here four years later in 2018 and the children are still there," she says.
"Some of the children have been born there and some of the children have been in offshore detention camps for over five years of their life.
"There's some very unwell children and families on Nauru that we know about and we are living in a society where it's okay for bureaucrats to override the decisions of doctors and nurses and that's very scary."
Alanna lifted the lid on Australia's offshore detention policy when speaking at the annual Women in the World Summit in New York last year, an event that included Hillary Clinton and Scarlett Johansson as speakers.
Despite inroads, Alanna believes the issue often falls to generate the mainstream attention and concern it deserves.
"More than anything else we want to create awareness of how damaging this [offshore detention] is to individuals," she says.
"There's a certain degree of apathy but I think it [the lack of attention] is purely because our public are really uninformed. The message is just not out there. It's out of sight out of mind."
One of the latest public demonstrations against offshore detention involved a march in Sydney titled Detention Harms Health initiated by medical students and geared at health professionals.
The medical students were inspired to take action after hearing Alanna deliver a lecture on the issue at the University of Sydney last year.
Held at Hyde Park, the march included speeches from health and legal professionals discussing the implications of the government's policy, as well as a venture to Cockatoo Island to visit to the affecting Ai-Wei-Wei installation featuring a boat full of refugees representing the global crisis.
Alanna says the event reflected the need to continue to raise awareness about the issue.
"They [the medical students] are young people. They're the people that we need to inspire and they're voices that we need to listen to. If we galvanise the support of our young then we really can inspire change."