Australia should be investing more in increasing the number of nurse practitioners (NPs) within its health workforce to reap the improved outcomes that the advanced role can bring, a leading academic has argued.
---
James Buchan, Adjunct Professor of the World Health Organization (WHO) Collaborating Centre at the University of Technology Sydney, made the call while delivering a keynote address to delegates at the 15th National Rural Health Conference in Hobart last month that painted a global view of the rural health workforce.
Professor Buchan argued Australia was "behind the curve" when it came to its implementation of NPs, citing research revealing it is in danger of being overtaken by countries such as the Netherlands, who introduced NPs about five years ago, and Ireland, who is in the process of establishing the role in its health workforce.
"There's a sense in which some of these countries look like they're going to begin to overtake you because progress has been very patchy, very slow," Professor Buchan said.
"My argument would be that there is real evidence of scope for big improvement and this is not something that takes 10 to 20 years. If you invest in your current nursing workforce you could have more nurse practitioners in the workforce in two or three years."
Professor Buchan outlined research comparing the impact of nurses in advanced roles with physicians that uncovered advantages in several areas including nurses in advanced roles tending to spend longer on consultations, which patients like, follow up consultations more likely to be higher among NPs than physicians, and lower hospital re-admissions.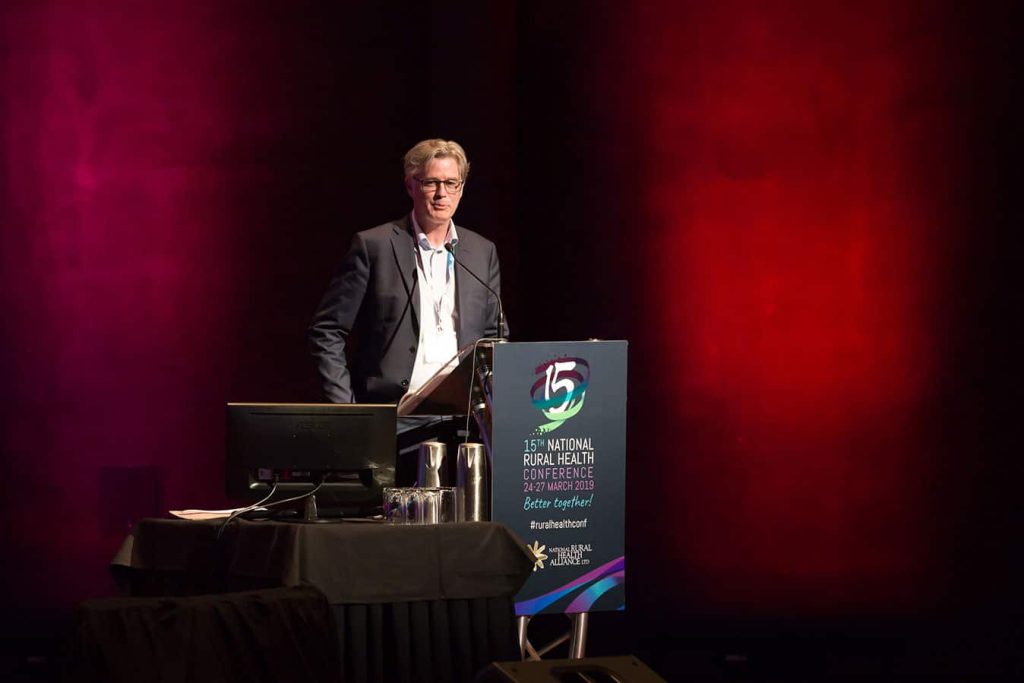 "I think that's a fairly compelling message for anyone who's thinking through policy for Australia in the next 10, 20, 30 years in terms of your workforce," he declared.
In dissecting the rural health workforce, Professor Buchan's key contentions focused on health not existing without a workforce and that any funding injected into the health workforce should not be seen as a cost but rather an investment that improves population health and economies and creates more jobs.
"You can't have health without a workforce and that often seems to be forgotten when funding is being considered and planning is being thought through," he explained.
"If we're going to improve access to health across the country the workforce needs to be there. That is the right skills. The right teams."
Professor Buchan said the maldistribution of workforce between urban areas and rural and remote felt in Australia was a global concern that needed urgent attention in order to improve health access for communities.
He said evidence points to complex and multi-dimensional factors contributing to retention, such as a range of organisational factors impacting negatively on satisfaction and turnover.
He claimed the modest recruitment and retention of health workers in rural and remote in Australia demanded better policy and focus on long-term targets to achieve a sustainable workforce.
"Overall, you're not that short of health professionals but the mechanisms to try and encourage them to move and remain in remote areas often seems very short-term and maybe effective for a short period but it's getting back to the issue of very high turnover, which in itself is a cost factor and reduces population health benefits."
Professor Buchan moved to highlight global evidence based recommendations from WHO, developed in 2010, which outlined what countries can do to improve recruitment and retention in rural areas.
The recommendations were bundled into four domains of intervention – education, regulatory, financial incentives and professional and personal support.
A typology of policy interventions on retention identified the same "bundle of interventions", particularly around education and selection, Professor Buchan added.
"The strongest evidence globally in terms of improving recruitment and retention in remote and rural areas is early input in terms of recruitment from those areas, providing education in these areas, providing education about the types of incidence of disease in these areas, and then providing continuous professional development and education to the workers that are in these areas."
Professor Buchan suggested Australia's current recruitment and retention of its rural health workforce needed to shift focus.
"One of the key messages that really came out of this study [typologies of policy interventions on retention] which resonates with Australia is we must stop regarding it as 'what do we need to do to get the doctor there or the nurse there?' It's what do we need to do to get sustained engagement from health professionals in these areas and part of that is recognising they're not individuals. They usually have families, non-work commitments, and working that through [into retention strategies], not just looking at the 9-5."
While Professor Buchan highlighted NPs during his keynote address, he stressed they could not practice independently of other health professionals and that multi-disciplinary teams were essential to improving access, particularly in primary care.
He said recruitment, training and education of the rural health workforce locally often meant health professionals stayed local.
With a federal election looming, Professor Buchan concluded by calling for a more considered policy approach that involves coordinated bundles of interventions not seen as a cost but an investment.
He said the workforce was the solution, not the problem.
"Single magic bullet policy interventions in improving rural and remote health workforce never work. They may have a short-term benefit but almost inevitably look at the cost more than the long-term benefit."