Aged care workers from across Australia converged on Parliament House today to call on the nation's politicians to prioritise urgent reform of the understaffed and under-resourced sector in May's Federal Budget.
---
The delegation of aged care workers from the Australian Nursing and Midwifery Federation (ANMF) and the United Workers Union (UWU), which included registered nurses, enrolled nurses and personal care workers, descended on Canberra to call for urgent government action to implement critical reforms, highlighted by mandated staffing ratios, that will ensure elderly Australians living in nursing homes receive safe, quality and dignified care.
The Final Report of the Royal Commission into Aged Care Quality and Safety identified longstanding systemic failures across the sector, especially understaffing.
The Commissioners said that too often there are not enough staff members, particularly registered nurses, in home and residential aged care. Inadequate staffing levels and skills mix were the principal causes found for substandard care in the current system.
The report recommended staffing ratios be introduced to ensure there is sufficient nursing and other care staff present at all times in residential aged care.
Over the next few days in Canberra, the delegation of aged care workers will lobby politicians, including Prime Minister Scott Morrison; advisors for Health Minister Greg Hunt; Aged Care Minister Richard Colbeck; Opposition Leader Anthony Albanese; Shadow Ministers Mark Butler, Claire O'Neill and Ged Kearney; the Greens and key crossbenchers, to demand mandated staffing ratios in aged care be included in the upcoming Federal Budget.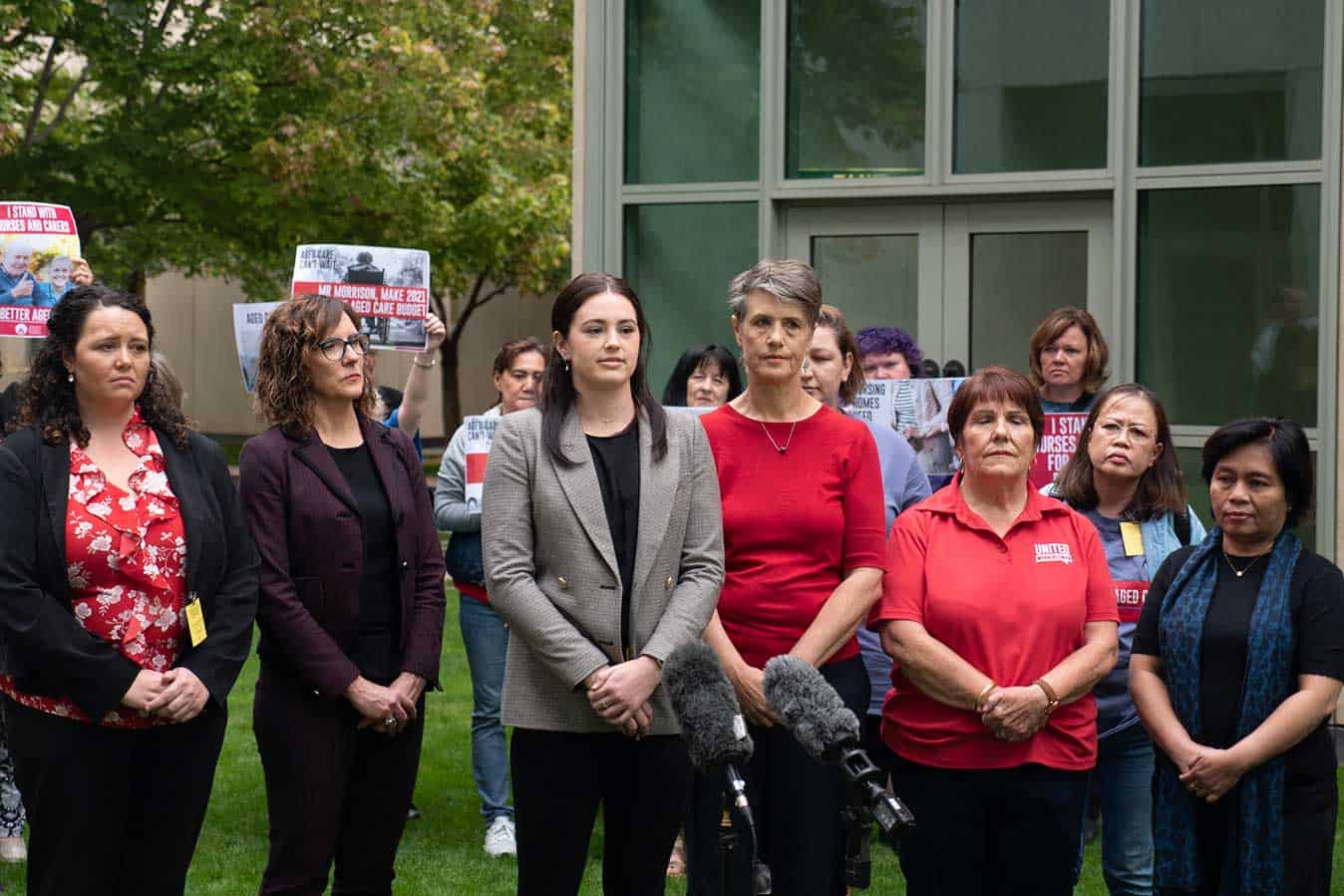 At a press conference at Parliament House this morning, registered nurse and QNMU member Emma Murphy revealed that in order to protect her own mental and physical wellbeing, she recently stepped away from working in the aged care sector because of chronic understaffing and poor conditions.
"I've worked throughout various aged care facilities and I've seen, on a daily basis, the neglect that our residents face due to the lack of ratios," Emma said.
"The Royal Commission has been a fantastic way to provide insight to the public about the issues that we face on a regular basis but now we need our government to do something and to act on these recommendations. It's abundantly clear that we need more staff to provide safe and effective care and we need these changes made now."
Emma said the government needed to urgently begin reform.
"I've stepped out of the sector I'm so passionate about because I couldn't continue to work in the dire conditions that are aged care. It is so sad to see so many great people having to leave the sector because our government doesn't support the workforce that we deserve to work in. We need to see change and we need this to happen now to support our residents and staff. We all deserve to work in a workforce that is safe and looks after us and, at the very least, it's what our residents are paying for."
Aged care worker Zelda, from South Australia, labelled the aged care system 'broken'.
"I need to tell Australia that aged care is in crisis and it is broken," she said.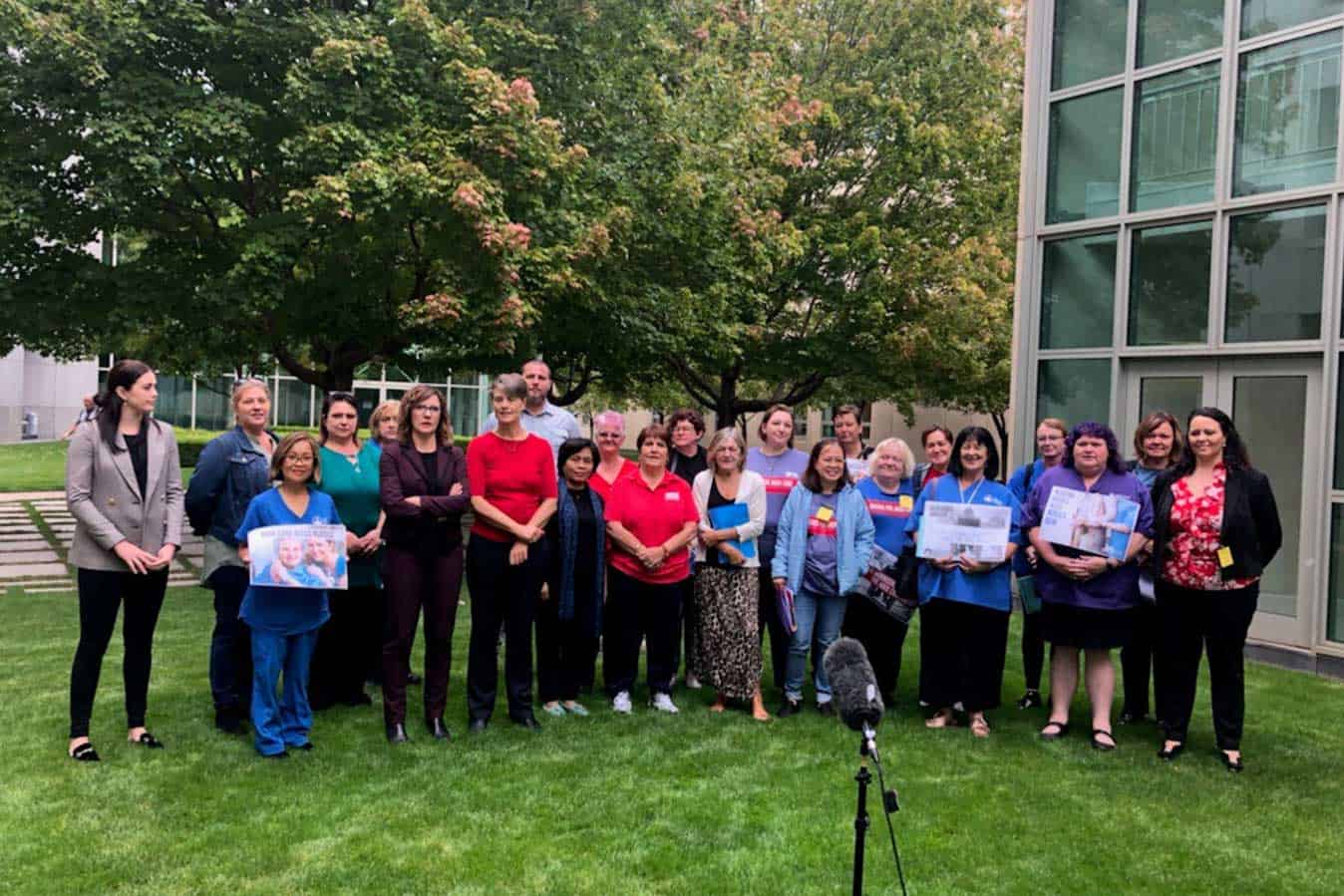 "Everyone is time poor, not only carers, food services, cleaners; we are all time poor. It is getting to the point everyone is leaving the sector because there's no incentive to work in aged care anymore. The demands are high. The providers want this much work (gestures with hands) done in this much time. It puts residents and carers at risk also. We need someone to listen. We need the government to listen….these vulnerable Australians need and deserve our utmost care."
ANMF Federal Secretary Annie Butler said politicians needed to come together to act on the Royal Commission's recommendation that stipulates aged care providers must meet a minimum staff time quality and safety standard which guarantees all care needs are met.
The Royal Commission's final report was released on 1 March, yet weeks later, the government is still yet to take meaningful action, Ms Butler said. The Prime Minister has also refused to meet with ANMF members to discuss the urgent reforms needed to solve the aged care crisis, she added.
"What's needed more than anything are the time and skills to care."
"The Royal Commission clearly said there are many ingredients needed to fix the crisis in aged care but nothing will be achieved until we get the workforce right, the staffing right and [make sure] that those staff are provided with enough time to care."
Ms Butler said the issues facing aged care have been known for decades, long before the Royal Commission was established. Despite 21 Inquiries over the years, major reform has not occurred.
"What we need now is we need action. We need action from the government. We need pressure from all other politicians. We need this Federal Budget to finally be the aged care budget, because older Australians can't wait. They don't deserve the type of neglect that they've been experiencing at the hands of this Government. It's time to care. It's time to fix this."
United Workers Union's (UWU) aged care director Carolyn Smith said aged care workers have had enough with delays, buck-passing and report after report. She said they were rising up to say 'enough is enough'.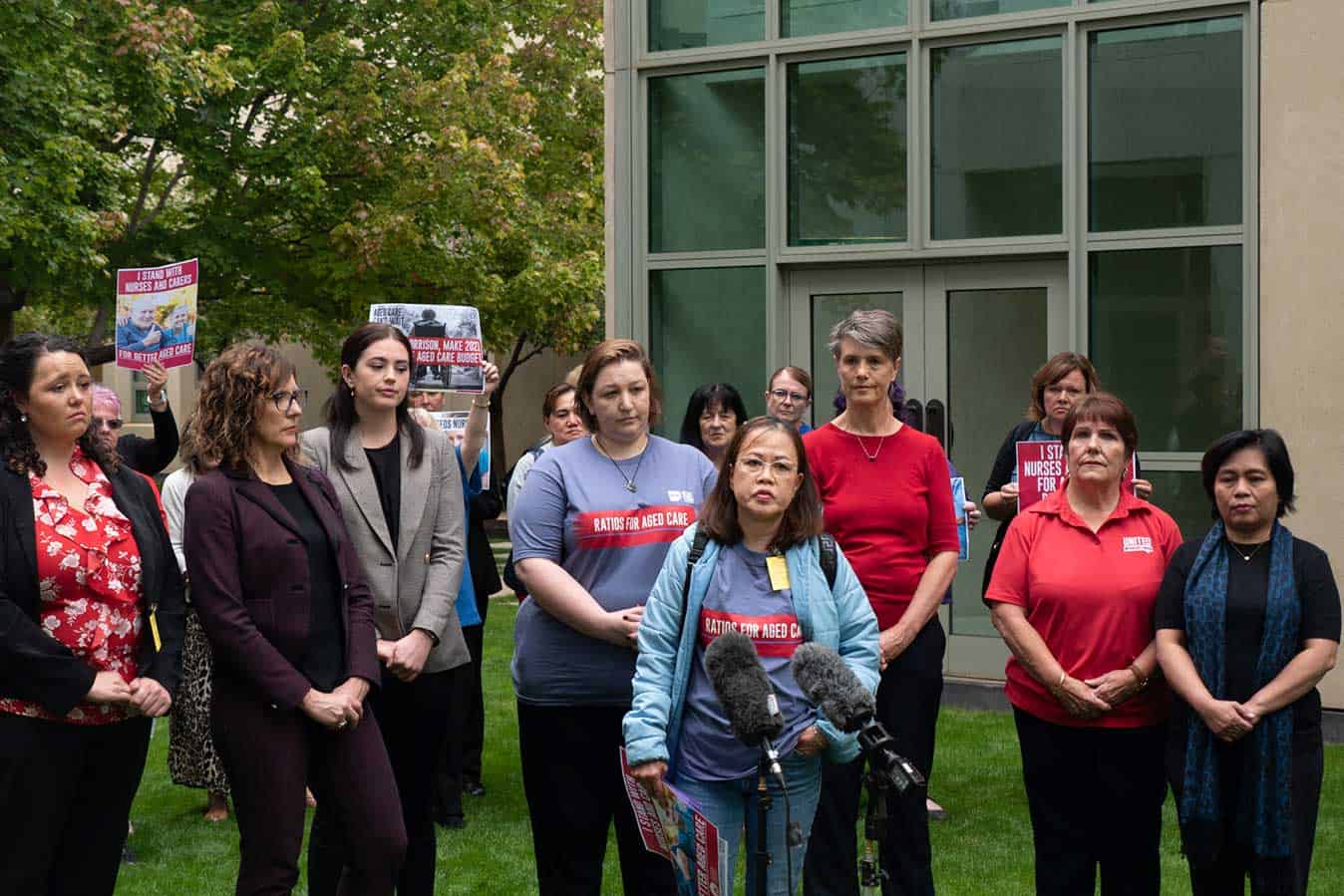 "The human face [of the aged care crisis] is older Australians who built this country being lonely, being left alone, not having time to care, being rushed through some of the basic tasks of their day like being showered, being toileted," Ms Smith explained.
"This is what we mean by an aged care system in crisis and that results in the workers in aged care being tired, being burnt out, being exhausted and, ultimately, leaving the sector. We need change in aged care, we need it urgently, we need it now."
Aged care worker Rebecca, who has worked in the sector for 25 years, told the press conference the workforce was at breaking point.
"I have witnessed the demoralisation of our workforce as they strive to give the care they want to give but don't have the time to," she lamented.
"We need to look at how we support our workforce to support those people who are vulnerable in our society. We fight every day for our people that we look after and we're exhausted by the end of the day. We need the ratios to make sure that our staff aren't exhausted at the end of the day, aren't demoralised, aren't leaving and that they can give the care that the elderly living in our homes deserve."
Ms Butler said implementing mandated minimum staffing levels and skills mix in aged care would not only ensure residents receive the care they need and deserve, but also attract new nurses into the sector and encourage former nurses who left to return.
While funding is crucial to reform, she stressed that it would count for little unless directly tied to care.
"We need to fund these things, but the funding must be directly tied to care. There is no point pouring any more money into a great big bucket that has a gaping hole at the bottom. We need to see where the money's going; providers need to be made accountable."