Delivering home cooked meals, walking the dog, running errands, picking up groceries, virtual hugs and lending a listening ear.
---
These are just a few examples of the small yet powerful acts of kindness thousands of everyday Australians across the country are performing to support frontline healthcare workers during the coronavirus pandemic through the heartwarming Facebook group, 'Adopt a Healthcare Worker'.
Perth resident Chris Nicholas started the original 'Adopt a Healthcare Worker' group in Western Australia last month so that people could connect with healthcare workers in need of help amid COVID-19.
It sparked Facebook groups in most states and territories and a national movement that now boasts over 140,000 members.
The groups call on community members to consider "adopting" healthcare workers such as nurses and doctors working on the frontline during COVID-19 and making a commitment to support them.
"Find out what will help them to function. Do they need you to prepare some meals they can freeze? Do they need you to pick up or look after their kids? Even if it's on the one day they get off, so they can catch up on some sleep! Do they need a shoulder to cry on? Someone to scrub their shower because it hasn't been done in a month?" the pages outline.
Registered nurse/midwife Arlene Campbell, one of the administrators of the Victorian group, which has 22,000 members, joined the campaign to show solidarity with frontline healthcare workers.
She told the ANMJ the concept aims to make life easier for healthcare workers who might be wondering where their next meal is coming from or how they are going to walk their dog.
"It's about providing practical support for all healthcare workers that are on the frontline to allow them to actually stay there," Ms Campbell says.
"The things that actually do affect a nurse, a doctor, other healthcare workers, anyone that's working on the frontline at the moment that has stresses that are small to some people but massive to a healthcare worker that isn't able to do them."
Ms Campbell describes the kindness of Australians as uplifting and says the continued support has often brought her to tears.
"The adoptions that have happened have worked so well. For example, healthcare workers are coming home from work and finding a care package on their doorstep. They've come home and they've found flowers and breakfast and their meals for the day sitting there.
"It's really heartwarming to be able to see the morale of healthcare workers actually being boosted by knowing that the community's there for them."
Another example of support involved a doctor unable to find the medication she uses to treat her skin dermatitis having it delivered to her door by a community member within an hour, she added.
"In normal circumstances it's not a huge thing but that sort of thing is so heartwarming, one for the healthcare worker to actually get this really small thing that makes their life easier, and for the community member that did it to be able to channel their energy into something that's going to have a positive outcome."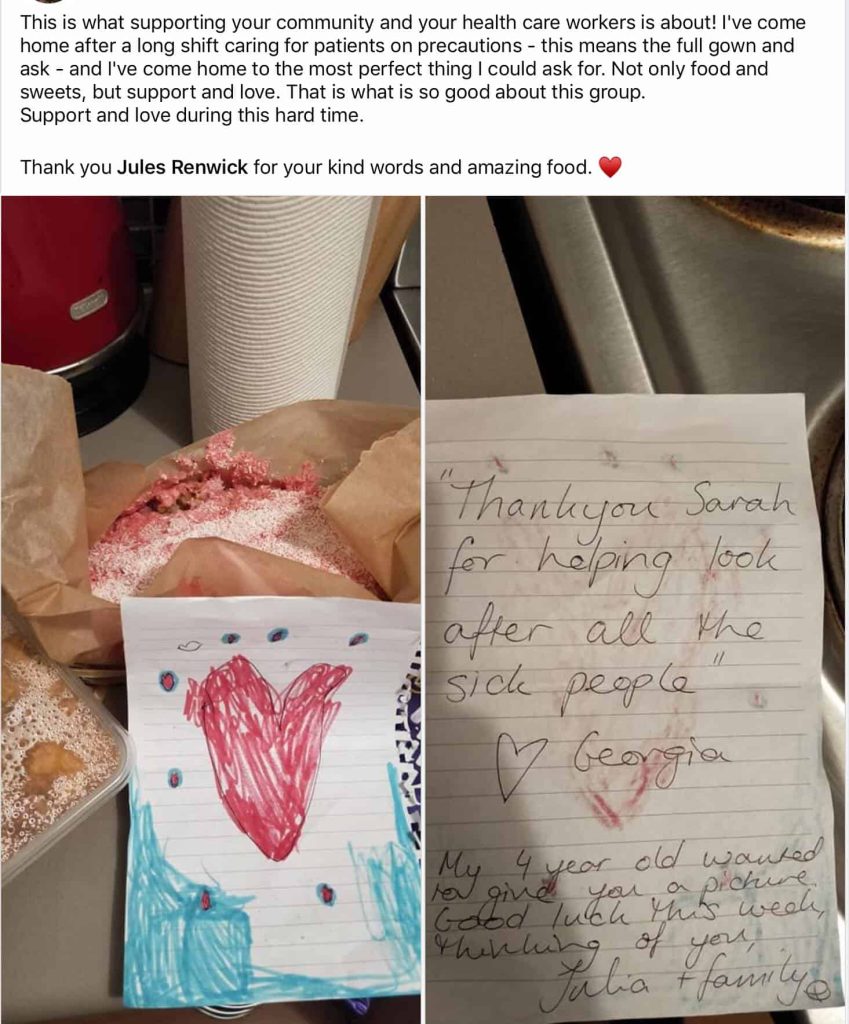 In Victoria, Ms Campell has also helped established a splinter Facebook group for those looking to support healthcare workers who need alternative accommodation because they have vulnerable people at home, such as children or the elderly, and want to protect them from potential infection.
As the COVID-19 pandemic escalates in Australia, Ms Campbell, an agency nurse, says a lot of her contribution has centred on supporting colleagues facing a lack of work and struggling to make ends meet.
"Nurses need to debrief and casual workers no longer have that outlet because they're not at work to debrief with colleagues."
Ms Campbell, who picked up a much-needed shift at the Werribee Mercy Hospital a week ago as a midwife, says working in the face of COVID-19 has been challenging.
"We're very afraid," she admitted.
"Most of us we're healthy, we don't have many comorbidities. But we live with people who do.
"I put my mother in isolation. I put her in a rental unit I have and that's where she is. None of us [the family] have seen her. Nurses have been isolated away from their parents, in some cases from their children. I was talking to a nurse yesterday, she was having a virtual cry on my shoulder as she hadn't seen her children in three weeks because they all live with her elderly parents because she's moved out."
Ms Campbell lists the lack of Personal Protective Equipment (PPE) and sanitiser as ongoing issues.
"I think we accept that there's a shortage. It makes us very angry but we're there to do a job and we will do it around whatever is needed but hopefully supplies will increase before the actual peak.
"The lack of hand sanitiser is a major issue. We walk around with a little bottle of it on our belt that we hand to the next nurse because there isn't any. Hand hygiene is a major thing."
Giving an insight into minimising the infection risk and the new protocols she follows, Ms Campbell says she practises hand hygiene when walking into a hospital to ensure anything she's touched from outside is removed.
"Before I leave the hospital, I'm now finding a shower if I can, showering and changing into street clothes. When I come home, all my nursing [gear], anything to do with anything I've had at the hospital goes into a box and if I haven't showered at the hospital, I'll shower.
"Scrubs are being washed in hot water on a daily basis. Anything, right down to my ID and lanyard, is being cleaned. It's being really focused on the smallest things. For example, I'll have my pen in my hair usually, so having to remember that the pen needs to be wiped over."
Ms Campbell's message to the Australian community from frontline healthcare workers is simple: "Please stay home."
She says 'Adopt a Healthcare Worker' groups will continue to build support for healthcare workers during COVID-19 by matching them with local community members.
"Healthcare workers are blown away by the support from the community. We've always had support from the community but to know that there are people out there to do such small things like walk our dog is just amazing and businesses also coming forward and doing lots of free things for us as well. The support when we're out and about has been overwhelming."
If you are interested in adopting a healthcare worker, please visit Facebook and type in Adopt a Healthcare Worker in the search bar to find your relevant state or territory group.