Improving the health of Aboriginal mothers and babies through continuity of midwifery care.
---
Late last year, Sunshine Hospital celebrated the first birthday of the Galinjera Maternity Program, a program committed to providing continuity of midwifery care for Aboriginal and/or Torres Strait Islander families.
The celebration involved a gathering of women and families who received care from the Galinjera Program, community representatives from VACCHO, VAHS and DJIRRA, members of the 'Woman's Journey' Project and hospital staff and volunteers. It was a wonderful celebration, providing all involved with a chance to reflect on the successes and learnings of the program to date.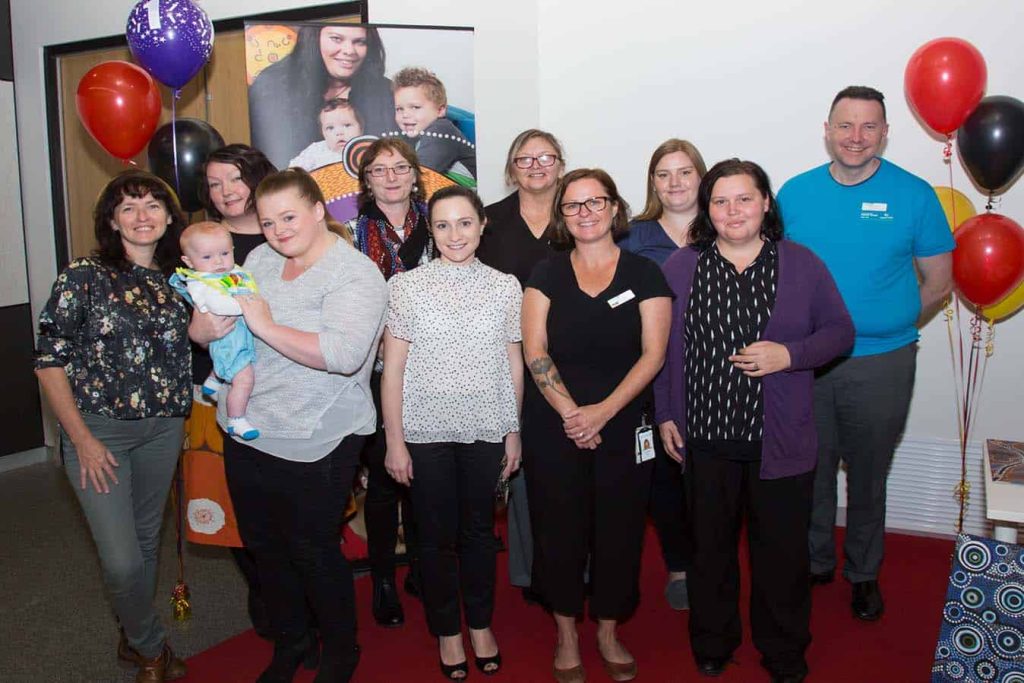 Merivale Hemsworth (Galinjera Midwife), Lynnelle Moran (Galinjera Research Midwife), Baby Harvey, Mother Aleisha Hodgson, Professor Helen McLachlan (Chief Investigator, Woman's Journey Project), Lauren De Luca (Obstetric Consultant), Jacqui Watkins (Manager, Aboriginal Health Policy and Planning WH), Jacqui Webb (Galinjera Midwife), Ruby Kennedy-Mayne (Galinjera Midwife), Sheree Steward (Koori Maternity Services Coordinator) and Shane Crowe (Executive Director of Nursing and Midwifery at WH).
In 2017 Western Health committed to be part of 'Woman's Journey', a multi-site research program which aims to improve the health of Aboriginal mothers and babies through continuity of midwifery care.
Participating sites include Sunshine Hospital, The Women's, Mercy Hospital Heidelberg and Goulburn Valley Health. Since this time, a dedicated team have worked with maternity services to enhance identification procedures, form strong community partnerships and improve and promote the provision of culturally and clinically safe care.
The Galinjera Maternity Program is made up of a small team of midwives who provide care for Aboriginal and Torres Strait Islander women and babies throughout their pregnancy, birth and beyond.
The team is committed to providing culturally safe and respectful care and work in close partnership with Koori Maternity Services and the Aboriginal Health Unit at Sunshine Hospital.
The Galinjera Maternity Program continues to evolve and respond to community need, always striving to provide care that supports women and families to have a positive experience at this significant time in their journey.
The team was gifted the name 'Galinjera' from Wergaia and Gormanjanyuk artist Annie Joy. Galinjera is a Wemba Wemba word meaning 'to come together and connect with love'.
Annie was commissioned by Western Health to create the artwork for the program. The artwork explores the Woman's childbearing journey and their connection to family, spirit, land, river and sky.
A team of Western Health volunteers have been knitting up a storm, creating beautiful 'Welcome' beanies for Aboriginal babies born at Sunshine Hospital. It is clear that the deep support for the Galinjera Program has contributed to its success so far.
Since implementation of the program, Sunshine Hospital has seen an increase in identification and referral throughout maternity services and as a result, the Galinjera team have assumed the care of 66 Aboriginal women/babies since commencing recruitment in October 2017.
Aleisha, aged 25, says that having access to the Galinjera Maternity Program had a profoundly positive effect on her pregnancy, birth and transition to motherhood. "Before I started with the program I found I was having a different midwife each time. I was in a stressful position at work and was all-round a pretty stressed person" Aleisha said. "I think that with having the program and having Merivale (the midwife) as that support, I did a 180 and just became this really calm and relaxed person. And I think that's had an effect on Harvey because he's pretty chilled out. I didn't have to re-explain everything. When I met Merivale she said 'OK, from now on it's just me' and she's just so calming – and that really reflected on me and changed how I looked at everything."
Western Health and the Galinjera Maternity Program are proud to support Aboriginal and Torres Strait Islander families by ensuring access to important services that are tailored specifically to cultural needs and to address the prevalent disparity in maternal and neonatal outcomes.
For more information about the Galinjera Maternity Program, please contact Lynnelle Moran at Galinjera@wh.org.au
Western Health would like to pay our respects to the Wurundjeri people of the Kulin Nations the Traditional Owners of the land on which Sunshine Hospital is located. We also acknowledge all of the women who have birthed on this land and the courage, wisdom and resilience of Aboriginal women.