Australia is using surgical solutions for social problems in its efforts to tackle escalating rates of rheumatic heart disease, (RHD)according to paediatric cardiologist Dr Bo Remenyi.
---
Addressing delegates at the 15th National Rural Health Conference in Hobart earlier this year, Dr Remenyi called for long-overdue elimination of RHD, an entirely preventable condition that almost exclusively affects the country's Indigenous population and kills 1,000 people every day globally.
To put an end to the disease, Dr Remenyi said it would take greater investment in the health workforce, Indigenous community leadership, widespread awareness campaigns, strengthening primary healthcare, improving housing conditions and better monitoring and evaluation.
"We need to improve access to education around basic healthcare rightS across Australia, focusing on those hardest hit communities, the most disadvantaged ones," she said.
"We need to ensure that every Australian child has comprehensive access to primary care even if the clinics are overburdened. We need to make sure we have good public health measures to deliver these treatments.
"We need to make sure there's appropriate housing, routine cyclical maintenance, active case finding and programs that are funded well enough to address social determinants."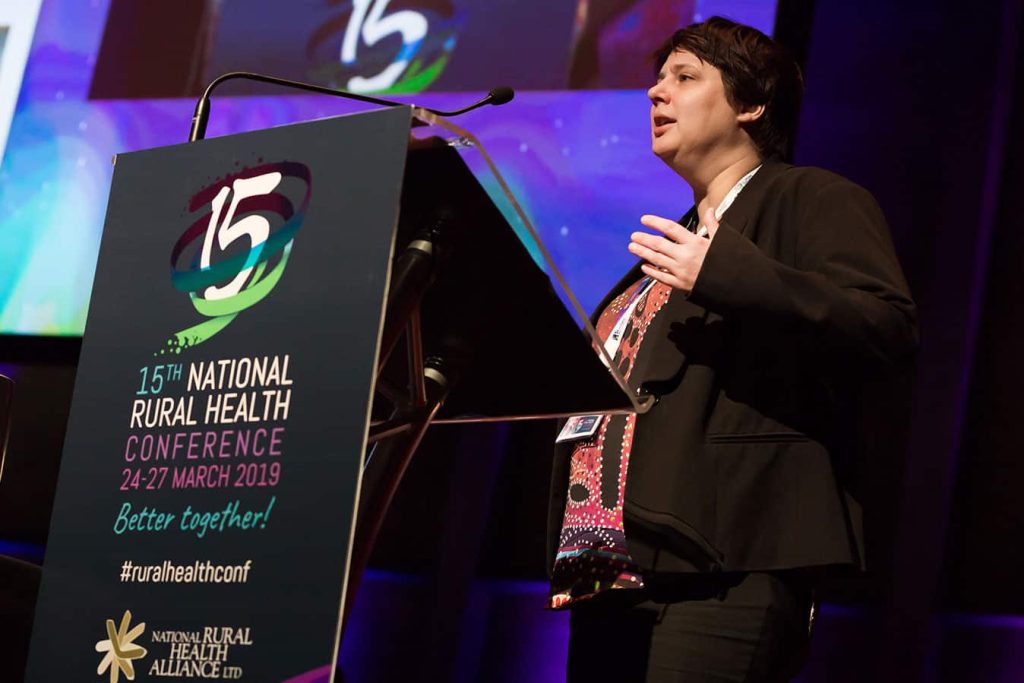 The 2018 Northern Territory Australian of the Year, Dr Remenyi told delegates addressing RHD, which starts as a sore throat in children and ends with open heart surgery, stroke, heart failure and premature death, was crucial because of its devastating outcomes.
In Australia, the average age of death for people with RHD is 41 and Indigenous people are 122 times more likely to develop RHD than non-indigenous people.
Dr Remenyi pointed out that RHD, the leading cause of cardiovascular health inequality between Indigenous and non-Indigenous Australians, remains the single best marker for social disadvantage globally.
Dr Remenyi told the story of a young man who developed rheumatic fever at three years old before continuing to live in poor housing conditions.
Despite receiving painful monthly penicillin injections, the treatment for rheumatic fever, he had a re-occurrence at age seven that led to his first open heart surgery.
By eight he'd had his second open heart surgery but then returned to the same germ-filled house and the situation only grew worse.
He had his third open heart surgery and a double mechanical valve replacement at 14 and his life continued on with daily medication and regular blood tests but he is unlikely to see out his 24th birthday.
Dr Remenyi said the case study reflects the need to address the social determinants of health, such as access to healthcare, with skin sores and sore throats normalised in Indigenous communities due to a lack of workforce.
"It's not just about the workforce that we need to continue to treat these infections in remote communities but also the underlying housing conditions because kids on any given day in some of the communities, 50% of children will have these infections, so you can imagine how many nurses and doctors you need to treat 50% of kids on any given day and if you treat them then they go back to the same house where 20 people might share a two bedroom house so the infections just spread around.
"We're not talking about treating a patient, we're not even talking about treating a family, we're talking about working with communities and community leadership to address serious problems that are costing us a lot of money and costing patients their lives."
Dr Remenyi turned attention to several success stories in the Northern Territory and Australia when it comes to tackling RHD.
For example, statistics show that in 2014, 11,537 Benzathine Penicillin G (BPG) injections were delivered in the Northern Territory, and by 2017, the number rose to 15,202.
"It might be on the rise because we have better data collection or it could be on the rise because the social determinants are genuinely getting worse in communities in relation to housing, access to healthcare and education.
"Healthcare services have improved [however] because the number of people who receive injections on time is getting close to 80% in the Territory, which is better than anywhere else in the world. But why are we investing so much into delivering injections when it's a preventable disease?"
Dr Remenyi said other success stories include the community of Maningrida, which has a population of 2,500 and experiences some of the highest rates of RHD in the world.
One in 10 children in Maningrida receives BPG injections every 28 days to stop the recurrence of rheumatic fever and prevent surgery and death.
Positively, the community has embraced increased education for children focused on hygiene and the importance of getting these conditions treated, as well as training Indigenous health workers to carry out brief echocardiograms.
Nevertheless, workforce issues still hinder progress.
"Skin sores and sore throats don't get prioritised and if kids do go to the clinic they wait for three to four hours or walk out. These infections are exclusion criteria from school, yet we encourage kids to attend school with these infections because we don't have a health solution, and yes we do have a health solution because it is possible if we have the right workforce," Dr Remenyi said.
"Once again, it's ok to treat the child but if you only treat one child and not the family and community, then disease will continue to spread. We really need community leadership and a community approach."
In this vein, Dr Remenyi said there had been good progress in efforts to tackle housing issues in the NT and that she expects meaningful change to occur within the next decade.
Another positive is a global pledge to tackle RHD and prevent it by detecting it early and putting kids on penicillin.
Dr Remenyi concluded by outlining her shared vision that no child born in Australia from now should die of RHD.
She encouraged delegates to commit to the cause by raising awareness and helping to lobby governments to lift the level of safe access to housing, education and culturally appropriate healthcare so young people do not have to suffer the consequences of open heart surgery as a result of poverty.