Thousands of United Workers Union (UWU) aged care members have voted to go on a nationwide strike in the lead up to the federal election to protest for improved conditions, better pay and proper staffing levels so that vulnerable elderly residents get the care they need.
---
UWU members at BlueCare, Queensland's largest aged care provider, and Southern Cross Care in SA, South Australia's largest residential aged care provider, voted to walk off the job amid widespread concerns about the treatment of workers and aged care residents.
They joined aged care workers in three other major aged care facilities – Anglicare in South Australia, Hall & Prior in Western Australia, and Churches of Christ in Queensland – who also voted to take industrial action to address the aged care crisis.
Altogether, the providers have more than 7,000 aged care workers and care for about 7,000 aged care residents, the union says.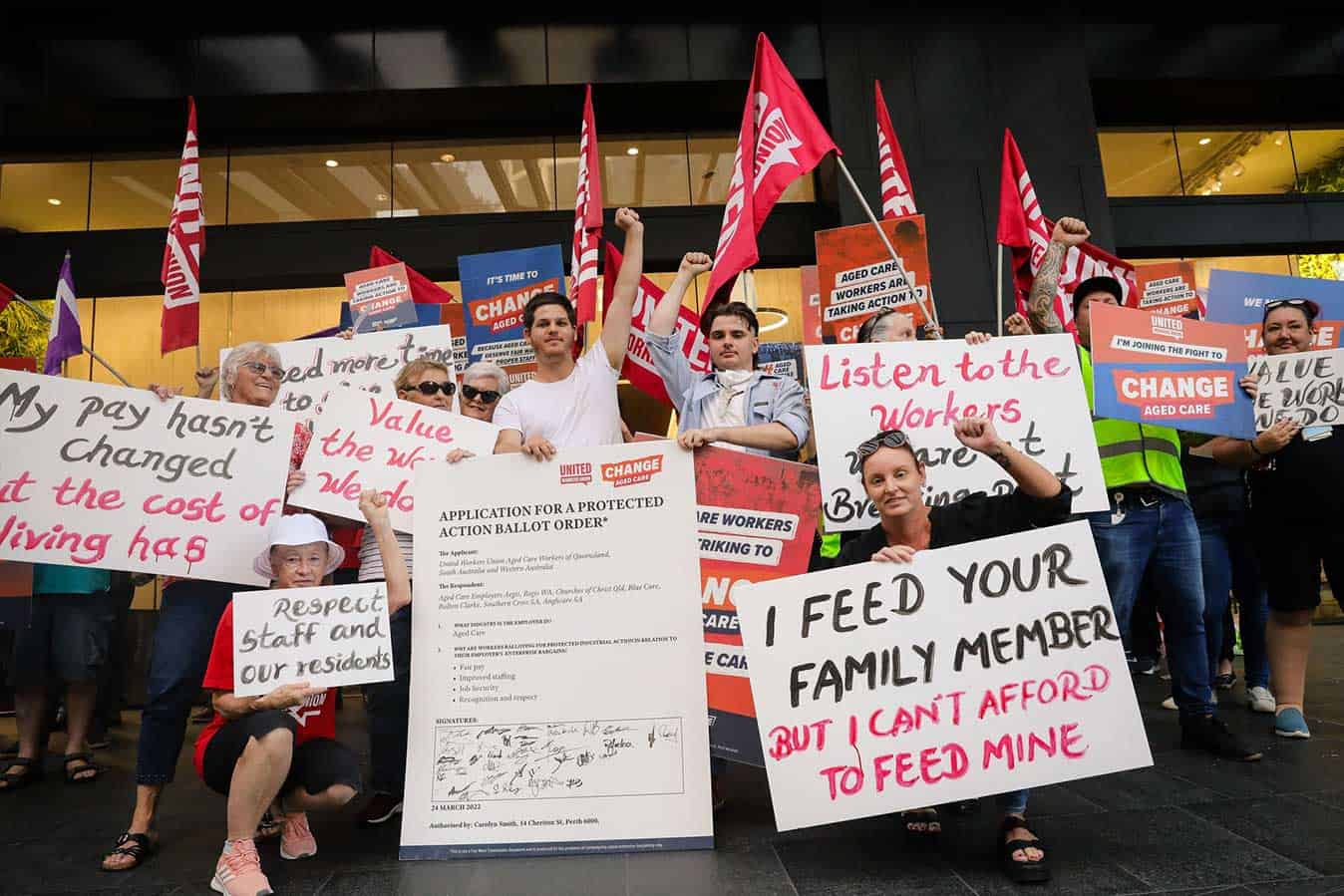 The strike represents the first time UWU aged care workers have taken national industrial action to protest employers' failures to address low rates of pay and inadequate staffing levels.
"Aged care workers are being forced to take unprecedented strike action because of pay and conditions that are failing workers and failing residents," United Workers Union Aged Care Director, Carolyn Smith, said earlier this week.
"Aged care workers know the Federal Government has failed them in the vaccination rollout, failed them with PPE and failed them in the Omicron outbreak when 900 aged care residents died, so they are holding their employers accountable.
"Across these major providers residents are being left without basic needs being met, they are left soiled for extended periods and they are at risk of falls when left unattended."
Further votes were being conducted at three other major aged care providers, Aegis and Regis in WA and Bolton Clarke (formerly Allity) in South Australia, in recent days. If those union members vote in favour of protected action, providers with more than 12,000 staff and about the same number of residents will be the subject of strike action, the UWU says.
Details of the exact nature of action aged care workers will take will be finalised in coming days, with the UWU warning that no employer should underestimate the level of anger among the workforce after years of neglect of aged care workers and their residents.
Any strike action taken by the union will be discussed with providers beforehand to ensure the safety and wellbeing of residents, on top of the union's legal obligations to give providers several days' notice about any actions that may be taken.