A sea of 150,000 trade unionists flooded the streets of Melbourne this morning as part of a series of nationwide rallies to restore workers' rights and ensure people receive pay rises that keep up with the cost of living.
---
The Australian Council of Trade Unions' (ACTU) Change the Rules campaign is demanding a fair go for workers demonstrated by better job security, meaningful pay rises and improved conditions.
Other key objectives include increasing Australia's minimum wage and protecting penalty rates.
Similar rallies took place across the country in New South Wales, Queensland and the Northern Territory, while Tasmania will stage several rallies tomorrow and one will take place outside Parliament House in Adelaide on Thursday.
The Melbourne march began outside Victorian Trades Hall and wound its way through the city centre before ending at Flinders Street Station.
Carrying banners and flags, unionists stood in solidarity and joined in chants such as "When workers' rights are under attack what do we do? Stand up, fight back!".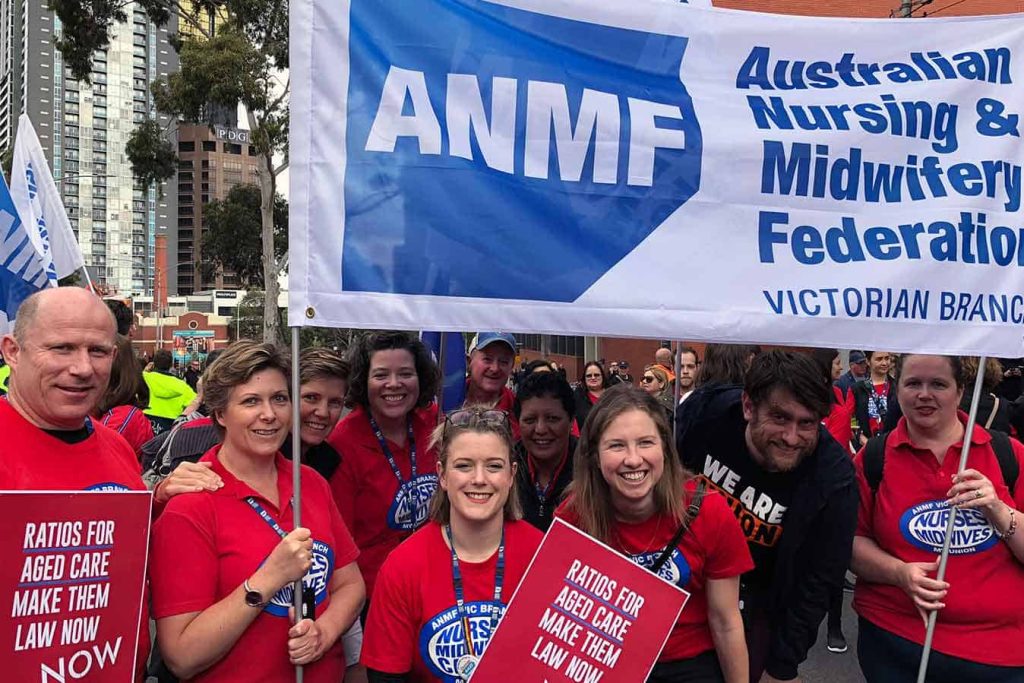 ACTU Secretary Sally McManus told protesters the Australian union movement would be "unbreakable" and "unshakeable" in its push to fight for fairness, justice, dignity and equality for all workers.
"We will not accept our wages going backwards while profit and productivity are going up," Ms McManus said.
"We will not accept a low wage, low pay [and] insecure work for the next generation."
Ms McManus targeted federal politicians, including Prime Minister Scott Morrison, declaring unionists would not stop fighting for a fair go.
"We will not be intimidated. You cannot intimidate us. You can threaten to fire us. You can threaten to jail us. You can take away our pay. You can threaten to bring in laws that make our job harder but you will never defeat us. The harder you fight us the more determined we become because we know this Australian union movement is our historic duty to fight for a fair go."
Addressing the crowd at Trades Hall, Australian Nursing and Midwifery Federation (Victorian Branch) Secretary Lisa Fitzpatrick singled out the importance of a quality health system and ratios across aged care.
"I stand here today as a very proud nurse and a very proud union leader with comrades from around the state," Ms Fitzpatrick said.
"Importantly, we believe as nurses and midwives and carers that everybody in this country has access to a quality health system and a quality health system that includes safe and quality aged care."
Ms Fitzpatrick said the ANMF's aged care ratios campaign was pushing to safeguard the elderly and vulnerable within aged care facilities across the country.
"What we want the government to do is change the rules and create some rules. Make sure that there are rules about having qualified staff in aged care. Make rules about dedicating taxpayer funding to the care of residents. Not to the profits of those companies across this country who take the profits and take them offshore. We need quality aged care and we need a federal government to change the rules and make it happen."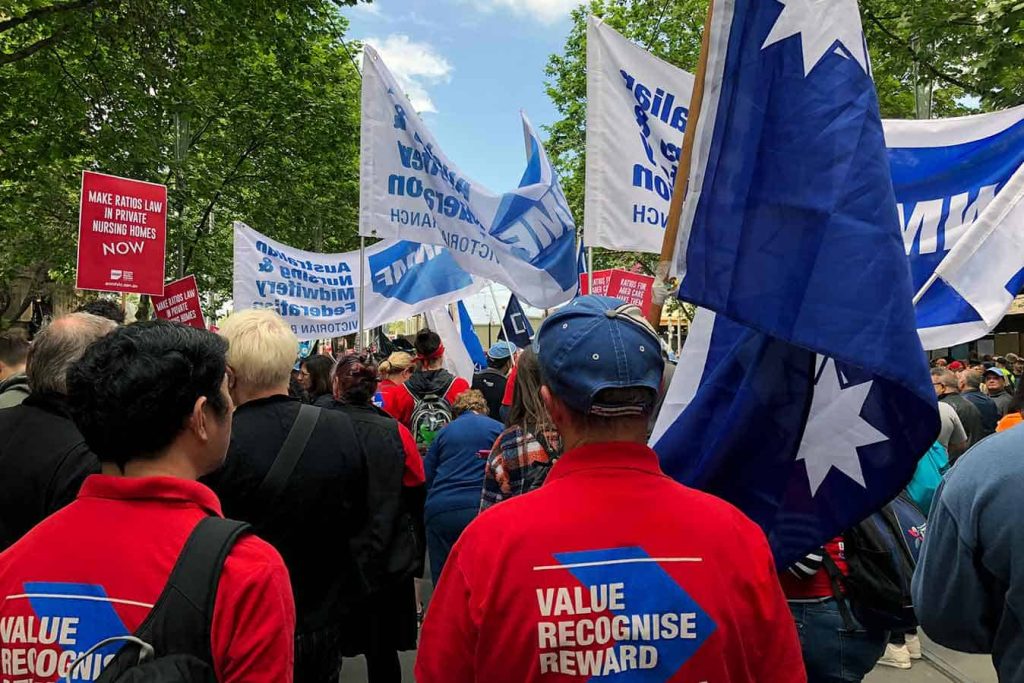 Victorian nurse Fiona said she decided to march at the rally because she believes in the power of the collective voice.
"I believe that change is possible and I think that everyone just doing a little bit can have the effect of bringing about change," she said.
"Specifically, changing the rules as far as ratios go, whether it's in nursing or aged care. Having fair work conditions is really important and supporting other union concerns as well."
Fiona described marching alongside fellow unionists at the Change the Rules rally as uplifting.
"It's really important to me to be seen and be heard and have a voice about the concerns that we have about working conditions and social justice issues that are relevant to the community."