In the media, as well as dialogue among employers and the broader health sector, nurse practitioners often are labelled as a potential substitute health profession for other professions. Examples include commentary like "if you wanted to be a doctor, you should have done a medical degree".
---
The Australian College of Nurse Practitioners (ACNP) is using this year's Nurse Practitioner Week 2022 (12-18 December) to address some of those misconceptions by highlighting the essential difference NPs make to healthcare.
"Nurse practitioners are different," explains ACNP President Leanne Boase.
"They're not one health profession trying to behave like another profession, or a substitute for another health profession. We're actually nurses, and while we may be able to meet many of the same healthcare needs, we're not actually a substitute; we're different and we're proud of that difference.
"We're also essential. We're not like a nice to have, bit of a bonus healthcare worker. We're actually essential in the health system and, as time goes on, we're becoming more and more essential."
It has now been over 20 years since the first nurse practitioners were endorsed in Australia. Senior clinical nurses with advanced qualifications and extensive experience and expertise, nurse practitioners practice in all areas and sectors of healthcare, can diagnose and treat a variety of health-related conditions, prescribe medications, and order and interpret pathology and radiology tests. Fundamentally, they aim to improve access to quality care and improve health outcomes for patients and the community.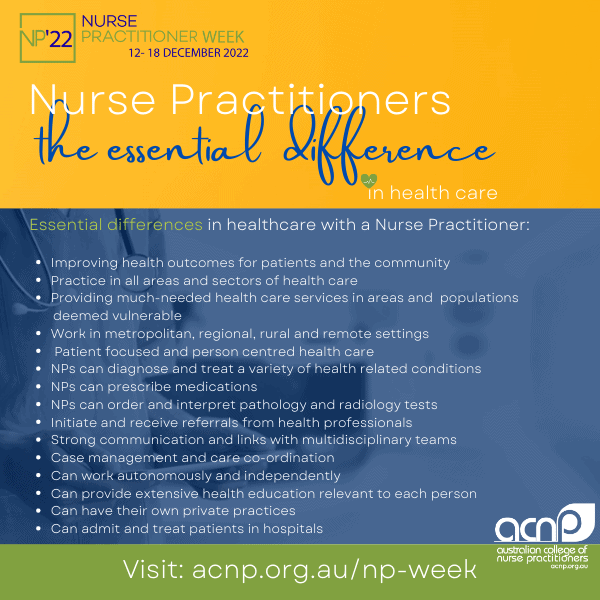 Ms Boase, who has been ACNP's president for the past five years, says this year's NP Week, 'Nurse Practitioners: the essential difference in healthcare', offers an opportunity to capitalise on renewed hope for change and improvement that will allow nurse practitioners to finally work to their full scope.
"Our main focus at the moment is on the federal government and the Strengthening Medicare Taskforce and opportunities that they have to really improve access to nurse practitioners," Ms Boase said.
"A lot of the focus is on funding and different health professional roles and rebates but what we're really looking for is removal of some of the barriers for people to be able to access nurse practitioners."
At the moment, many people cannot afford to see a nurse practitioner because the services they offer a poorly subsidised, Ms Boase says. Referral pathways are also compromised by a lack of Medicare rebate availability. With mental health referrals, for example, patients have to pay full price for psychology treatment if a nurse practitioner refers them.
"It's not just a money grab from our perspective, it's more about freeing up people to be able to access good healthcare and be able to do that affordably, as close to where they live as possible, and to be able to have a choice if they'd like to see a nurse practitioner. They shouldn't be disadvantaged for making that choice and currently many people are."
As part of its 2022 NP Week campaign, ACNP is highlighting two outstanding nurse practitioners, Jane Laidlaw, who works in general practice in Tasmania, and Kim Kaim, who specialises in chronic and hard to heal wounds in Queensland.
"We are a relatively small group of just over 2,500 in Australia now but within that group are so many amazing and remarkable people and we find it really helps to explain what individual nurse practitioners do and what a significant difference they're making," Ms Boase said.
Jane, who developed a nurse-led model of care clinic, said she hoped the NP role continues to grow as more barriers are removed.
"I wish that NPs in five years' time will have increased scope and ability to provide holistic care for patients," she said.
"I also realise that some aspects of general practice work can be limiting for NPs and therefore their patients. I wish that increased understanding of the role was wider understood by the greater community."
Similarly, Kim, an NP who deals with chronic and hard to heal wounds, said she hoped NPs were consulted more in decision-making regarding primary healthcare.
"NPs are a group of people with very deep knowledge in their specific areas that could be put to good use when making policy decisions regarding health."
ANMF Federal Secretary Annie Butler said this year's Nurse Practitioner theme of 'Nurse Practitioners, the essential difference in healthcare', was particularly relevant given not only the contribution NPs currently make to health and aged care systems but the potential they have to increase their impact to improving the health of our communities. NPs could play a critical role in relieving the current pressures on health systems around the country, she added.
"We need to substantially increase the numbers of NPs across Australia and expand the role of NPs by allowing them to work to their full scope across the health system, without the barriers that currently hinder the delivery of care. That will certainly make a significant difference to everyday health outcomes across the community," Ms Butler said.
"We've seen already how nurse-led, walk-in clinics have successfully enabled members of the community to be provided with safe, quality care, without the need to wait in overcrowded EDs and in rural and remote areas of the country where there continues to be a dire shortage of health professionals. We need to continue to expand these sorts of models."
Ms Boase, who is concluding her term as president of ACNP, said despite not achieving immense improvements, the future for the speciality looked bright and would likely see transformational change within the next year.
A line from Assistant Health Minister Ged Kearney, 'if you know your right stand your ground and you'll get there in the end', who spoke at ACNP's recent annual conference, continues to resonate strongly.
"We may not have achieved huge things but we've certainly laid the groundwork for change in the very near future."
NP Week information and resources – NP Week (acnp.org.au)