One-quarter of Australian women experience an unintended pregnancy in their lifetime with a third of these ending in abortion (1). 
---
Long-acting reversible contraception (LARC) and early medical abortion (EMA) are safe and effective but few primary care clinicians provide these services (2,3). There is a lack of training, education, and support for clinicians providing LARC and EMA care, causing many to feel unsupported and isolated (4).
Led by Professor Danielle Mazza, Head of Monash University's Department of General Practice, the Australian Contraception and Abortion Primary Care Practitioner Support (AusCAPPS) Network will address long-standing barriers to the implementation of LARC and EMA services in Australian primary care, a key priority area identified by the National Women's Health Strategy (5).
"Long-acting reversible contraceptive methods, such as implants and intrauterine devices, are the most effective form of contraception. However, for many Australian women access is limited due to the low number of clinicians trained to provide these services." Professor Mazza says. "We hope to change this through the creation of an online community of practice that can support practice nurses, general practitioners and pharmacists in the delivery of these services."
AusCAPPS is Australia's first national and free multidisciplinary online community of practice that aims to address these issues by supporting nurses, nurse practitioners, general practitioners and pharmacists working in primary care to increase the availability of LARC and EMA services.
Key features of the site include:
peer discussion and networking opportunities
a 'providers near you' page
LARC and EMA resources
webinars and podcasts, and
access to education and training.
The discussion page is supported by discipline clinician leads as well as experts from Australian family planning organisations. Posting by nurse members includes topics such as "Standing orders for inserting or removing LARCs at their practice" and "Do you, or the clinician that inserts IUDs at your practice, accept condom use as an appropriate method of bridging contraception?". A unique Network member database enables participants to connect with other providers in their local area, creating opportunities for clinicians to connect and bolster local LARC and EMA services. For example, nurses in general practice can connect and partner with a local pharmacist to support contraceptive counselling or dispense EMA medication. The webinar and podcast page features topics such as "Preparing your practice to deliver medical abortion" and "Nurse-led roles in LARC and EMA".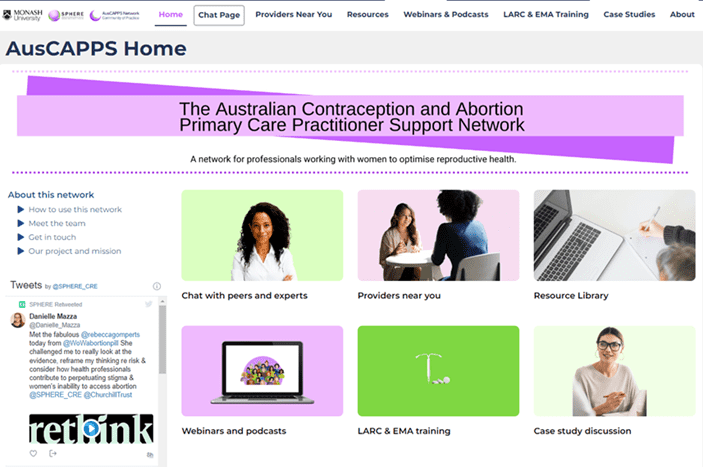 The AusCAPPS Network has the support of many national and state-based organisations working in primary care and women's health in Australia, including the Australian Primary Health Care Nurses Association, Australian Sexual Health Nurses Association, Australian Women's Health Nurse Association, Royal Australian College of General Practitioners, Pharmaceutical Society of Australia as well as other family planning and industry organisations.
Professor Mazza says "AusCAPPS membership is growing every day, and we are excited to see so much collaboration and discussion between the primary care workforce, who are clearly committed to improving women's reproductive health."
To join the AusCAPPS Network, visit medcast.com.au/communities/auscapps. For more information, email auscapps.trial@monash.edu
References
Taft AJ, Shankar M, Black KI, et al. Unintended and unwanted pregnancy in Australia: a cross-sectional, national random telephone survey of prevalence and outcomes. The Medical Journal of Australia 2018;209(9):407-08. doi: 10.5694/mja17.01094
Sundaram A, Vaughan B, Kost K, et al. Contraceptive Failure in the United States: Estimates from the 2006-2010 National Survey of Family Growth. Perspectives on Sexual and Reproductive Health 2017;49(1):7-16. doi: 10.1363/psrh.12017 [published Online First: 2017/03/01]
Grzeskowiak LE, Calabretto H, Amos N, et al. Changes in use of hormonal long-acting reversible contraceptive methods in Australia between 2006 and 2018: A population-based study. Australian and New Zealand Journal of Obstetrics and Gynaecology 2021;61(1):128-34. doi: 10.1111/ajo.13257
Munro S, Guilbert E, Wagner M-S, et al. Perspectives Among Canadian Physicians on Factors Influencing Implementation of Mifepristone Medical Abortion: A National Qualitative Study. Annals of family medicine 2020;18(5):413-21.
Australian Government Department of Health. National Women's Health Strategy 2020-2030, 2018.