Australia Day is an opportunity to reflect on what it means to be Australian, and to acknowledge our history.
---
Do something towards building a shared future for our nation this Australia Day. Take a 15-20 minute interactive journey on the referendum for an Indigenous Voice to Parliament.
In May 2022, Prime Minister Anthony Albanese made a commitment to establish an Indigenous Voice to Parliament that is guaranteed by the Australian Constitution. This commitment represents the recognition sought in the Uluru Statement From the Heart and will involve every Australian voter in a referendum to change the Constitution.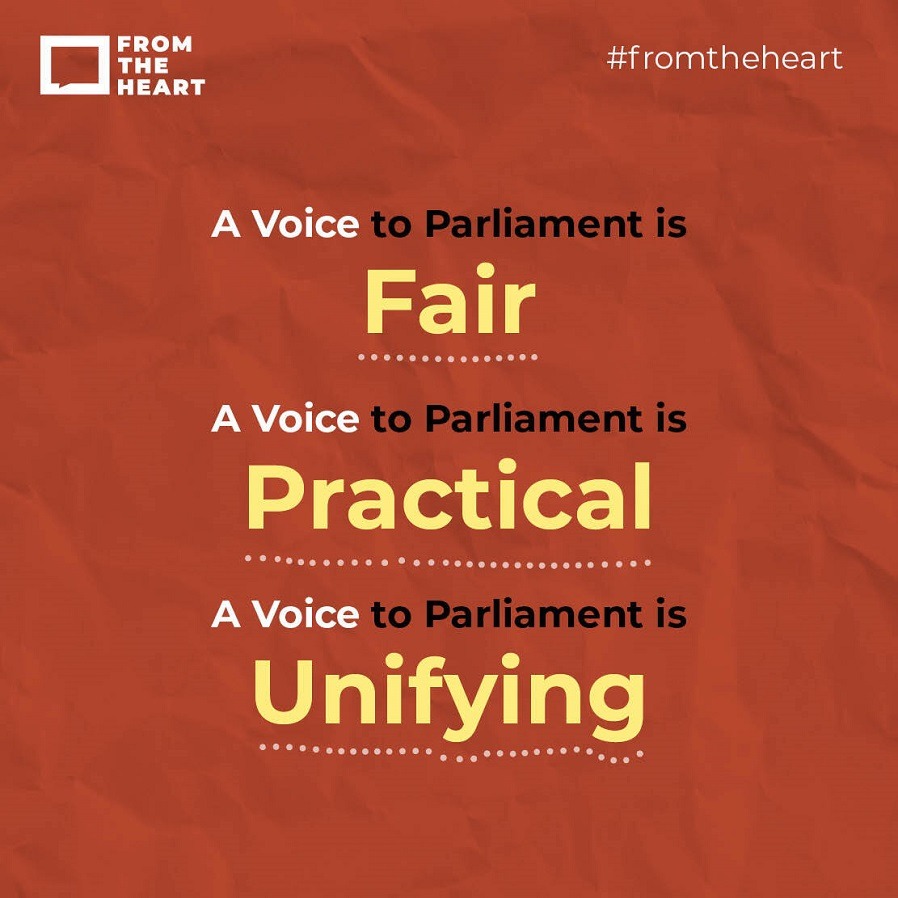 An interactive digital learning platform, produced in partnership by From the Heart and the Uluru Dialogues, is designed to help answer three simple questions:
What is Constitutional Recognition of Indigenous Peoples?
What is A Voice to Parliament?
Why is a Referendum needed?
The course takes about 15 minutes and includes videos and interactive questions.
What is Indigenous Constitutional Recognition?
"What Constitutional Recognition means is acknowledging the 65,000 years of continuous connection the Aboriginal and Torres Strait Islander peoples have to this country. It is a unique status as the First Peoples of the Australian nation," said Dean Parkin, Director, From the Heart.
"It's about Australians embracing First Nations peoples, it's about us being recognised in our Constitution, in our rule book. And it's about, I guess, having that sense of 'this is where we started' as a people and as a nation. And that's really, really important in terms of the relationship that we have between First Australians and everyone else," said Karen Mundine, CEO, Reconciliation Australia.
"…Recognition in the Constitution is going to go a long way to healing past injustices in the modern history of Australia. It's an important first step in building a shared future for our country," said Kenny Bedford, Indigenous Engagement Lead, From the Heart.
A Voice to Parliament
A Voice to Parliament is an Indigenous representative body that provides advice to the Parliament and government on laws and policies that have a particular impact on their families and communities.
"The Uluru Statement very clearly said that if we are going to do this, if we are going to formally and finally do constitutional recognition for Aboriginal and Torres Strait Islander peoples, it's got to be through the Voice," said Mr Parkin.
A successful referendum on an Indigenous Constitutional Recognition through a Voice achieves two things: the recognition of Indigenous people in the Australian Constitution; and a practical Voice to Parliament which will allow Indigenous peoples to have input over the issues that affect them and help contribute to policies and decisions affecting their lives.
"So, a referendum is needed to change the Australian Constitution. And what that means is bringing the nation together in a vote – a majority of Australians in a majority of states saying yes," said Mr Parkin.
"What we're asking is that at a referendum will you support our request for a Voice to give advice to Parliament when laws are made about us? Will you support us to have a view about the things that matter to us in Australia," said Rachel Perkins, Australian Film & Television Director.
How can you help?
You don't need to be an expert to advocate for constitutional recognition.
Spread the word. Speak to friends, family, colleague and your community about a Voice. Have conversations.
"This is a conversation that we have to have across the nation. This is a conversation that every single Australian needs to be part of… a conversation more broadly in your families, in your workplaces, in your communities and something that we really want the nation to get behind, said Mr Parkin.
"This is a moment to genuinely unify the nation. We believe coming together in a referendum on a voice to Parliament is something that can bring the nation together and make history together."
To access the course:
Indigenous Constitutional Recognition through a Voice – Overview (fromtheheart.com.au)
For more information:
@fromtheheartau
@ulurustatement