A petition led by Lung Foundation Australia is calling on the federal government to commit to funding at least 15 specialist lung cancer nurses in the upcoming Federal Budget in order to improve quality of care and health outcomes for lung cancer patients.
---
Launched yesterday, the petition draws attention to the disparity in access to lung cancer nurses Australians face when compared to other cancers, underlining how the federal government funds 98 breast cancer nurses and 62 prostate cancer nurses yet currently provides no backing for the specialist role to support patients diagnosed with the nation's deadliest cancer.
It argues specialist lung cancer nurses have the ability to navigate critical gaps in the treatment pathway by ensuring timely access to care and increased anti-cancer therapy through holistic assessment practice.
Lung cancer nurses would decrease avoidable hospital admissions by offering support and guidance over the phone or face-to-face and increase the quality of life in the post-treatment to end-of-life phase, the petition, which has already attracted over 2,000 signatures, states.
The primary role of specialist lung cancer nurses is to support patients and their families to understand available treatment options, ensure they receive proper and timely treatment, and advocate for patients' needs and preferences from pre-diagnosis though to end-of-life.
Australia currently has 12 full-time equivalent specialist lung cancer nurses, with none of the positions funded by the federal government.
Statistics from the Australian Institute of Health and Welfare (AIHW) show an estimated 12,817 Australians were newly diagnosed  with lung cancer in 2019.
According to Cancer Australia's Clinical Practice Guidelines for the Treatment of Lung Cancer, best practice lung cancer treatment and care is delivered by a multidisciplinary team (MDT), with a specialist lung cancer nurse listed as a core member.
Lung Foundation Australia has been campaigning for several years to boost the number of lung cancer nurses and will present the list of signatures collected from the petition to the House of Representatives next month.
In 2018, it released a landmark report, Making Lung Cancer a Fair Fight: A Blueprint for Reform, that exposed the challenges faced by Australians living with lung cancer and identified three target areas – improving diagnostics and care, partly by funding more lung cancer clinical nurse specialists, tackling stigma experienced by patients, and the need for greater psychological support.
"The critical shortage of specialist lung cancer nurses in Australia is simply unacceptable and it is comprising quality of care," Lung Foundation Australia CEO Mark Brooke said.
"Our lung cancer patients are tired of being treated like second-class citizens. They need and deserve the same access to quality care as those diagnosed with any other cancer."
Lung cancer patient Marilyn Nelson experienced the impact lung cancer nurses can make first-hand.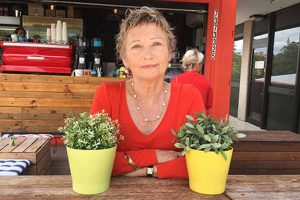 Diagnosed with lung cancer in 2013, Ms Nelson didn't have access to a lung cancer nurse in the private health system.
"I really needed someone to explain things to me, and to be contactable when I had questions or needed support. My only option was to call my oncologist's secretary with a question, who would relay the messages to and from my oncologist. It left me feeling quite isolated, unsupported and distressed," she recalls.
"I am now treated in public health where there is a multidisciplinary team which includes access to a cancer care coordinator and nurses with experience in lung cancer. The difference is very significant. I have access to support when I need it, care is coordinated, [and] questions readily answered."
In an attempt to address the gap left by a shortage of specialist lung cancer nurses, Lung Foundation Australia established a senior clinical oncology nurse-led telephone intervention service in 2015 to support Australians living with lung cancer.
Aiming to increase symptom management, improve self-management and strengthen coping skills, new research into the Lung Cancer Support Service shows 62% of patients reported three or more physical symptoms associated with lung cancer or side effects from treatment and 95% reported psychological concerns.
The study identified an overall improvement in coping skills among those using the service.
"The shortage of lung cancer nurses is inconsistent with evidence-based clinical practice guidelines and international best-practice and is in stark contrast to the support provided to other cancer patients," Mr Brooke said.
"We urge everyone to sign this petition to help us call on the government to fund this essential life-changing support for lung cancer patients."
To sign the petition click here