An aged care worker with three children could retire with a 4% larger nest egg if superannuation were paid on Commonwealth-funded parental leave, new modelling from health fund HESTA has revealed.
---
The key policy change, which the Labor Party pledged to support in the lead up to May's federal election, could also result in a mother of two having $14,000 more at retirement.
According to HESTA CEO Debby Blakey, paying super on Commonwealth Paid Parental Leave payments was an important step in narrowing the gender super gap, as women are more likely to take parental leave.
"Every extra dollar our members can add to their super can really make a difference when they retire," Ms Blakey said.
"Many HESTA members have lower account balances as they often work in casual, part-time or insecure work or in industries that are typically lower paid, like aged care and early childhood education. Achieving adequate super savings is then even harder as they'll often also need to take longer periods of unpaid time out of the workforce to care for others."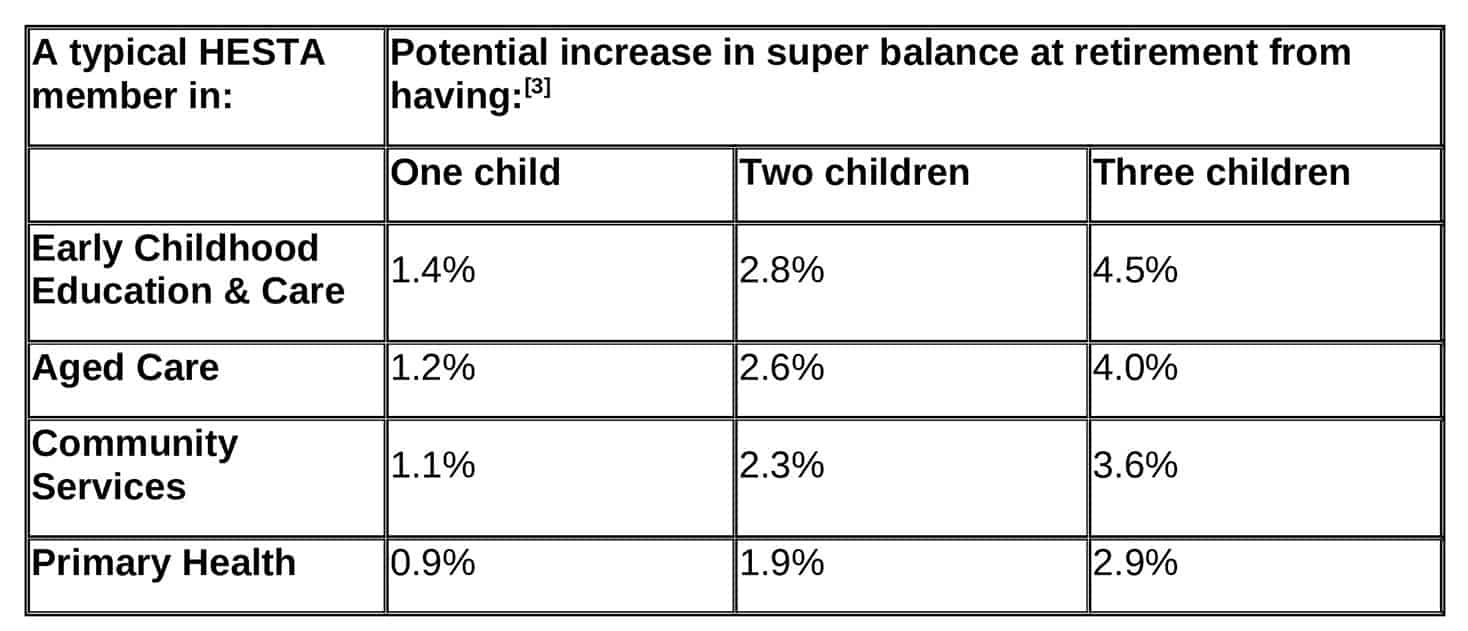 Leading organisations from the business, health, aged care and community services sectors, including Chief Executive Women, Early Childhood Education Australia and the Australian Nursing and Midwifery Federation (ANMF), are among the growing coalition of 18 organisations who have joined HESTA to advocate for the retirement equity measure.
"Women continue to be financially disadvantaged throughout their careers, especially when they take parental and carers leave, and then when they retire with reduced superannuation earnings," ANMF Federal Secretary Annie Butler said.
"Providing women with super payments during parental leave is a common-sense solution in working to address the gender pay gap and securing their future."
"Women retire with around half of the superannuation of men and one cause of this deep inequality is that superannuation is not paid on parental leave," said ACTU President Michele O'Neil.
"Paying super on Commonwealth Paid Parental Leave would abolish an unjust inequity for women."
Caring for a newborn is a tough job, says United Workers Union National Secretary Tim Kennedy, and it's unfair that those who take on the responsibility are left with holes in their super.
"Government superannuation contributions on paid parental leave would go some way to recognising the huge workload and contribution people make when they care for new babies."
A survey of HESTA members found 85% supported paying super on parental leave, increasing to 95% for those aged under 35.
"Parental leave is the only commonly taken form of paid leave that does not include superannuation, sending a clear message that caring work is undervalued," Ms Blakey said.
"Our members have told us paying super on paid parental leave is incredibly important to them and that they want to see this longstanding inequity changed so our retirement system is fairer for all Australians."