"Our main objective is to support people out in the community in their own environment as much as possible using the least restrictive and least coercive measures that are available to us," says mental health nurse Fiona I'Anson of her role attending scenes where people are experiencing mental health emergencies alongside NSW police officers to provide specialist assessment and care.
---
"I identify at the start of a mental health assessment as being a mental health nurse from the hospital working with the police in helping them support people experiencing a mental health crisis. Having that differentiation as a healthcare professional and mental health nurse, completely separate to the role of the police and any potential legal matters which may be coexisting, really helps build that rapport in the relationship and allows you to help people to come up with effective community-based support to aid their recovery."
The collaboration between mental health nurses and NSW Police and NSW Ambulance first responders traces back to the launch of the Police Ambulance and Clinical Early Response (PACER) pilot program in late 2018, a partnership between the St George Mental Health Service in South Eastern Sydney Local Health District and St George Police Area Command embedding mental health clinicians at the police station to offer on-scene and telephone assistance to support people experiencing a mental health crisis in the community.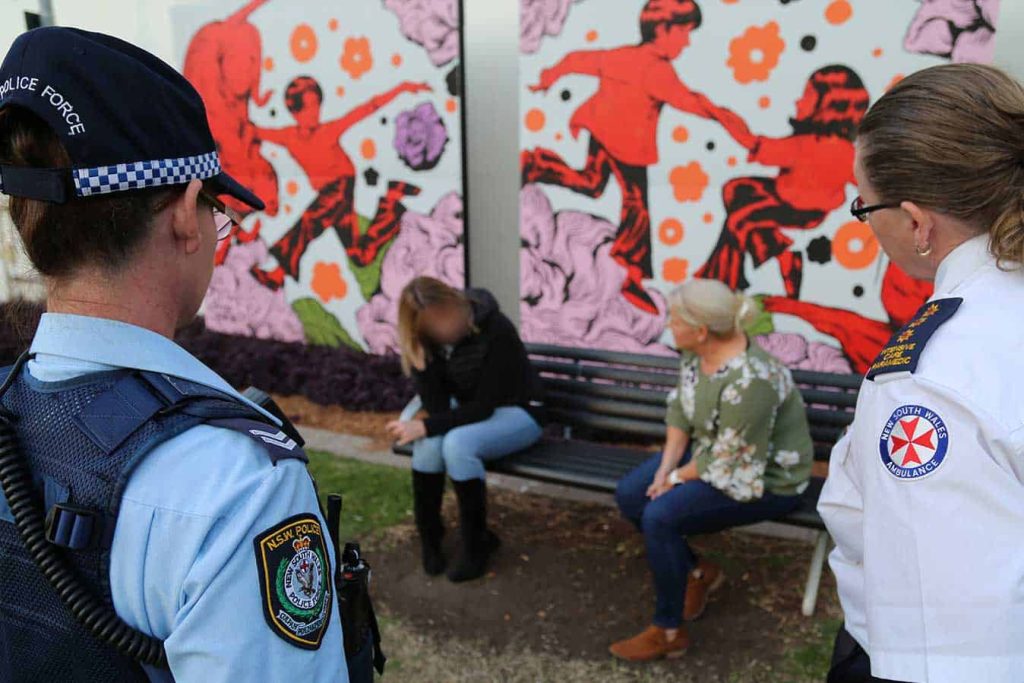 The program aimed to provide person-centred trauma informed care, reduce Emergency Department (ED) presentations, and provide links to community and welfare services and pathways to care.
Fiona, a UK-trained mental health nurse with a diverse background that includes working in community crisis teams and EDs, was the first nurse recruited to join the PACER pilot program and handed the task of laying its foundations.
"A lot of my experience has involved working out in the community with people in acute mental health crisis and really supporting them to stay out of hospital wherever possible and be supported in their recovery in their own home and environments," Fiona says.
"When this role came up it combined a lot of my experience and presented the opportunity to mould a service to meet the needs of people in mental health crisis more appropriately."
In her role with PACER, Fiona, a Clinical Nurse Consultant at St George Community Mental Health Service, is based at the Kogarah Police Station full-time and primed to assist police by providing telephone advice and on-scene mental health assessments to people in the community experiencing a mental health crisis.
Nurses work alongside police, often listening intently to the police radio broadcast and flagging any jobs which may require mental health support.
Out in the community, Fiona gives people the opportunity to have a thorough mental health assessment in their own environment, often reducing the need for them to be detained by police under the NSW Mental Health Act and transported to an ED
It's about navigating the path to recovery, not incarceration, she says.
"We provide specialist mental health assessment on-scene as opposed to the traditional pathways which would have been utilised before this program was implemented.
"Without the specialist skills and experience of a mental health clinician like myself, police would transport people to hospital with ambulance, using often coercive measures under the Mental Health Act. With specialist mental health assessment on-scene, we have the opportunity to negate some of those more coercive measures and support people in their homes, in the community, in schools, in workplaces, or indeed at the police station in a more supportive and individualised way."
Scenes that nurses in the PACER program attend are varied and complex and demand non-judgmental care.
Mental health assessments conducted in the community mirror the comprehensive assessments which would otherwise take place in an ED.
"There's a lot of situational crises, family tensions, domestic incidents where it's naturally a high-state of emotion for a lot of people and they perhaps express some suicidal thoughts, which then requires a mental health assessment to ascertain an appropriate risk assessment and management plan, which the police aren't able to provide, so that's an example where our role works very effectively together with the skills of the police."
Fiona cites the ability to share skills and forge impactful relationships as the most rewarding parts of teaming up with police.
"As a mental health nurse, being able to share my experience and understanding of people with mental illness and educate and support police to understand more about the people that they deal with who are in a mental health crisis is crucial to effective, trauma-informed care and improving the experience of people in contact with Police during a mental health crisis. This whole process has been very satisfying," she says.
Since being established in 2018, the PACER pilot program has importantly achieved outstanding results, including a 10% reduction in mental health presentations to the St George Hospital ED and police time-on-scene being slashed by an average 45 minutes.
Of the more than 1,500 PACER clinician contacts since November, 2018, only 500 required further hospital-based assessment or treatment.
The results prompted the NSW Government to recently inject $6.1 million into expanding the program and rolling out an additional 36 specialist mental health clinicians across 10 Sydney Police Area Commands
Recruitment of the specialist mental health clinicians began in July.
"This ground-breaking collaboration embeds mental health experts with first responders to support them to appropriately recognise, assess and respond to mental health emergencies live at the scene," NSW Mental Health Minister Bronnie Taylor said at the expansion's announcement back in June.
"This approach has enormous potential to change lives, with the community getting more appropriate care at the time when they need it the most."
Fiona says watching PACER thrive and grow and the addition of 36 more mental health nurses brings an enormous sense of pride.
"They'll ultimately mean that people in mental health crisis have access to specialist mental health assessment in those out-of-hospital settings and we'll be able to support them on the pathway to recovery and link them in with the appropriate community services that they need."
Reflecting on the program's evolution, Fiona says one of the biggest challenges early on was bringing together three separate organisations – mental health services, police and ambulance – with different working cultures and trying to build relationships and understand how each could play a pivotal role in improving outcomes.
"Essentially, it was really challenging how things were done previously," Fiona says.
"Without our presence before the PACER program was implemented, police didn't have access to specialist mental health and followed the usual protocols and routines of how they would manage a mental health client, and as we know, being taken to hospital isn't necessarily the most appropriate way of dealing with someone."
As well as its reduction in ED presentations, reduced demand on agencies and more appropriate care, Fiona believes the PACER program has also had a significant impact on decreasing the stigma often associated with mental health within the community.
"Before this program was put into place, a lot of people who had a mental health crisis, their experience was of police being involved and transporting them up to the hospital, using their powers to get them to hospital to have that mental health assessment," Fiona says.
"Enabling a different pathway to receiving that assessment through myself, through the PACER clinician role as a mental health nurse, people see things being done differently and have a better experience of what is ultimately a really challenging time in their life."