Nurses and midwives are increasingly using mindfulness to reduce workplace stress and improve their practice.
---
Pressures inherent to the professions include challenging workloads, staff shortages, caring for complex patients, dealing with loss and emotional suffering, occupational violence and workplace conflict.
Practising mindfulness, a type of meditation that involves breathing methods and other techniques to relax the body and mind and reduce stress, can help nurses and midwives more effectively manage everyday clinical stress and respond to situations consciously rather than reactively.
Significantly, mindfulness can improve overall health and wellbeing, enhance communication with patients and colleagues through greater awareness, boost work satisfaction, increase self-compassion and reduce the risk of professional burnout.
Registered nurse Jo-Anna Medhurst works at the Flinders Medical Centre (FMC) in South Australia in the hospital's acute surgical ward and the SA and NT Liver Transplant Unit. It's a fast-paced, high-acuity setting which provides care to mostly complex patients.
Over two decades ago, FMC established its pioneering hospital-based Arts in Health program, where a team of arts managers, arts facilitators and art and music therapists worked across all wards and public spaces of the hospital to provide performance-based and interactive arts activities in a bid to make FMC a more supportive, welcoming place to visit, stay and work.
One of the program's weekly services includes a mindfulness class for staff.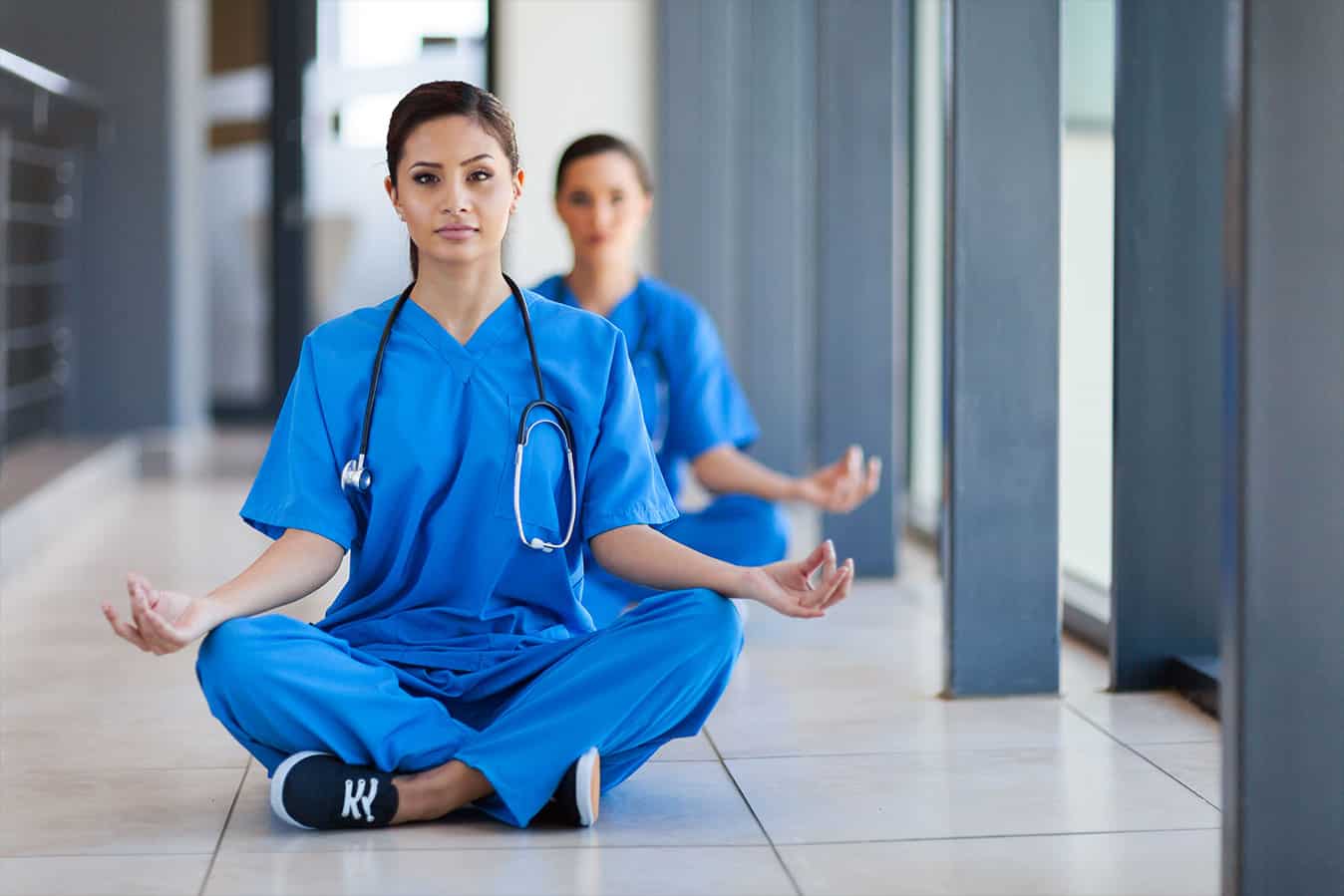 Having worked at FMC for 20 years, Jo-Anna has watched the Arts in Health program evolve and valued its impact from afar. She particularly appreciated its efforts to support long-term chronically ill patients during their stay through activities such as mindfulness and the arts and craft.
With the health and wellbeing of nurses and midwives a growing priority, Jo-Anna weighed up accessing the mindfulness class about a year ago.
Initially, she says it wasn't particularly accessible due to the time needed to get to the class and return to the ward within her lunch-break window.
But after speaking to the facilitator, Jo-Anna was able to bring the mindfulness class to a common room on the ward that staff could access easier.
"The only mindfulness I had done previously was through yoga, which I wasn't currently doing because of being time-poor," Jo-Anna recalls.
"I've always believed it was very important to have a balance and downtime for your mind and to rest and re-energise.
"Due to a lot of pressures on the ward, staff were getting very stressed. It was obvious that people were becoming very stressed; there was increased sick leave because of the stressors at work, there was no downtime, short breaks, and no breaks."
Jo-Anna spruiked the benefits a mindfulness class could bring to her NUM and she concurred. Now a facilitator offers a weekly class.
Mindfulness involves paying greater attention to one's thoughts, feelings and surrounding environment to bring awareness to the present. Many people who practise mindfulness report they feel calmer and more centred.
"[To me] mindfulness is an awareness of yourself and what's going on around you and appreciating that you actually need to restore the energy inside you by looking after your body and your mind," Jo-Anna says.
Jo-Anna's biggest workplace stressors related to the daily challenges of supporting families and patients during what is a typically high-stress period.
"It's often the dynamics of the public. They are very stressed because they have a loved one that's sick and things aren't happening perhaps as quick enough or not how they like and they get angry. We're on the frontline, so we receive a lot of abuse and people vent to us in an uncontrolled way. That's ok for a while but it comes to a point where it's how much more can you take?"
Juggling work and family and collaborating with multidisciplinary teams on the job to achieve the best outcomes present other hurdles, she says.
The weekly mindfulness class runs for 40-minutes and attracts about ten nurses from the ward.
It generally focuses on deep breathing and relaxation and includes gentle exercises and light stretching. The facilitator usually asks nurses to collect their thoughts, reflect on their day, and think positively. Sometimes sessions simply involve her playing a soothing musical instrument.
Nurses and midwives work in high-pressure environments and are understandably time-poor. According to Jo-Anna, nurses on the FMC ward access the mindfulness class during their lunch breaks on a rotating basis and when there's double staff on during a handover period.
"The hardest part is leaving a session and then going back to reality," Jo-Anna says of the relaxed state she finds herself in after practising mindfulness.
She suggests mindfulness can help manage clinical stress, boost alertness, increase empathy and presence with patients and families, and decrease burnout.
"It's very calming. You feel revitalised and refreshed, which sounds contradictory to the fact you are so relaxed, but you actually come out and you feel good and like you can cope with the next challenge. It's a fresh starting point and creates a calmness.
"I just feel good and I feel relaxed and that things are put into perspective and that there's a new tolerance. It makes you realise that yes somebody's angry but it's got nothing to do with you as they've got their own issues."
Jo-Anna suggests many of the techniques she has learned through practising mindfulness have improved her nursing practice throughout the day and the ability to cope amid stressful situations.
Broader benefits of mindfulness can include increased energy levels and physical wellbeing, reduced anxiety and improved emotional stability.
'It relates to your mindset. Mindfulness helps your physical and mental wellbeing so if those two things are in a good place, then you feel empowered and stronger and feel you can manage because you have control of yourself and you're feeling good about yourself."
However, Jo-Anna concedes tough shifts are part and parcel of working in a hospital setting.
"I think that's just part of any workforce but in the health field especially because it's all very personal for people and there are lives at stake and there's sickness and a lot of fear for people. Some days are good and fabulous but it will always be an ongoing challenge."
Jo-Anna's advice to nurses and midwives wanting to practise mindfulness is to make it a priority.
"They should speak to their facility and see if they could incorporate it into their wellbeing services for staff because most of them have it in their vision for their staff nowadays. If that can't be done, access an online program or some community opportunities like yoga classes. I think it's important to prioritise our mental health because it helps us manage and cope."