Australian politics is heating up with a federal election on the way. Three Australian nurse MPs are leading the charge, showing that politics and nursing are not mutually exclusive. Ged Kearney, Joe Kelly and Nat Cook are working to make a difference beyond the realm of healthcare. Natalie Dragon reports.
---
"This is a watershed moment for politics in this country," says Federal Member for Cooper Ged Kearney speaking to the ANMJ from Canberra, shortly after the Refugee Medevac Bill was passed in February.
After two days of intense negotiation, the Bill to get sick refugees out of off shore detention was passed in Parliament.
"It's been a rollercoaster to use the cliché. Just when you think it's all settled and you are going to make a difference, there's a little change and you start from scratch. But it's really wonderful to watch the process and be part of it and see a fantastic result," says Ms Kearney.
The diverse inner-city electorate of Batman (now Cooper) in Melbourne, in which Ms Kearney ran and was elected in the 2018 by-election, has a tradition of community activism.
The treatment of refugees is a passionate issue for the electorate. "Absolutely this is what I ran for in my platform; making real change," Ms Kearney says. "This couldn't be a more stark and changing approach to refugee policy we have in this country; to a more humane policy. I am really happy to be taking this policy to the election."
Ms Kearney trained as a nurse at the Austin Hospital, where she progressed to become Head of Clinical Nursing Education at Austin Health.
She joined the ANMF in 1993 as a job rep, then became ANMF Victorian Branch President and ANMF Federal President while working full time nursing.
Ms Kearney says she uses the skills she developed as a nurse every day.
"As a nurse, you develop a really good ability to assess a situation and I do that now. I think nurses are really good listeners and they can also see the hidden messages. They have an ability to listen well and they are empathic, and know how to make people feel at ease. Nurses are respectful and never dismiss anyone."
In 2003, Ms Kearney was elected Assistant Federal Secretary and then Federal Secretary of the ANMF, where she worked heavily on aged care funding and policy.
While none of the political parties have yet committed to mandated staffing ratios in aged care, Ms Kearney says she is signed up to support the ANMF's campaign.
"Staffing and skill mix is at a crisis point in private aged care, and it must be fixed.
There are tens of thousands of people waiting for residential aged care packages who want to stay in their own home. We will have to wait and see what comes out of the Royal Commission."
Ms Kearney says she was proud to promote Labor's commitment to climate action as both ambitious and achievable during the by-election. "Labor's recognition of the climate emergency is the framework for our policy deliberations from environmental protection to job creation."
Ms Kearney held the position of ACTU President from 2010 until her move into federal politics. Labor's commitment is to change workplace relations laws to make them fairer for workers. For the last decade, corporate profits have been steadily increasing to an all-time high, while the share of wages is at a record low, she says.
"Workers work longer and harder in less secure, more fragmented jobs. People are in insecure jobs and on short term contracts; we want to see more job security. We also want to see investment in projects that create jobs."
As one of nine children, Ms Kearney learnt to speak up. The Kearney's had a 'family Parliament' and also a family trade union – the 'Kearney family union'. All nine kids were members and paid their dues and made their demands.
"I look back on my career and I've always been an advocate; as a nurse I advocated for patients; in the union for our membership and for the health system.
"You have to speak up. Sometimes it's really challenging; sometimes it's really hard. As a nurse, I would walk into a room of doctors and health chiefs and I would think my voice was not that important. Now I look back and absolutely that wasn't true.
"Stand your ground. Not to say there's no budging. There's always room to compromise and negotiate but be consistently moving forward on the issue, so people know: 'I am coming back on this'."
---
Joe Kelly has been the Labor member for Greenslopes in Queensland since 2015. Prior to his election to QLD Parliament, he was a clinical nurse at QEII Hospital, working in rehabilitation.
"It's been a great honour. I think certainly my involvement in the nursing union helped influence my move into politics," he says.
Mr Kelly joined the union on the first day of his nurse training at the Royal Brisbane Hospital in 1998. He became more involved in the union movement after a year travelling in Central and South America.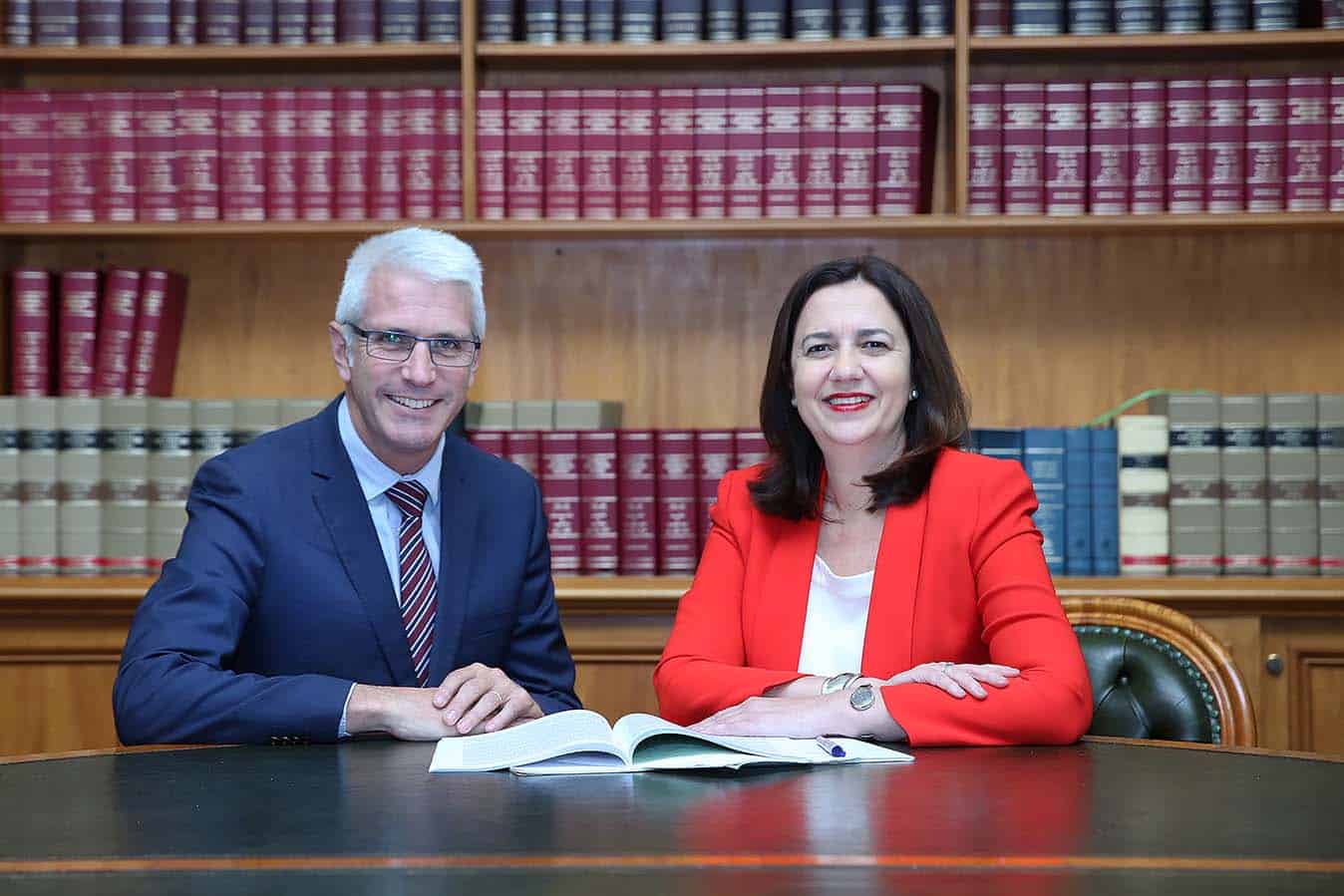 "I saw what life was like when people do not have the benefits of a democracy. For me democracy is fundamental to good health of a society. I got back to Australia and became very active at Greenslopes Hospital as a job rep. I joined the local branch of the ALP and started contributing in that way, lots of 6am starts and handing out flyers in the heat."
Mr Kelly worked at the Public Sector Union secure, for 10 years before he went back into nursing, prior to politics.
"I've always been interested in politics. I wasn't sure I was the sort of person that was able to make a contribution in that way. To be honest I guess in nursing we don't necessarily see ourselves as leaders of society. We are pretty humble."
Like Ms Kearney, Mr Kelly says he uses his nursing skills every day as a MP. "Nurses are used to dealing with a diverse group of people with differing views and really listen to people. They really try to understand what people's issues are rather than prejudging what's best for that individual.
"Nurses are good at having difficult conversations. 'I know you really want that I can't deliver that – no one can. As much as I would like to tell you, no amount of my telling you that is going to make it happen'."
Mr Kelly and his wife have lived in the Greenslopes electorate for over 17 years; they have two daughters Molly 14 and Brenna 11. The biggest issues in the high density electorate are education, public transport and jobs, he says.
"For me it's having the opportunity to be part of a government that passes legislation that reflects my values. We are living more closely together but seem to be drifting further apart. Better communities make sure people look out for one another and are taking care of each other."
Mr Kelly believes that access to high quality healthcare and education is fundamental to building a strong community. "I am really pleased that I am part of a government that has introduced nurse to patient ratios, we have really led the way. We are a government that is supportive of nurses and graduates.
The Newman government drastically cut graduate positions from full time to part time, there were no opportunities for graduates to work in the profession. It was so short-sighted.
"We have been quite innovative with nurse led programs including nurse navigators. There are people in the community who need skilled nurse navigation to work their way through the complexities of the healthcare system including refugees, those accessing the NDIS, and the My Aged Care system."
Mr Kelly believes the issues in aged care will not be fixed until mandated ratios are introduced. "We [the QLD government] have got an Inquiry into all aspects of aged care which was announced before the Four Corners program aired and the federal government announced the Royal Commission. We hope our Inquiry will make a meaningful contribution and look at all issues, including palliative and end of life care."
Australia needs a strong and carefully managed economy that benefits all, argues Mr Kelly.
"It's about the quality of employment. Statistics show 30% precarious employment which affects social cohesion. It's hard to know where you are if you don't know if you're working three hours or 30 hours in the week."
Mr Kelly's wife is also a nurse, a NUM at Greenslopes Hospital.
"I have a grandmother who is a nurse, my mother was a nurse, my older sister is a nurse and one of my nieces is a nurse. We are well represented by nurses," he laughs. "It's been a great opportunity. I hope to continue to support the numbers of nurses in healthcare, with high levels of professionalism and quality care; continue to promote advances in technology and teaching; and support nurses to continue to provide leadership roles right across the breadth of our communities."
---
Natalie Cook became South Australia's Member for Fisher in the 2014 by-election. The most marginal seat in Parliament, it resulted in the Weatherill Labor government's changing from a minority to majority government. "I won by nine votes. It was notionally the most marginal seat in the country; I've never taken it for granted," says Ms Cook. An ANMF member and former worksite rep in the 1990s, Ms Cook worked at Flinders Medical Centre for 12 years as an ICU nurse. Four years on in government, Ms Cook says she's had the opportunity to learn her craft.
"What I found very early on is that being a MP is very similar to the role of a nurse. Listening, engaging, understanding the complexities people face in the community and the need for advocacy.
"The skills we have are needed to address the many diverse problems and requirements of the job. The assessing, triaging, caring, responding and advocating and not giving up on someone is as important to me as a MP as it was as a nurse."
Ms Cook was Parliamentary Secretary for Housing and Urban Development from March 2017 to Labor's loss at the 2018 state election.
Ms Cook successfully contested the seat in Hurtle Vale when new boundaries came into effect becoming its first representative.
Ms Cook is Opposition Spokesperson for Human Services; the portfolio includes disability, housing, homelessness, youth, youth justice, and social inclusion.
"A right-wing government that focuses on financial capitalism, trickle-down economics is not in the best interests of working families and the vulnerable. We have a massive challenge to give vulnerable people a voice.
"What we are going to see in South Australia is a very challenging time for those with a disability. For both those who do not qualify for the NDIS and those whose needs are not fully met because of the service model."
Ms Cook says she has a very supportive and close family, with partner Neil Davis and children Sheree, 33, Ty, 17, and Sid, 6. She became an anti-violence campaigner after the death of her 17-year old son Sam in a one punch attack in 2008.
"Three decades of nursing has kept me grounded and a son that was assaulted I understand that life can change in a minute and not always in a good way. You've got to make the most of what you've got."
Nurses can provide leadership in politics, from providing evidence to a Parliamentary Inquiry, to representation at local, state or federal government level, says Ms Cook.
"Nurses are fantastic leaders. They listen, prioritise and assess. They are genuine."
As a MP Ms Cook loves the role and loves the job. "It's much more than I expected. The amazing part is the difference you can make. People need representation and leadership; we need advocacy for diverse populations and communities. I make myself as visible as I can. I can show what it's like to be a leader if I'm visible to my community."