The Australian Nursing and Midwifery Federation (ANMF) has released updated national standards for school nurses that provide a contemporary overview of the unique role's broad scope of practice and its vital impact in improving health and education outcomes for children and youth.
---
The 12 standards within the ANMF's National School Nursing Standards for Practice: Registered Nurse fall under four domains to reflect the diverse scope of school nursing – professional practice, provision of care, collaborative practice and school nursing environment.
School nurses are not expected to meet all of the standards outlined due to their varying scope of practice and work settings.
"These new streamlined standards acknowledge the broad parameters in which school nurses work and articulate their distinct scope of practice within the school environment that can be quite different to someone working in an intensive care unit or even a community health facility," ANMF Professional Officer Elizabeth Foley said.
"School nurses are critical in the prevention and early intervention of health issues through carrying out early screening, healthcare and health promotion. At its core, the role is geared around health and education intertwining together. School nurses help children be as well as they can be mentally and physically so that they're in a much better position to be able to maximise their learning capacity."
The standards encompass:
Domain 1 – Professional practice
Demonstrates a comprehensive knowledge of nursing practice in the school environment
Practises within a professional and ethical nursing framework in the school environment
Practises in accordance with legislation related to nursing practice in the school environment
Participates in ongoing professional development in the school environment
Domain 2: Provision of care
Undertakes nursing assessment and plans ongoing care to effectively address healthcare needs of individual students and groups within the school community
Effectively implements evidence-based health promotion and preventative care within the school community
Advocates for the rights of children and young people
Contributes to quality improvement and research activities to monitor and improve health outcomes contextualised to schools
Domain 3: Collaborative practice
Effectively communicates and works collaboratively within the school community
Builds and maintains professional and therapeutic relationships with students, their families, the school community and other healthcare professionals
Domain 4: School practice environment
Effectively manages human and physical resources in the school environment
Contributes to the maintenance of a healthy work and learning environment that is respectful, safe and supportive of students, the school community, and self
Australia has more than 1,500 school nurses who work across the education sector, typically in private and public schools, with the diverse and independent role delivering primary healthcare, early detection of health or developmental issues, health promotion and education, prevention and intervention and chronic condition management.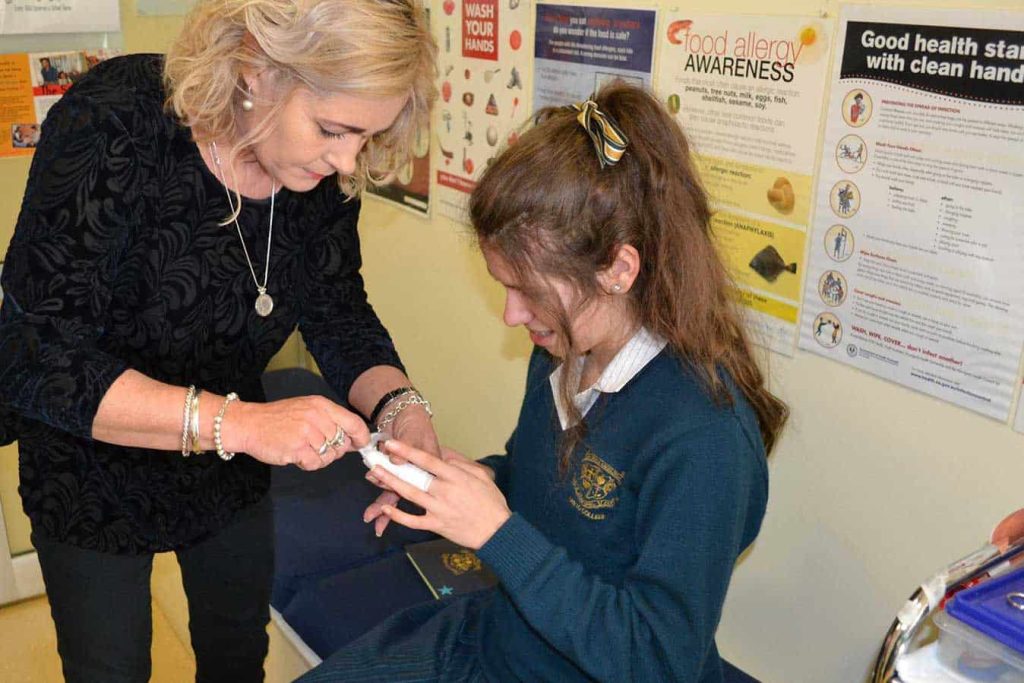 The majority of school nurses are registered nurses and the implementation and recognition of the role varies from state to state.
The ANMF's new National School Nursing Standards for Practice: Registered Nurse, were developed to articulate and streamline best practice for nurses working in school settings and encourage greater awareness and recognition of the role among educators and governments as well as the wider nursing community.
"What the school standards do is help explain to a non-nurse the governance arrangements around a nurse's practice under the NMBA's national standards for practice and how the national standards for school nurses build on those to hone down the distinct role," Ms Foley explained.
"A big goal of these standards surrounds advocacy, not just locally for school nurses to go to their principals and say 'this is what I do' but also for organisations such as the ANMF to be able to lobby health ministers, departments of health and education sectors on recognising the importance of school nurses and their influence in improving health outcomes."
The latest review of school standards builds on the first set of national standards for school nurses developed by the ANMF in 2012, which were adapted from the Victorian School Nurses (then) Australian Nursing Federation (Victorian Branch) 2009 Special Interest Group Standards.
Designed to complement the NMBA's codes, guidelines and standards for practice for registered and enrolled nurses, the modern national school nurses standards were created through extensive consultation with school nurses from across the country, including an online national survey and focus group sessions.
The standards for school nursing practice are intentionally broad in a bid to cover the diverse roles carried out and differences in the scope and expectations of individual school nurses.
Statistics show school nurse numbers peaked in the late 1990's before dropping in the 2000's.
In 2016, there were more than 1,500 school nurses in Australia and in 2017 Tasmania allocated funding for new positions in a bid to increase numbers.
Ms Foley said school nurses play an enormous role in primary healthcare prevention and early intervention across a range of areas and not having them in as many schools as possible was a dereliction of duty to the people of Australia.
"Issues that could be detected in screening in early years are not going to be picked up so people are progressing through the school system and through their life with issues that if they were addressed in early years could be simply dealt with but ignored can go on to trigger chronic health problems and hugely compromise learning and education."
While the new standards provide a contemporary framework to communicate the role of school nurses, Ms Foley said school nurses themselves needed to help spread the message.
"There are nurses in the general community who don't understand what school nurses do," Ms Foley highlighted.
"I think they [school nurses] acknowledge that they need to be able to articulate their role and this whole exercise has helped them to be able to see the role a lot clearer."
To view the School Nurse Standards click here