Mona Vale Registered Nurse

NSLHD is looking to recruit to two idyllic locations on Sydney's Northern Beaches.
Mona Vale Hospital is seeking Registered Nurses for the inpatient Palliative Care and Rehabilitation Units, whilst our historic site on Sydney Harbour is seeking Registered Nurses for the new purpose built Manly Adolescent and Young Adult Hospice (AYAH)
Employment Type: Permanent and Temporary Full and Part Time roles availablePosition Classification: Registered NurseRemuneration: $33.97 – $47.69 per hourHours Per Week: Up to 38Requisition ID: REQ397874
Multiple positions available offering part and full time opportunities on permanent and temporary appointments.
Mona Vale Hospital Rehabilitation Inpatient Service
The Mona Vale Rehabilitation Inpatient Service, consists of two rehabilitation units overlooking Mona Vale Golf Course, offering high quality, holistic care to maximise recovery and restore independence for patients after: orthopaedic injuries or surgeries, neurological illness, amputation, a medical illness or surgery.
Mona Vale Palliative Care / Geriatric Evaluation and Management (GEM) Unit
The Mona Vale Hospital Palliative Care / GEM Unit, is a purpose built facility overlooking Mona Vale Beach, providing high quality and compassionate care for both palliative care, and geriatric patients . The care provided consists of holistic, comprehensive geriatric assessments, compassionate and culturally appropriate, symptom management, and end of life care, in partnership with patients and their families.
Manly Adolescent and Young Adult Hospice (AYAH)
The Manly Adolescent and Young Adult Hospice (AYAH) provides specialised support to Adolescents and Young Adults with a life limiting illness in Australia's first dedicated 8 bed healthcare facility which offers respite care, symptom management and end of life care. The care provided will be holistic, compassionate and culturally appropriate, delivered by an empowered multidisciplinary workforce working in partnership with patients and their families.
Transport links and onsite parking available at both Mona Vale and Manly Hospitals.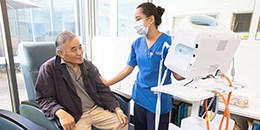 What you'll be doing
The NSLHD Nursing and Midwifery Workforce will be compassionate, competent, confident, contemporary, capable and committed to leading person-centred health care. Assess, plan, implement and evaluate nursing care in collaboration with individual/s and the greater health care team to achieve quality patient care outcome.
People of Aboriginal and/or Torres Strait Islander background encouraged to apply.
Candidates need to meet the following criteria:
Qualifications – External
Consistently demonstrates behaviours that reinforce the CORE Values of our organisation; Collaboration, Openness, Respect and Empowerment. Demonstrates these behaviours with all stakeholders; colleagues, direct reports, as well as our patients and consumers, and those that care for them.
Registered Nurse – Division 1 with Australian Health Practitioner Regulation Agency (AHPRA).
Demonstrated current clinical experience, clinical knowledge and clinical problem solving ability.
Ability to work effectively within a multi-disciplinary team.
Need more information?Position Description  2) Find out more about applying for this position For role related queries or questions contact Felicity Martin on Felicity.Martin@health.nsw.gov.au or 0428 889 559
  1) Click here for the 
All NSW Health workers are required to have two doses of a COVID-19 vaccine, as defined by NSW Health.  Employees working in a clinical area or are required to attend clinical areas are considered category A. Category A positions are required to provide evidence of having received three doses of COVID-19 vaccine in accordance with the Australian Technical Advisory Group on Immunisation (TGA) and meet the requirements of the Occupational Assessment Screening and Vaccination Against Specified Infectious Diseases Policy Directive.
Acceptable proof of vaccination is the Australian Immunisation Register (AIR) Immunisation History Statement or AIR COVID-19 Digital Certificate.
Applications Close: 1 August 2023
Learn More