WOUNDS AWARENESS WEEK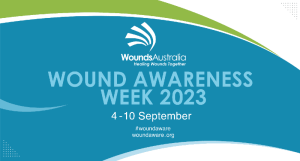 Wound Awareness Week: 4-10 September
Let's get wound care RIGHT!
Wound Awareness Week exists to reduce the harm caused by hard-to-heal wounds. This year it's 4-10 September, and our theme is 'Let's get wound care RIGHT!
The RIGHT diagnosis and the RIGHT treatment at the RIGHT time.
It's so easy to get involved! On our website, you'll find:
Free lunchtime webinars daily
Factsheets
Posters to download and display
Social media content
Morning tea resources
Why not host a gold coin fundraiser for your friends or colleagues? The first 100 people to register their Big Oozie Bake Off morning tea will receive a host kit worth $50 – completely free!
Thanks for supporting Wound Awareness Week and more than 450,000 Australians living with hard-to-heal wounds.
Learn More