Critical and Emergency Care Courses
Institution: The University of Melbourne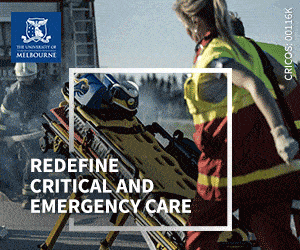 Those working in critical and emergency care must have the skills to respond quickly and decisively.
Our courses are developed by the Department of Critical Care – the hub for world-leading critical care research, learning, and teaching and engagement across the 20+ University-affiliated hospitals and beyond.
As well as having courses such as Graduate Certificate in Neonatal Intensive Care, Graduate Certificate in Critical Care Nursing and Graduate Certificate in Nursing Practice (Paediatric Intensive Care), The University of Melbourne offers the Graduate Diploma, Certificate and Specialist Certificate in Disaster and Terror Medicine.
The Disaster and Terror Medicine courses equip you to respond to climate related disaster events, or how to respond to terror events in a clinical setting. The courses draw on the extensive knowledge and real-world experience of Australian and international experts, including leading emergency physician, Professor George Braitberg AM, who heads up the department's emergency medicine program.
"The need for a unique course such as this is unfortunately self-evident. It is not a question of 'if' but 'when' an event will occur. As clinicians who are charged with ensuring the safety of our community, understanding the principles of disaster and terror management, will mitigate the impact when these events happen."  Professor Braitberg AM.
Study these course online.
Learn More