4-Year Medical Degree
Institution: IUHS School of Medicine
You have a wealth of knowledge and experience as a nurse, but also have the desire to challenge yourself and to lead as a Medical Doctor.  If you have been unsure of how to take the next step as quitting work, moving, or attending a traditional college is not an option for you, then speak to us at IUHS. Our tailored programs and flexible finance options can turn your MD dream into a reality.
The International University of the Health Sciences is an international medical school founded in 1998 boasting world-class North American professors, advanced learning technologies enabling you to study virtually from anywhere in the world, clinical training in Australia & a personalized and individual approach to each student.
The 4-Year Medical Doctor Program is the core program on offer.  You are Guaranteed Entry into the University if you meet the prerequisite criteria for the MD Program.  Pre-Med courses are available to help you gain the knowledge required to meet the criteria for entry into the MD Program.
Innovation is at the heart of the University with an Active Learning Pedagogy whereby our students use a virtual classroom including interactive live lectures, recorded lectures, problem-based case learning, study groups, a competency-based assessment model with regular exams for self-assessment, a mentorship program as well as world-class North American professors that are readily available to answer your questions 1-on-1.
Students use IUHS' custom learning management system, Lecturio & DxR Clinician a virtual patient simulator education system just to name a few of the learning technologies.
The first 2 years of preclinical sciences are studied virtually from home. You will also have a local physician mentor to guide you. Years 3 and 4 are comprised of 80 weeks of clinical training in hospitals. There is the option to extend the program to 5 years.
IUHS graduates may sit licensing exams in many countries including Australia, USA, Canada, Mexico, UAE, India, and South Africa just to name a few.  IUHS alumni are found practicing in more than a dozen countries worldwide!
Tuition is only about 40% of other medical schools with the total approximately $80,000 USD for the 4-year degree. There are flexible payment plans on offer.  Monthly payment plans are approximately $1275 USD per month.
You can start in May or September with applications taken all year round.  Transfer students are welcome at IUHS.
Are you interested in applying now?  The application process is simple.  Complete the online form, upload documents and pay the $150 application fee.
Almost all IUHS students claim that the #1 reason why they chose IUHS as their medical school is the flexibility of the program allowing them to study and work, whilst also attending to family commitments.
Feel free to contact the admissions team with questions and we look forward to welcoming you to our University.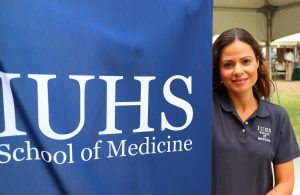 Learn More