An open letter published in Australian newspapers today is calling on the federal government for legislation to ensure every Australian family has access to infant and maternal healthcare and more comprehensive family support during the early years.
---
The federal government's National Early Years Summit being held today, presents an opportunity to lay a new foundation for the early years, according to a diverse coalition of stakeholders.
The group, led by Minderoo Foundation's Thrive by Five initiative, is urging summit attendees and the federal government to be bold and commit to a new legislated guarantee for all Australian children in the open letter published in five major metropolitan newspapers.
The coalition includes the Australian Nursing and Midwifery Federation (ANMF), Australian Education Union, Australian Research Alliance for Children and Youth, the Australian Council of Trade Unions, and SNAICC – the national voice for Aboriginal and Torres Strait Islander children.
"It has been clear for many years that the siloed and fractured approach to early years' development is letting Australian children and families down," Thrive by Five Director, Jay Weatherill said.
"With the Early Years Summit and the development of a national Early Years Strategy, we can reshape the early years for future Australian children and through them, secure our nation's future."
The open letter calls for a new guarantee for every Australian child, bound by legislation and operationalised by a new Commonwealth and State early childhood body.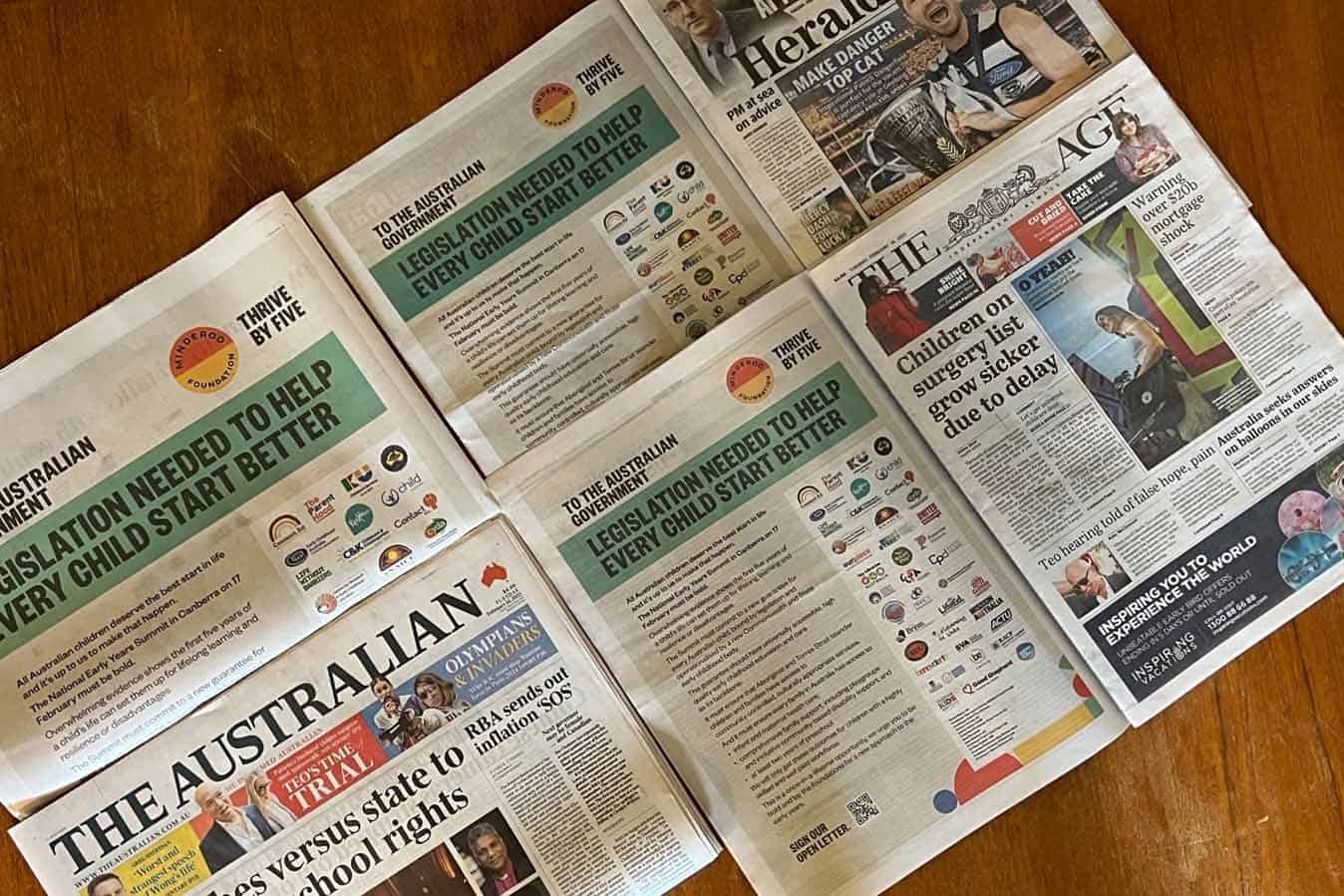 This guarantee should have universally accessible, high quality early childhood education and care as its backbone, writes the Coalition.
It must ensure that Aboriginal and Torres Strait Islander children and families have access to community-controlled, culturally appropriate services. And, it must ensure every family in Australia has access to:
infant and maternal healthcare;
comprehensive family support, including playgroups and inclusive community-based
disability support; and
at least two years of preschool.
ANMF members around the country report limited access to childcare for shift workers and a lack of 'family-friendly' workplaces to accommodate flexibility with shifts for those with caring responsibilities at home.
"Accessible childcare is one of the biggest problems we face," said one member.
Nurses and midwives highlight the gap between working rotating shifts, 24/7, seven days a week with childcare that is only available business hours Monday to Friday. Members report limiting their hours and days due to limited childcare availability, reduced hours and long waiting lists, as well as the lack of flexibility in their workplaces.
They pose solutions for consideration at the summit and to inform the National Early Years Strategy, including onsite childcare at health facilities, subsidised nannies, childcare centres with more flexible opening hours to accommodate the needs of shift workers and greater workplace flexibility.
"I need paid childcare to do my job. It's as simple as that," an ANMF member said.
Early childhood educators need to be valued for their work and paid a living wage in line with other public sector workers according to ANMF members, also outlined in the open letter to the government.
We will only get these outcomes for children with a highly skilled and well paid workforce.
"Such a reform will profoundly affect the way Australian children learn and develop, how families balance care and work, and how our communities prosper and thrive for generations to come."
"This summit cannot simply tinker at the edges, nor can it remain tethered to the past.
"We owe it to our children to be ambitious and help lay the foundation for a new approach to the early years," Mr Weatherill said.