California nurses standing up against the rollback of nurse-to-patient ratios amid the COVID-19 pandemic have declared victory following the California Department of Health's (CDPH) decision to end emergency waivers to hospitals and nursing homes which allowed them to increase the number of patients nurses could treat at one time.
---
Hundreds of hospitals and nursing homes were granted the waivers when the program began last December, as rising cases of COVID-19 triggered nursing shortages.
California nurses staged protests against the rollback of nurse-to-patient ratios, arguing the violation of safe staffing at a time when nurses were already at breaking point would lead to more deaths and suffering.
Union leaders said hospitals had used the COVID-19 pandemic as an excuse to apply for the waivers and sidestep safe staffing standards, which stipulate the maximum number of patients that can be assigned to one nurse, since mid-2020.
The staffing crisis worsened in December when the CDPH allowed hospitals to automatically obtain blanket "expedited waivers" of safe staffing ratios for critical departments such as the intensive care unit (ICU) and emergency department.
"There could not be a worse time to take dangerous steps that will make this crisis more severe and that will create more tragedies for our communities," California Nurses Association (CNA) and National Nurses United (NNU) President Zenei Triunfo-Cortez said at the time.
"To rollback the protections Californians fought for years to achieve and defend is a disaster on top of the calamity that is the worst pandemic in a century."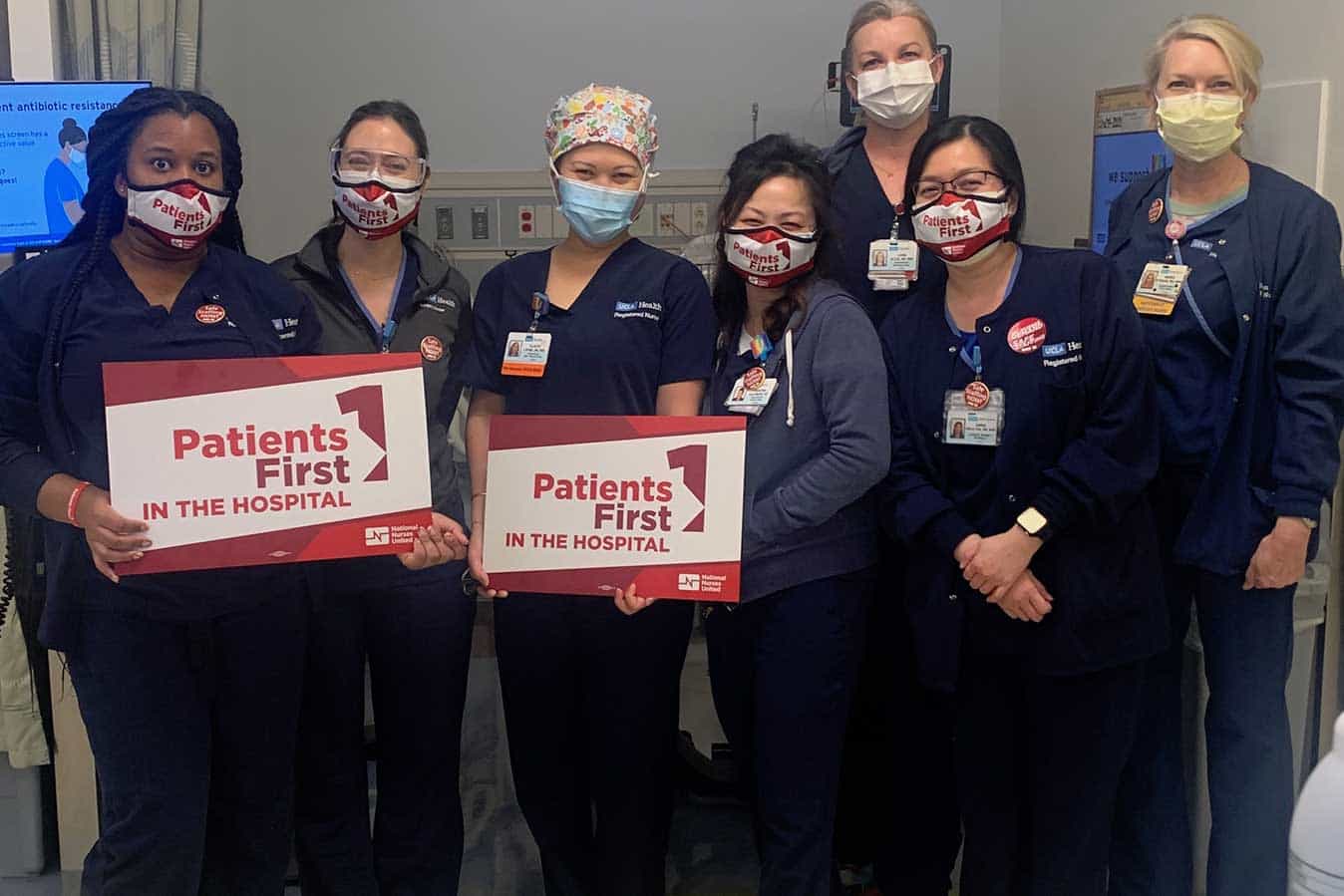 Critically, the protests and collective action paid off, with the state's public health department this week announcing it will not approve any new expedited waivers of landmark safe staffing ratios and that all existing waivers would end by 8 February.
"This is an incredible victory for patients and nurses, because we know that safe staffing saves lives," Ms Triunfo-Cortez said.
"It was our collective action as a union that defeated the money and lobbying power of the hospital industry, which we know is focused on the bottom line, not safe patient care."
Nurses staged hundreds of direct actions inside and outside their hospitals to defend safe staffing standards, including a mass mobilisation on 27 January held across the state, and sent almost 6,000 emails in protest to the CDPH.
"This win reinforces what we have learned over the decades in defending safe staffing standards against multiple attacks: fighting back together works," Ms Triunfo-Cortez said.
"But we must continue to stay united and vigilant in protecting and enforcing the safe staffing standards we need to provide the kind of nursing care we know our patients deserve. Because we know this won't be the last time the industry tries to get rid of ratios."