June is Bowel Cancer Awareness Month, a Bowel Cancer Australia initiative to shine the light on Australia's second deadliest cancer and raise funds so that the charity can continue its dedication to prevention, early diagnosis, research, quality treatment and the best care for people affected.
---
This year's theme, Symptoms remain NOT NORMAL despite the NEW NORMAL, ties into the global COVID-19 pandemic and urges Australians that early detection of the disease should not stop because of the impacts of the coronavirus.
Bowel cancer is Australia's second deadliest cancer, with over 325 new cases and 108 deaths recorded each week.
Signs and symptoms that something is amiss include blood in poo or rectal bleeding; a recent, persistent change in bowel habit; unexplained anaemia causing tiredness, weakness or weight loss; and severe abdominal pain.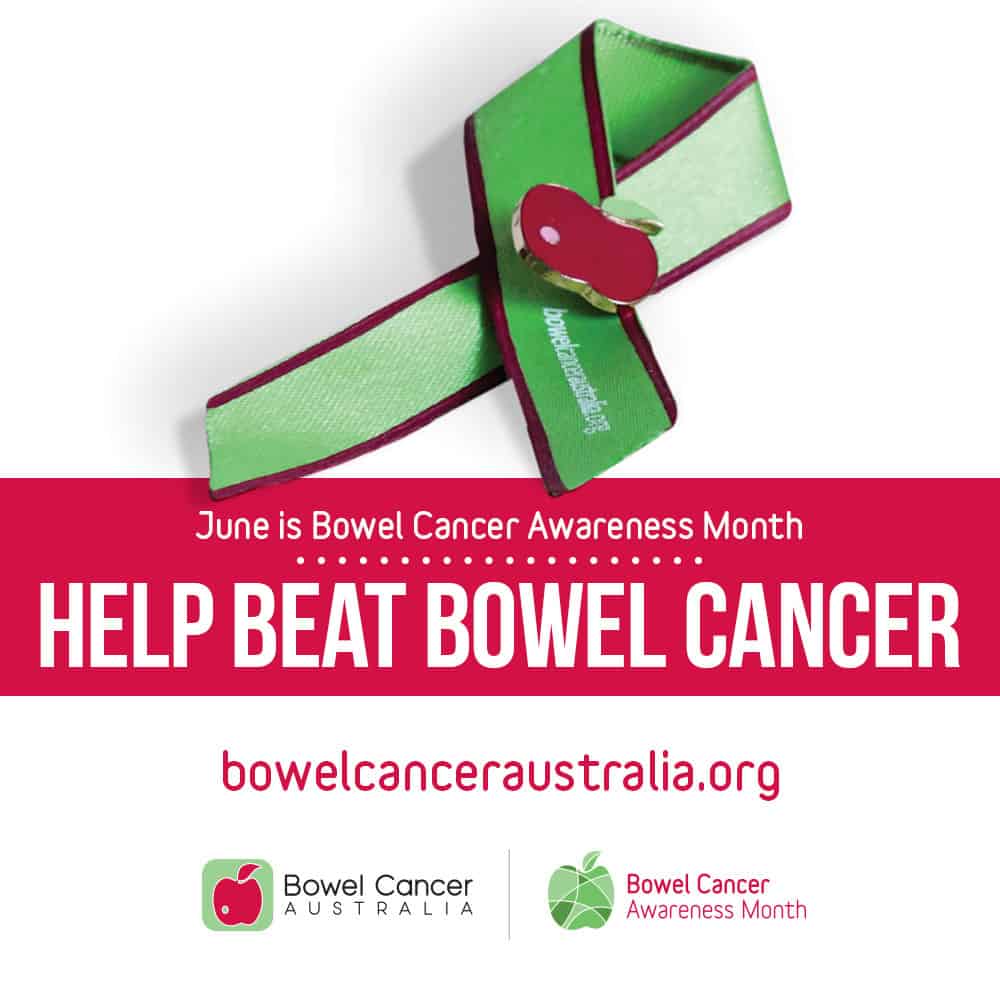 Australians can reduce their risk by undertaking bowel cancer screening appropriate to individual level of risk, avoiding processed meats and limiting red meat consumption, avoiding weight gain, limiting alcohol intake, quitting smoking and regular physical activity.
Bowel cancer Australia believes the sharp decline in people visiting GPs for treatment in the wake of COVID-19 could impact the amount of bowel cancers going undiagnosed, or prolong the time to diagnosis, leading to poorer long-term outcomes.
Bowel Cancer Nurse Fiona Radford began working with Bowel Cancer Australia eight years ago as an in-house nurse at the charity.
"A Bowel Cancer Nurse is a registered nurse who has specialist knowledge and experience caring for patients with bowel cancer," she explains.
"Prior to working at Bowel Cancer Australia, I had the opportunity to work at Prince of Wales ICU, where I gained a lot of experience nursing a wide range of patients. I believe this is where my interest in oncology developed."
Fiona says a typical day on the job involves serving as the main point of contact for patients and their loved ones, particularly in regional areas, where support and services can be limited.
"I need to be able to identify the individual needs of the patients by really listening and asking the right questions," she says.
"Having knowledge about bowel cancer, its treatment and other bowel conditions is essential. So too are listening skills, since I am unable to see the patient. Being on the other end of the phone is hard sometimes, as you don't have the non-verbal communication cues. But some people will actually talk a lot more and open up without feeling embarrassed over the phone, so it provides an opportunity to really use my listening and empathy skills."
Fiona says bowel cancer, which affects men and women, young and old, doesn't discriminate, despite the risk of developing cancer rising from the age of 50.
In 2020, more than 5,375 people will lose their lives to bowel cancer, including 292 people under the age of 50.
It is now the most common cause of cancer death for those aged 25-29, with about 15,604 Australians diagnosed each year.
"Although many of the symptoms of bowel cancer are common to multiple health concerns, Bowel Cancer Australia urges people not to accept "you're too young to have bowel cancer" as an explanation for symptoms and encourages anyone experiencing symptoms for two weeks or more that are "not normal" to ask their GP for a referral for further investigations," Fiona says.
"Bowel cancer is one of the most treatable types of cancer if found early. In fact, almost 99% of bowel cancer cases can be treated successfully when detected early. However, fewer than 50% of bowel cancers are detected before becoming invasive."
Echoing the theme of this year's Bowel Cancer Awareness Month, Fiona maintains that bowel cancer doesn't stop just because the world is in the middle of a pandemic, and that early detection remains key to treatment and outcomes.
A bowel cancer diagnosis is challenging, both physically and emotionally, and Fiona says the COVID-19 pandemic has heightened anxieties for the people she cares for during her day-to-day job.
In the wake of COVID-19, the charity's free Helpline has experienced an increase in calls from patients and people living beyond bowel cancer.
"During the COVID-19 pandemic, interruption to treatment and care and future uncertainties are leading to feelings of anxiety," Fiona reveals.
"Not only for people newly diagnosed and living with bowel cancer, but for people living beyond, undergoing regular surveillance, as well as those experiencing possible bowel cancer symptoms that require investigation, and their families.
"Social distancing measures, quarantine and visitor restrictions limit opportunities for family support and advocacy, impact an important sense of connection and source of strength and wellbeing for patients and those impacted by the disease."
Fiona says Bowel Cancer Nurses understand the unique challenges faced by bowel cancer patients and their loved ones.
"The provision of comprehensive and reputable health information is paramount in these times. As too is the addition of an extra layer of practical and emotional support, supplementing the trusted relationships patients have with their treating medical team at a very difficult time.
"As more Australians are concerned about attending medical appointments during the pandemic, they are turning to Bowel Cancer Nurses for support. Whether they are worried about symptoms, are newly diagnosed, have questions about treatment options, or are simply having a bad day, Bowel Cancer Australia's free Helpline ensures we're only a phone call away for those who need it."
Fiona says the journey of a bowel cancer patient is often stressful and challenging, resulting in fear and anxiety.
"Many patients must undergo a series of investigations before finally receiving a definitive diagnosis, at which time they are faced with life-changing decisions about their treatment and future. Bowel cancer patients and their families are left to deal with a 'new normal' and face a range of issues, which can include ongoing bowel and urinary problems, sexual dysfunction, depression, dietary issues and permanent colostomy. The disease can result in psychological, social and emotional issues, which need to be well understood and considered when speaking with patients and providing them with support."
Fiona says having the privilege to develop one-on-one relationships with patients and their loved ones along the treatment pathway and beyond brings the greatest reward.
"In my role, I get to speak to patients and their loved ones who contact the charity via its free Helpline daily. I love that I can be there to listen and offer reassurance, direct people to the fantastic range of educational and awareness material available on the website, and connect patients and loved ones with others."
Despite bowel cancer being the third most commonly diagnosed bowel cancer, Fiona argues patients do not receive the same level of support as those with other common cancers.
"Too many times I've had patients tell me they have been diagnosed with the "wrong cancer"," she says.
"As a Bowel Cancer Nurse, I help to fill the gap in the health system bowel cancer patients often experience. We know it is common for bowel cancer patients to be seeing up to five different types of health professionals. Access to a Bowel Cancer Nurse would help improve patient care coordination considerably.
"Bowel Cancer Australia would like to see a Bowel Cancer Nurse in every hospital providing specialist knowledge and care for patients."
Fiona encourages nurses who would like to increase their knowledge and gain CPD in bowel cancer nursing to undertake Bowel Cancer Australia's online learning modules, which provide an overview of bowel cancer and investigate the main physical, psychological, social and emotional issues specifically relevant to people newly diagnosed or living with metastatic disease.
Each module focuses on the supportive care of bowel cancer patients and includes strategies for improving their quality of life.
 For the latest information, stats and facts visit bowelcanceraustralia.org or call 1800 555 494.
Access Bowel Cancer Australia's CPD learning modules by visiting www.bowelcancer.care