Hundreds of eczema sufferers from across Australia and the world have shared photos and personal experiences of what it's like living with the skin condition as part of an awareness campaign to mark World Atopic Eczema Day on 14 September.
---
Photos submitted as part of the #ThisIsEczema campaign feature as part of an emotional video, launched today via Eczema Support Australia's social media channels, that highlights the far-reaching effects of the condition.
The 128 heartbreaking photos and experiences shared included countless stories of babies and young children who had struggled to receive treatment and care to reduce the pain and severity of their symptoms. The condition affects one in five children and one in 10 adults.
In one story, Breanna Elston reveals how her daughter, whose eczema flared up at just three months of age, had been admitted to the Emergency Room twice by the time she was five months.
"After the second trip to the Emergency Room we were taught to wet wrap and it drastically improved her condition and our lives." Mrs Elston says.
"The photo I chose to submit for the campaign was one of my daughter smiling to show that even in the worst of it, you can find happiness.
"I have photos of her red-raw lying in a hospital cot, and also passed out in my arms from exhaustion from not sleeping for three days. But the photo I chose to submit was of our baby girl, going through an itchy hell and still finding it within herself to smile."
Adult eczema sufferers also submitted photos and shared their accounts in droves.
Lauren Isdale, who is among the one in 10 Australian adults who have the condition, described herself as a "defeated woman" in bravely sharing her photo and story.
"I have given up my career. I have had years of no sleep, constant discomfort and excruciating pain," she revealed.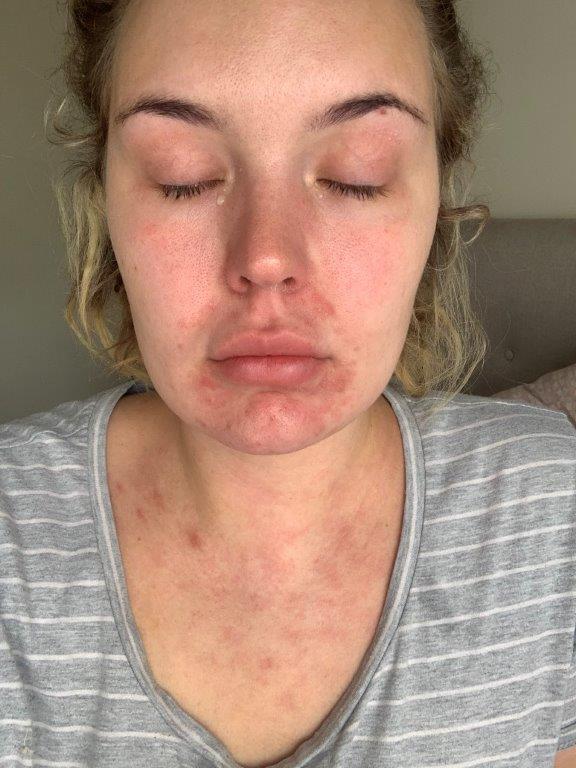 "I have, more often than not, hated my appearance and felt isolated because of my looks. I have suffered failed treatments and horrific side effects. My image depicts what pleading and praying for any kind of relief from eczema looks like."
Melanie Funk, founder of Eczema Support Australia, a charity to support Australians living with eczema and their families, said the #thisiseczema campaign aims to raise awareness about the condition and engage and connect suffers with the best support and resources available to help manage their condition and relieve their pain.
"It is our mission to help every Australian with eczema overcome difficulties and thrive in their community through connection, advocacy and information." Ms Funk said.
"It is my mission to help every eczema sufferer in Australia to have access to the best specialists, the best resources and the best care possible in order to ease their suffering and burden."
Watch the full video compilation of the submissions received for the #thisiseczema campaign here
For more information visit www.eczemasupport.org.au