The following CPD extract from ANMF's Continuing Professional Education (CPE) website describes what anaphylaxis is as well as its causes and symptoms. It also discusses the diagnosis and treatment of anaphylaxis and compares it to different types of sensitivities and allergic reactions.
---
An allergic reaction is an immunologic reaction that occurs between a specific antigen and an antibody. Anaphylaxis is the most severe form of allergic reaction that can occur.
The Australian Society of Clinical Immunology and Allergy (ASCIA), define anaphylaxis as:
"Any acute onset illness with typical skin features (urticarial rash or erythema/flushing, and/or angioedema), plus involvement of respiratory and/or cardiovascular and/or persistent severe gastrointestinal symptoms OR any acute onset of hypotension, bronchospasm or upper airway obstruction where anaphylaxis is considered possible, even if typical skin features are not present" (Australian Society of Clinical Immunology and Allergy, 2016).
Because anaphylaxis sudden onset and rapidly progressing course, it can be life-threatening. This is due to vascular collapse, which then can lead to systemic shock and also death. However with prompt treatment, anaphylaxis can be treated resulting in a good prognosis for the individual.
There are many allergens which can be the cause of an anaphylactic reaction. These allergens can range from medications, to foods, to insect bites. Often the reaction will occur within minutes of being exposed to the allergen, however it can also occur up to one hour after exposure to the allergen. Something that might of initially caused a mild allergic reaction following initial exposure to the allergen, after repeated exposures can then also produce an anaphylactic reaction (Australian Resuscitation, 2016).
COMMON CAUSES OF ANAPHYLACTIC REACTIONS:
LATEX
Populations at a higher risk of latex allergies include healthcare workers, patients with atopic allergies and multiple surgeries, people working in factories manufacturing latex gloves, females and patients with spina bifida. Roughly 1–3% of the population has a latex allergy and 10–17% of this number are healthcare workers (Farrell & Dempsey, 2013).
MEDICATIONS
Certain medications can also cause allergic reactions and anaphylaxis in individuals. These reactions are unpredictable and often occur as a consequence to either the medication, the chemical preservative or a metabolite present in the medication. However, less than 20% of all adverse drug reactions are immune mediated. It is important to distinguish between what is an allergic reaction in an individual, and what is a side effect of the medication (Australian Society of Clinical Immunology and Allergy, 2016).
Antibiotics are one of the classes of medication in which the highest incidence of allergic reactions occur. Radio contrast, intravenous anaesthetics, aspirin and other non-steroidal anti-inflammatory agents and opioids also have an increased incidence of allergic reactions. Antibiotics and radio contrast have been found to produce anaphylactic reaction in one out of every 5,000 exposures (Australian Society of Clinical Immunology and Allergy, 2016).
FOODS
Foods can also be an allergen and cause an anaphylactic reaction in an individual. The foods that carry an increased risk of anaphylaxis include peanuts, tree nuts, shellfish, fish, milk, eggs, soy and wheat. Food allergies occur in up to 2% of adults and between 4-10% in children.
Very small amounts of food can cause anaphylaxis in individuals, in these same individuals, just by touching or smelling the food may trigger an allergic reaction but is unlikely to cause anaphylaxis as the food usually needs to be ingested.
One of the most common causes of reoccurring anaphylaxis in Australia is the accidental ingestion of nuts or nut is also important to remember that these allergies can develop at any age, not just in childhood (Australian Society of Clinical Immunology and Allergy, 2016).
STINGS AND BITES
These are often from bees, wasps and different species of ants. However, most reactions to stings and bites are local swellings and not life threatening and these allergies generally do not coexist with other allergies such as food allergies. It is also interesting to note that in people having severe reactions to drugs and insect venom that cardiovascular compromise is common (Australian Society of Clinical Immunology and Allergy, 2016).
BLOOD AND BLOOD PRODUCTS
Individuals can also have allergic or anaphylactic reactions to blood or blood products.
This is significant to nurses as it results in the close monitoring of the patient during administration of blood or blood products, because as with any anaphylactic reaction, it can be life threatening.
A mild allergic reaction can occur if the individual is sensitive to the foreign plasma and proteins present in the blood or blood product and this can cause flushing, itching and urticaria. This type of reaction can be treated with antihistamines and if directed by a medical officer, the transfusion may continue.
However if the patient develops a fever or pulmonary symptoms, the infusion is generally not restarted. As with any blood transfusion reaction, the first line of treatment is to stop the infusion and if needed, begin basic life support measures (Crisp & Taylor, 2012).
DIAGNOSING ANAPHYLAXIS
Unfortunately, there is no one single diagnostics test or procedure that can identify anaphylaxis.
A comprehensive clinical history of the patient and physical examination can be useful in the provision of data to aid in the diagnosis and management of people with allergy disorders.
This should include a history of allergic symptoms, any improvements and also previous treatments as well as the relationship with symptoms and exposure to any potential allergens.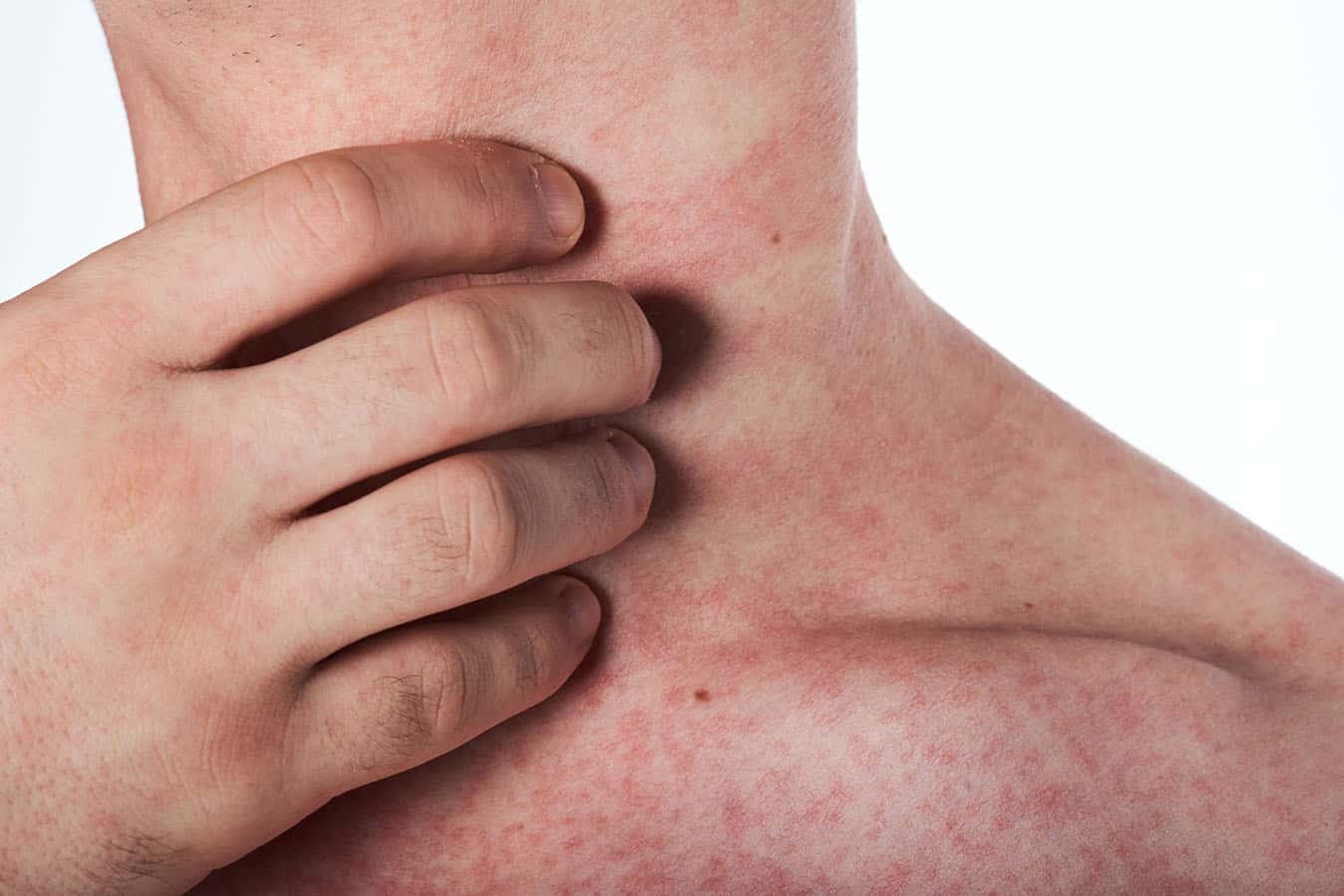 DIAGNOSTIC TEST OF PATIENTS WITH ALLERGIC DISORDERS CAN INCLUDE:
Full Blood Count with differential; Eosinphil count; Total serum immunoglobulin levels; Skin tests; Challenge testing; Radioallergosorbent test (RAST) (Farrell and Dempsey, 2013). (These tests are discussed in detail within the tutorial).
Diagnosis of Anaphylaxis can also be made when any one of the following three criteria is fulfilled, however using this criteria doesn't mean it is definitely anaphylaxis, but just that anaphylaxis is highly likely.
Acute onset of an illness (from minutes to several hours) that involves the skin, mucosal tissue or both (hives, pruritus, flushing, swelling etc) and as well as this, needs to involve at least one of the following:
Respiratory symptoms such as wheeze, dyspnoea, bronchospasm, stridor, hypoxemia.
Reduced blood pressure or any other associated symptoms of organ dysfunction such as syncope or incontinence.
After exposure to a likely allergen, two or more of the following occurring within minutes or several hours:
Skin involvement such as hives, flushing, itching, swelling.
Respiratory symptoms such as dyspnoea, wheeze, bronchospasm, stridor or hypoxemia.
Reduced blood pressure or other associated symptoms such as syncope.
Persistent gastrointestinal symptoms such as cramping, abdominal pain or vomiting.
After exposure to a known allergen, the individual will experience a reduced blood pressure.
In adults this is either a 30% or more decrease from that person's baseline or below a systolic blood pressure of 90mmHg.
For children it is once again a 30% or more decrease from their baseline or dependent on the normal blood pressure range for that child's age (Muraro et al. 2014).
One of the difficulties with diagnosing anaphylaxis, is that there can be many other differential diagnoses that can also occur with the symptoms that the patient presents with.
IMMEDIATE TREATMENT
For any type of allergic reaction, the nurse must initially assess the patient for any signs and symptoms of anaphylaxis. This includes assessing their airway, breathing pattern and vital signs as well as observing the patient for signs of increasing oedema and respiratory distress.
Management and treatment of an anaphylactic reaction depends on the severity of the reaction. The initial priority should be ensuring their respiratory and cardiovascular functions are evaluated. If the person becomes unresponsive and isn't breathing normally, then basic life support measures will need to be commenced (Australian Society of Clinical Immunology and Allergy, 2016).
IMPORTANT
The 2018–2019 registration period ends on 31 May 2019. Nursing and midwifery registration requires at least 20 hours of CPD to be completed between 1 June 2018 and 31 May 2019.
After reading this extract be sure to add it to your portfolio on the CPE website as evidence of your CPD.
30 minutes CPD
The following excerpt is from the ANMF's Anaphylaxis tutorial on the Continuing Professional Education (CPE) website. The complete course is allocated 2 hours of CPD; the reading of this excerpt will give you 30 minutes of CPD towards ongoing registration requirements.
The complete tutorial covers the following:
Defining anaphylaxis, pathophysiology, signs and symptoms, causes, diagnosis, cofactors and risk factors, fatal anaphylaxis, immediate treatment, emergency kits and EpiPens, anaphylaxis management plan and strategies for healthcare professionals.
To access the complete tutorial, go to anmf.cliniciansmatrix.com
For further information, contact the education team at education@anmf.org.au
References:
Australian Resuscitation Council (ARC), 2016, First aid management of anaphylaxis, available from resus.org.au/guidelines/;
Farrell, M & Dempsey, J (eds) 2013, Australian Society of Clinical Immunology and Allergy (ASCIA) 2016, ASCIA Anaphylaxis Clinical Update, available from allergy.org.au/health-professionals/papers/anaphylaxis
Better Health Channel, 2014, Anaphylaxis, available from betterhealth.vic.gov.au/health/conditionsandtreatments/anaphylaxis
Crisp, J & Taylor, C (eds), 2012, ' Potter and Perry's Fundamentals of Nursing', 4th edn, Elsevier Marrickville
Farrell, M & Dempsey, J (eds) 2013, Smeltzer & Bare's Textbook of Medical-Surgical Nursing, 3rd edn, Lippincott, Williams & Wilkins, Broadway
Holmes, NH (ed) 2002, Atlas of Pathophysiology, Springhouse, Pennsylvania
Marrickville; Farrell, M & Dempsey, J (eds) 2013, Smeltzer & Bare's Textbook of Medical-Surgical Nursing, 3rd edn, Lippincott, Williams & Wilkins, Broadway
Muraro, A, Roberts, G, Worm, M, Bilo, B, Brockow, K, Fernandez Rivas, M, Santos, AF, Zolkipli, ZQ, Bellou, A, Beyer, K, Bindslev-Jensen, C, Cardona, V, Clark, AT, Demoly, P, Dubois, EJ, DunnGalvin, A, Eigenmann, P, Halken, S, Harada, L, Lack, G, Jutel, M, Niggermann, B, Rueff, F, Timmermans, F, Vlieg-Boerstra, BJ, Werfel, T, Dhami, S, Pansar, S, Akdis, CA & Sheikh, A 2014, Anaphylaxis: Guidelines from the European Academy of Allergy and Clinical Immunology, Allergy, vol. 69, no. 8, pp. 1026-1045, available from onlinelibrary.wiley.com/doi/10.1111/all.12437/full
Smeltzer & Bare's Textbook of Medical-Surgical Nursing, 3rd edn, Lippincott, Williams & Wilkins, Broadway; Holmes, NH (ed) 2002, Atlas of Pathophysiology, Springhouse, Pennsylvania
Turner, PJ, Gowland, MH, Sharma, V, Lerodiakonou, D, Harper, N, Garcez, T, Pumphrey, R & Boyle, R 2014, Increase in anaphylaxisrelated hospitalizations but no increase in fatalities: An analysis of United Kingdom national anaphylaxis data, 1992-2012, Journal of Allergy and Clinical Immunology, vol. 135, no. 4, pp. 956-963, available from sciencedirect.com/science/