Ramon Victor Roxas' path in the medical field was practically set as a child. Growing up in Manila in the Philippines, both his parents were dentists, and he was surrounded by an extended family of doctors.
---
Unfortunately, life took a tragic twist when his mother died while he was a toddler, leaving his grieving father grappling with serious mental health issues.
But with the unwavering support of his uncle and a fierce motivation to succeed in life, Ramon's strong pull to give back to others saw him study a Bachelor of Science (nursing) to fulfill a dream of helping others.
"Life in the Philippines can be hard and there were many communities needing help with basic healthcare," he said.
"I wanted to become a nurse not only to help the community but to be able to travel the world to help other countries with their healthcare problems. I saw nursing as a gateway to many opportunities and a good pathway to become either a doctor or an advanced nurse practitioner."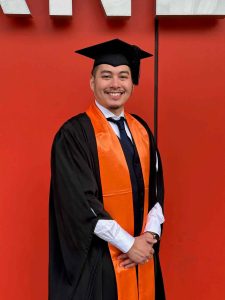 After graduating, he landed a job as a registered nurse in one of the Philippines' best hospitals where he joined outreach programs and medical missions centred on giving back to community – donating to those in need, especially the elderly.
"This allowed me to learn different cultures and customs and also to travel the world and improve my wellbeing in a new country when I moved to Melbourne," he said.
An opportunity arises during the pandemic
During the height of the pandemic Ramon was working at Broadmeadows Hospital for Northern Health, which services Melbourne's growing outer north, when he found out about the opportunity to study with ACU Online for a Graduate Certificate in Clinical Nursing (Perioperative).
With much enthusiasm, he took the opportunity to upskill his perioperative skills in scrub and scout nursing to be able to better offer efficient care and assist in various surgeries.
"I became a better nurse for my patients by learning about various evidence-based guidelines and best practices in the operating room," Ramon said.
"I learned to use more research, systematic reviews and meta-analysis to support my technical and non-technical skills in improving my nursing practice, resulting in giving better care and safety to our patients."
Backed with new knowledge from his postgraduate degree and more experience assisting in major surgeries, Ramon was able to secure his dream of becoming a Clinical Nurse Specialist at Northern Health.
"Being a CNS, I can perform my job better by managing the various specialties and items of the department such as eyes/ophthalmology and I also get to impart more knowledge to new nursing staff and rotating nursing students about the best practices and the Australian College of Perioperative Nursing (ACORN) standards of perioperative nursing," he said.
"I have different cases, challenges, and surgeries every day which gives me the opportunity to use my critical thinking skills to make the department flow more efficiently.
"It's a privilege to look after people at their most vulnerable because you are there to help them and make them feel safe and assure them that you will advocate for their care and best outcome during the perioperative process."
Nursing for Ramon is very much a team sport – one where everyone works together to get the best outcome for their patients.
"A very valuable lesson I took away from my post-grad is to be kind and supportive to one another as nursing is a teamwork sport," he said. "We are all doing the best we can to help our patients and we must be kind to one another.
"I will continue to do perioperative nursing and I also want to help by working in other hospitals to fill staff shortages and help the community of Melbourne's healthcare system one patient at a time while working with the best surgeons and nurses.
"Looking back, I think my dad, mum, uncle and family back home are very proud of what I have become and built for myself here in Melbourne, and with this I keep striving to give back."
Are you ready for an experience like Ramon's?
ACU's  Graduate Certificate in Clinical Nursing is ideal for registered nurses looking to upskill and develop areas of expertise. It has been designed to expand knowledge and skills in clinical nursing and practice.
ACU Online now offers nine specialisations – gerontological nursing, correctional health, medical, renal, neuroscience, cardiac care, surgical, intensive care, and perioperative.
Explore your options with ACU Online. Visit ACU for information on the Graduate Certificate in Clinical Nursing and Postgraduate programs for Nurses and other Health professionals