Nurses from the Boort District Health Clinic in Victoria have declared that mobile community COVID-19 testing is helping to "keep everyone safe" in their district as they assist the state in meeting its expanded testing targets.
---
While Victoria's Department of Health and Human Services initially set a target of 100,000 tests over the fortnight leading up to 11 May, the state quickly made that target thanks to a combination of public engagement and increased testing capability, with testing only expanding further since then.
There have been more than 200,000 tests (exceeding a three-week target of 150,000) since 11 May, and while the disease's spread has largely been contained within urban and regional centres, the nurses from the Boort clinic believe that the testing has been a helpful community exercise.
"We wanted to do our bit," Donna Doyle, the Director of Clinical Services and Nursing for the clinic, explained.
"It gave us a great opportunity just to communicate with everyone about what things to look for – we're heading into flu season anyway."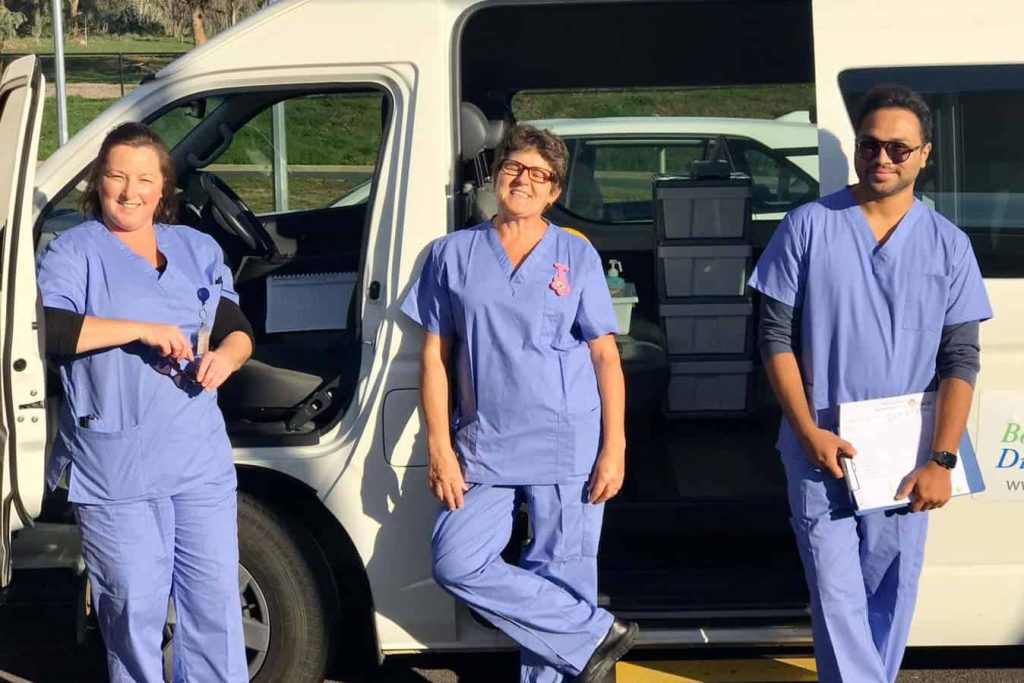 Ms Doyle, who along with Nurse Unit Manager, Mubarak Meera Sahib, and Infection Control Nurse, Judy Parker, began to conduct the community testing after Mr Meera Sahib swabbed the staff at their facility.
They initially organised to engage with local businesses, but then were also asked to swab farming communities in the area, testing up to 15 workers at one property.
In total they tested 227 people, with only one result still outstanding at the time of the interview. The rest of the tests came back as negative.
As Mr Meera Sahib described, while the sight of the nurses donning heavy Personal Protective Equipment and driving a community bus carried novelty value in the small town early on, it nevertheless was met with a keen response from locals.
"People [who]… missed the bus they actually rang us and asked us, 'Can you come up again?'" he said.
"We actually set up a separate treatment room in Urgent Care [at the hospital], so they can come up and we can test… even if they're sitting in their car we will just go out with our gear and we'll do it."
With Victoria possessing the highest rate of testing in the country and only 60 active recorded cases despite a cluster of metropolitan outbreaks, Ms Doyle was confident her district was currently "ticking all the boxes", though they would continue to re-evaluate as necessary.
"We have a weekly meeting here, with our management team and any staff that are [working] on-the-day, to talk about what's happening in the COVID space,"
Ms Doyle explained, praising colleagues in other departments for their support of the clinically-focused trio, as well as the preparedness of clinic CEO Darren Clarke.
She also noted that their worksite was equipped with the appropriate gear and resources should a worst case scenario (an outbreak) ever eventuate.
Nevertheless, Ms Doyle remained grateful for the community's turn-out in support of testing, especially since she described the process, which consists of a nose and throat swab plus a blood test, as both "onerous" for the nurses and an "uncomfortable experience" for patients.
"The community were amazing, they were happy to be swabbed… [it was] all very positive throughout the whole town."